Global Neurology Clinical Trials Market Size And Industry Analysis
The global Neurology Clinical Trials Market accrued earnings worth approximately 4.71 (USD Billion) in 2020 and is predicted to gain revenue of about 7.9 (USD Billion) by 2028, is set to record a CAGR of nearly 5.6% over the period from 2021 to 2028. The report offers assessment and analysis of the Neurology Clinical Trials Market on a global and regional level. The study offers a comprehensive assessment of the market competition, constraints, revenue estimates, opportunities, evolving trends, and industry-validated data. The report provides historical data from 2018 to 2020 along with a forecast from 2021 to 2028 based on revenue (USD Billion).
Neurology Clinical Trials Market: Outlook
Massive strides have been made in diagnosing & treating of various medical conditions including neurological conditions. Apparently, clinical trials are conducted for assessing effectiveness and safety of new medical therapies that are to be used for treating neurological conditions. According to NIH researchers, clinical trials have proved to be a key tool in bringing new medical treatments for patients suffering from neurological conditions.
Prominent rise in neurological ailments including dementia, stroke, and peripheral neuropathy caused due to job losses from lockdown arising as a result of COVID-19 outbreak has led to increase in neurology clinical trials across globe in recent times. Massive clinical tests & research has been carried out by various biotech & pharma firms and their onus is on developing curative medicines that can effectively treat neurological disorders. This has provided impetus to neurology clinical trials industry and also has led to increment in number of neurology clinical trials across globe.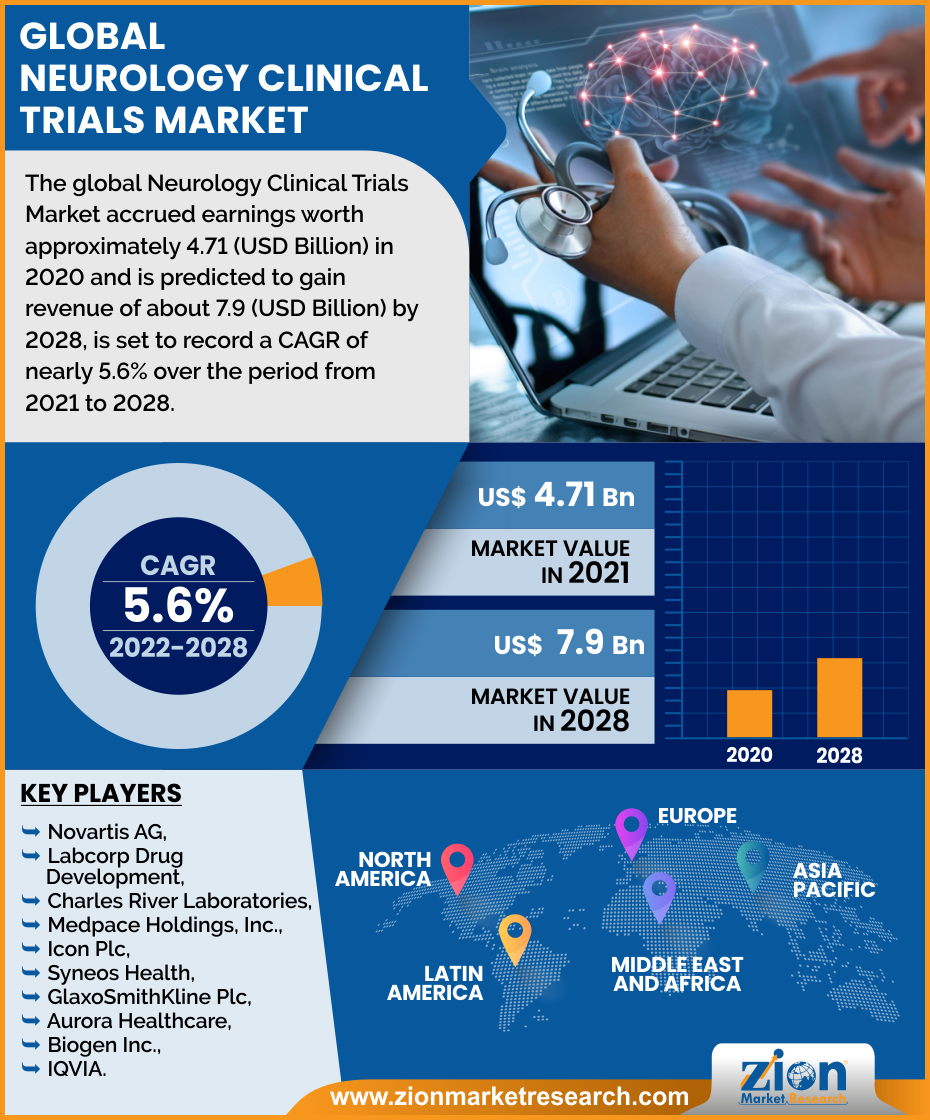 Request Free Sample
Neurology Clinical Trials Market: Growth Drivers
Growing need for effectively treating neurological conditions such as Alzheimer and Parkinson disease will culminate into immense growth of neurology clinical trials market. Apparently, drug makers are also focusing on other neurological disorders including spinal muscular atrophy. Some of neurological disorders are also caused due to genetic mutation and hereditary causes. Hence, researchers are trying to identify and target those genes that are responsible for neurological disorders and are then disable them to prevent transmission of genetic neurological disease to next generation. All these aforementioned factors are predicted to steer expansion of neurology clinical trials market.
Furthermore, technological breakthroughs in biotech & pharma sectors can prop up proficiency and productivity of neurology clinical trials along with increase patient engagement, thereby driving market trends. In addition to this, virtual clinics, wearable devices, and remote monitoring have made neurology clinical trials more patient-centric and this has paved a way for geometric growth of neurology clinical trials market.
Report Scope:
Regional Landscape
North American Market Size To Expand Exotically Over 2021-2028
Growth of neurology clinical trials market in North America over forecast period is subject to surge in occurrence of neurological ailments in countries such as the U.S. in recent times due to large number of deaths caused due to COVID pandemic. Apart from this, presence of giant players in the region will further aid growth of neurology clinical trials industry in North America. Rise in life expectancy due to easy access of advanced healthcare facilities has resulted in a prominent surge in aging population prone to common neurological disorders such as memory loss and dementia. This is projected to result in steep growth of neurology clinical trials market in North America in the years to come.
Competitive Landscape
Key players profiled in study and influencing market growth include Novartis AG, Labcorp Drug Development, Charles River Laboratories, Medpace Holdings, Inc., Icon Plc, Syneos Health, GlaxoSmithKline Plc, Aurora Healthcare, Biogen Inc., and IQVIA.
The global Neurology Clinical Trials Market is segmented as follows:
By Phase
Phase IV
Phase I
Phase II
Phase III
By Study Design
Interventional
Observational
Expanded Access
By Region
North America
Europe

France
The UK
Spain
Germany
Italy
Rest of Europe

Asia Pacific

China
Japan
India
South Korea
Southeast Asia
Rest of Asia Pacific

Latin America

Brazil
Mexico
Rest of Latin America

Middle East & Africa

GCC
South Africa
Rest of Middle East & Africa