The global AI-based Clinical Trials Solution Provider Market Size accrued earnings worth approximately 1.32 (USD Billion) in 2020 and is predicted to gain revenue of about 5.53(USD Billion) by 2028, is set to record a CAGR of nearly 22.1% over the period from 2021 to 2028. The report offers assessment and analysis of the AI-based Clinical Trials Solution Provider Market on a global and regional level. The study offers a comprehensive assessment of the market competition, constraints, revenue estimates, opportunities, evolving trends, and industry-validated data. The report provides historical data from 2018 to 2020 along with a forecast from 2021 to 2028 based on revenue (USD Billion).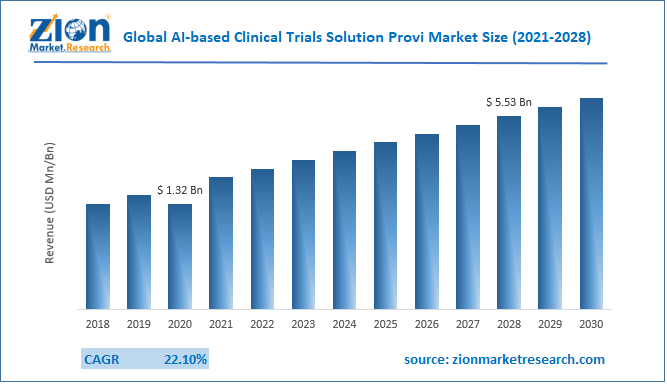 Request Free Sample
AI-based Clinical Trials Solution Provider Market: Synopsis
Healthcare industry is one of the major domains which finds plethora of AI applications. Moreover, use of AI in healthcare industry is supported by big data of electronic health records and improved computational ability of AI applications. Nevertheless, AI-based Clinical Trials Solution provider, which is one of the key AI applications, also aids in effective clinical decision making process and enhances new drug molecule discoveries for treating chronic and infectious ailments such as COVID-19, Avian Flu, and Swine Flu. Clinical development is likely to witness a paradigm shift with converging of large online data sources and computing power that helps in determining clinically similar & meaningful trends in data with help of AI algorithms.
Reportedly, AI tools such as AI-based Clinical Trials Solution helps in detecting, diagnosing, treating, and predicting outcomes of chronic ailments including cardiac problems, cancer, neurological ailments, and pathological disorders. According to NCBI, in the timespan between 2000 to 2015, it was found that success proportion of clinical trials conducted on candidates was very low. For instance, only 14% of subjects were successful in all three phases of clinical trials.
However, with use of AI in clinical trials, there was a steep reduction in cycle time of trials and improvement in clinical trial outcomes. Such moves are set to accurately and seamlessly address issues related to clinical investigations along with augmenting popularity of AI-based clinical trials solutions. This will boost AI-based Clinical Trials Solution provider market trends.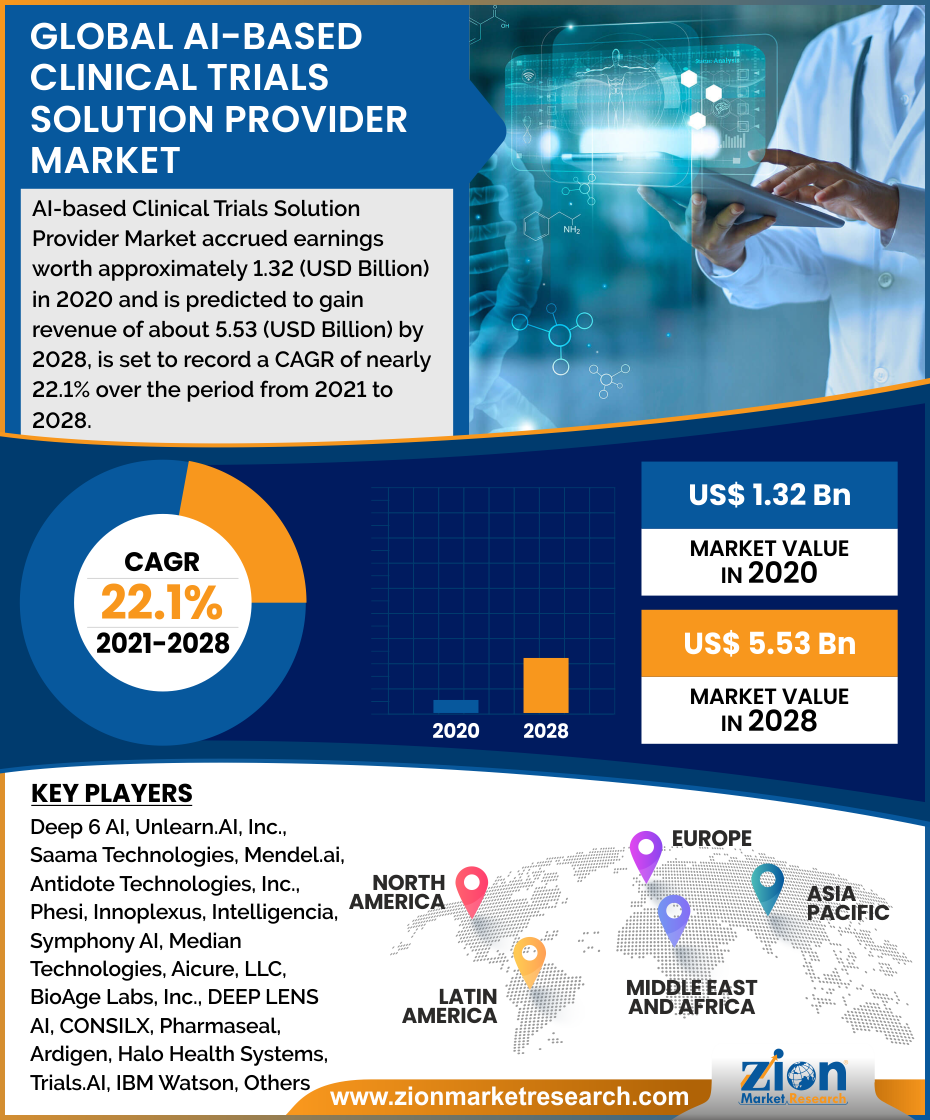 Request Free Sample
AI-based Clinical Trials Solution Provider Market: Growth Dynamics
Growth of AI-based Clinical Trials Solution provider market is subject to massive use of AI & deep learning algorithms in clinical trials for constant streaming of clinical test data for purpose of coding and storing. Apparently, use of AI-driven programs in clinical trials facilitates reduction of human intervention in data collection, thereby resulting in minimal error probability and seamless integration of clinical data with other databases.
This will amplify scope of AI-based Clinical Trials Solution provider industry. Furthermore, use of AI-driven health systems & patient support tools are set to aid clinical trials, thereby engaging and retaining subjects throughout all phases of clinical trials.
Moreover, AI-driven clinical trial solution providers assist in virtual monitoring of candidate condition and thus mitigate in-person visit to clinical trial site. Apart from this, use of AI technologies by healthcare & biotech firms helps the latter in sending of reminders & informing clinical trial progress to candidates. In addition to this, AI-based Clinical Trials Solution provider makes use of AI-driven search tools for detecting type of clinical trials through querying of clinical data of candidates.
AI-based Clinical Trials Solution Provider Market Report Scope:
Report Attributes
Report Details
Report Name
AI-based Clinical Trials Solution Provider Market Research Report
Market Size in 2021
USD 1.31 Billion
Market Forecast in 2028
USD 5.53 Billion
Compound Annual Growth Rate
CAGR of 22.1%
Number of Pages
168
Forecast Units
Value (USD Billion), and Volume (Units)
Key Companies Covered
Deep 6 AI, Unlearn.AI, Inc., Saama Technologies, Mendel.ai, Antidote Technologies, Inc., Phesi, Innoplexus, Intelligencia, Symphony AI, Median Technologies, Aicure, LLC, BioAge Labs, Inc., DEEP LENS AI, CONSILX, Pharmaseal, Ardigen, Halo Health Systems, Trials.AI, IBM Watson, Koneksa Health, BioSymetrics, Euretos, GNS Healthcare, and Exscientia.
Segments Covered
By Application, By End-Use, And By Region
Regions Covered
North America, Europe, Asia Pacific (APAC), Latin America, Middle East and Africa (MEA)
Countries Covered
North America: U.S and Canada
Europe: Germany, Italy, Russia, U.K, Spain, France, Rest of Europe
APAC: China, Australia, Japan, India, South Korea, South East Asia, Rest of Asia Pacific
Latin America: Brazil, Argentina, Chile
The Middle East And Africa: South Africa, GCC, Rest of MEA
Base Year
2021
Historical Year
2016 to 2020
Forecast Year
2022 - 2028
Customization Scope
Avail customized purchase options to meet your exact research needs. Request For Customization
For the record, firms such as AiCure and Brite Health are making use of AI-based systems for monitoring patient health as well as their responses to medical treatment during clinical tests. Furthermore, these firms ensure efficiency of medical treatment and adherence to clinical trial procedures along with patient retention for completion of clinical trials. All these strategic moves will proliferate growth in size of AI-based Clinical Trials Solution provider market over forthcoming years.
Regional Landscape
North America To Lead Overall Market Growth By 2028
Growth of AI-based Clinical Trials Solution market in North America over assessment period can be attributed to various factors. Some of them include increase in acceptance of AI-driven systems in healthcare industry, rise in precision medicine practices & applications, and coining of strategy focusing on co-developing precision diagnostics and therapeutic agents as companion diagnostics for facilitating launch of effective drugs to successfully treat patients suffering from chronic ailments.
In addition to this, startup firms such as Unlearn.ai based in San Francisco are highlighting on minimizing number of subjects for clinical trials through use of AI-based tools. Apparently, third party service providers including antidote.me, Deep 6 AI, and Trials. Ai based in the U.S. have created AI apps that helps in identifying & recruiting suitable patients for enrollment in clinical trials through exact examination of healthcare records of patients.
Competitive Landscape
Key players impacting industry sphere and profiled in report are:
Deep 6 AI
Unlearn.AI Inc.
Saama Technologies
Mendel.ai
Antidote Technologies Inc.
Phesi
Innoplexus
Intelligencia
Symphony AI
Median Technologies
Aicure LLC
BioAge Labs
Inc.
DEEP LENS AI
CONSILX
Pharmaseal
Ardigen
Halo Health Systems
Trials.AI
IBM Watson
Koneksa Health
BioSymetrics
Euretos
GNS Healthcare
Exscientia.
The global AI-based Clinical Trials Solution Provider Market is segmented as follows
By Application
By End-User
By Region
North America
Europe

France
The UK
Spain
Germany
Italy
Rest of Europe

Asia Pacific

China
Japan
India
South Korea
Southeast Asia
Rest of Asia Pacific

Latin America

Brazil
Mexico
Rest of Latin America

Middle East & Africa

GCC
South Africa
Rest of Middle East & Africa