Diabetic Food Market: Overview
The Global Diabetic Food Market accounted for USD 10.75 Billion in 2020 and is expected to reach USD 15.1 Billion by 2028, growing at a CAGR of around 4.3% between 2021 and 2028.
Diabetes is a condition during which insulin production is hampered our body doesn't use insulin which is liable for converting glucose to energy. This leads to a rising glucose level in the blood. Diabetic food products are dietary foods that contain low carbohydrates, sugar, and preservatives. Diabetic food possesses low in calories and is sugar-free which helps in maintaining the blood sugar level. Diabetic food is consumed by diabetic patients to take care of the balance of blood glucose and obese patients intake diabetic food for reducing the load.
Increasing demand for food and a hectic lifestyle has led to the potential growth of diabetes and obesity. Rising awareness toward diabetics and growing health consciousness among the young generation drives the diabetic foodstuff. Surging discretional income and straightforward availability of diabetic food positively impact the expansion of diabetic foodstuff. Yet surplus consumption of synthetic sugars and preservatives which increase the absorption of calories, in turn, causes high blood glucose levels. These factors may obstruct the expansion of diabetic foodstuff. Nonetheless, ongoing research for the assembly of diabetic food using natural sugar-free ingredients is predicted to open a new avenue for diabetic food within the years to return.
The manufacturers of diabetic food have introduced various products with low calories, zero preservatives, and sugar-free products for the diabetic and health concern population. a number of these products include ice creams & jellies, dairy products, dietary beverages, baked products, confectionery, snacks, and other products. The dietary beverage is that the leading segment due to the high consumption of several products of dietary beverages globally.
COVID-19 Impact Analysis
The COVID-19 impact on the healthcare industry is large and seriously disrupted the entire supply chain, from raw materials to manufacturing and delivery. The entire healthcare industry has shifted to manufacturing ventilators, vaccines, or raw materials for vaccines. At the worldwide level, the demand for medical ventilators has forced producers to spice up demand by up to 40 to 50 percent. To satisfy the increasing demand, producers have also cooperated with automakers. Governments and various organizations are deeply engaged in meeting the worldwide situation, alongside other industry actors. To deal with the buyer demands of vaccines, medications, diagnostics, and medical equipment like ventilators, the leading actors are involved in R&D operations, strategic alliances & partnerships, and innovative product releases.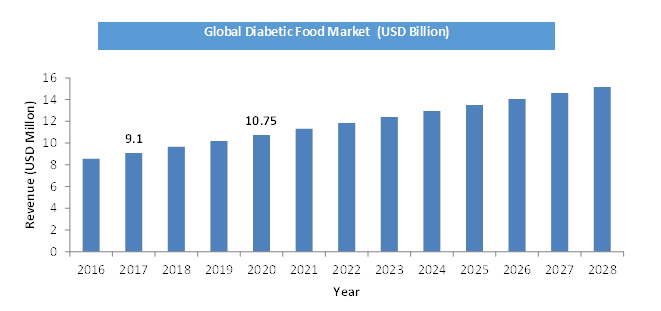 Request Free Sample
Diabetic Food Market: Growth Factors
A hectic lifestyle and rising demand for food is resulting in diabetes which is anticipated to fuel the demand for diabetic food over the subsequent nine years. Moreover, increasing cases of type I diabetes among children and youth due to lack of physical activity is predicted to fuel the demand. The growing use of artificial sweeteners including aspartame, acesulfame potassium, and neo-tame as a substitute for sugar is anticipated to positively impact market growth.
Report Scope: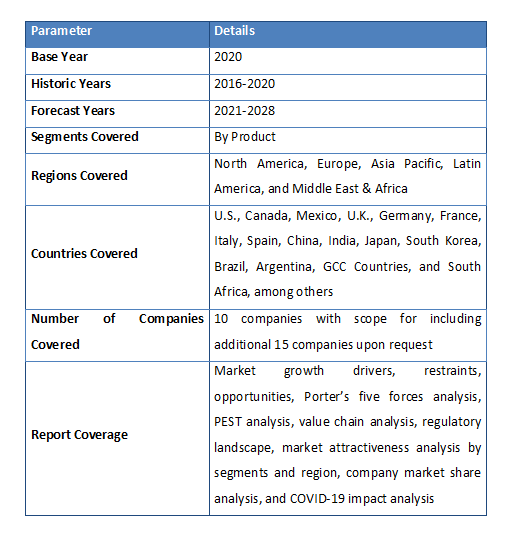 Request Free Sample
Product Segment Analysis Preview
Dietary beverages emerged as the leading application segment and accounted for over 30% of the general demand in 2016 due to the high demand for sugar-free and low-calorie beverages, particularly in North America and Europe. The demand for these baked products accounted for over 10% in 2016 and is projected to grow at a big rate within the coming years. Increasing income due to growing economies like the Asia Pacific is anticipated to reinforce the expansion of the baked products sector over the forecast period. Demand for dairy products accounted for over 26% in 2016. Increasing food manufacturing in emerging economies like China, India, and Brazil is projected to influence the market.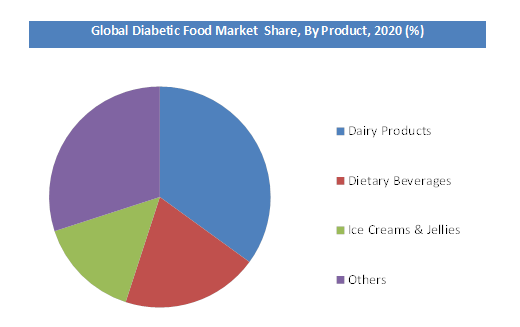 Request Free Sample
Diabetic Food Market: Key Players & Competitive Landscape
Key participants profiled in the report include David Chapman's Ice Cream Limited, Fifty 50 Foods Inc., Nestle S.A., Kellogg Company, Mars Inc., Unilever Plc, The Coca-Cola Company, Nutrition Plus Health and Wellness Pvt. Ltd., Cadbury plc, PepsiCo Inc and Sushma Gram Udyog among others.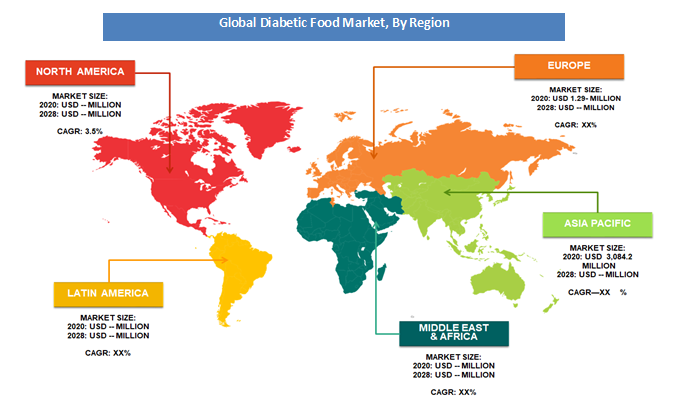 Request Free Sample
The global Diabetic Food Market is segmented as follows:
By Product
Ice creams & jellies
Dairy products
Dietary beverages
Baked products
Confectionary
Snacks
Other
By Region
North America
Europe

France
The UK
Spain
Germany
Italy
Rest of Europe

Asia Pacific

China
Japan
India
South Korea
Southeast Asia
Rest of Asia Pacific

Latin America

Brazil
Mexico
Rest of Latin America

Middle East & Africa

GCC
South Africa
Rest of the Middle East & Africa