Global Human insulin Market Overview
The global Human insulin market accounted for USD 33.7 Billion in 2020 and is expected to reach USD 68 Billion by 2028, growing at a CAGR of around 8.9% between 2021 and 2028.
Human insulin is the term that describes synthetic insulin which is grown in a laboratory to mimic the insulin in humans. In a laboratory, it is created by growing insulin proteins within E-coli bacteria (Escherichia coli). It is mainly available in two forms, a short acting (regular) form and an intermediate acting (NPH) form. Human insulin was developed as an insulin that could be created in large amounts at a relatively low cost. It can be administered orally or through insulin infusion devices. Some conventional insulin infusion devices are syringes, insulin pumps, and injection pens. These devices are used to deliver insulin on time and regularly.
COVID-19 Impact Analysis
The global human insulin market has witnessed a slight decline in the sales for short term to the lockdown enforcement placed by governments in order to contain COVID spreading. The restrictions imposed by various nations to contain COVID had stopped the production resulting in a disruption across the whole supply chain. However, the global markets are slowly opening to their full potential and theirs a surge in demand. The market would remain bullish in upcoming year. Rising support from governments and several companies can help in the fight against this disease. Overall, almost every sector is anticipated to be impacted by the pandemic.
The significant decrease in the global Human insulin market size in 2020 is estimated on the basis of the COVID-19 outbreak and its negative impact on the economies and industries across the globe. Various scenarios have been analyzed on the basis of inputs from various secondary sources and the current data available about the situation.
Request Free Sample
Growth Factors
The global human insulin market is likely to see noteworthy development in the years to come. This development in global human insulin market is attributed owing to the rising market demand for human insulin analogs, increasing risk of diabetes, favorable medical reimbursements, and technological enactments in the field of human insulin delivery devices. An insulin routine is often needed in the treatment of gestational diabetes and diabetes related with specific syndromes or conditions (such as chemical or drug-induced diabetes, pancreatic diseases, insulin-receptor disorders, endocrinopathies, and specific genetic syndromes). In all cases of insulin employment, the dosage of insulin must be balanced and individualized with exercise and medical nutrition therapy, thereby boosting the global human insulin market.
Increasing technical advancements is also one of the reasons for the growth of the global human insulin market. For instance, in June 2018, Eli Lilly and Company's Humulin R U-500 (that was used in insulin pumps) displayed greater A1C lowering in adults suffering from type 2 diabetes. This was compared extraordinary in comparison to MDI (multiple daily injections), thereby driving the growth of global human insulin market.
Report Scope:
Segment Analysis Preview
Based on product, drugs were likely to add up for the biggest market share of the global human insulin market and are expected to stay the same in the near future. Requirement for biosimilar drugs is sturdy in both developing and developed nations owing to its low-cost therapy. This is boosted by the requirement for the best valuable therapy, which can frequently be expensive. Biosimilar insulin drug might provide a less-pricy option to current human insulin biologics, thus boosting the global human insulin market.
Regional Analysis Preview
North America has been leading the worldwide human insulin market and is anticipated to continue on the dominant position in the years to come. The factors such as growing old age population, rising prevalence of diabetes, increasing healthcare awareness, improvement in reimbursement policies, and surge in clinical trials driving the growth of human insulin in North America.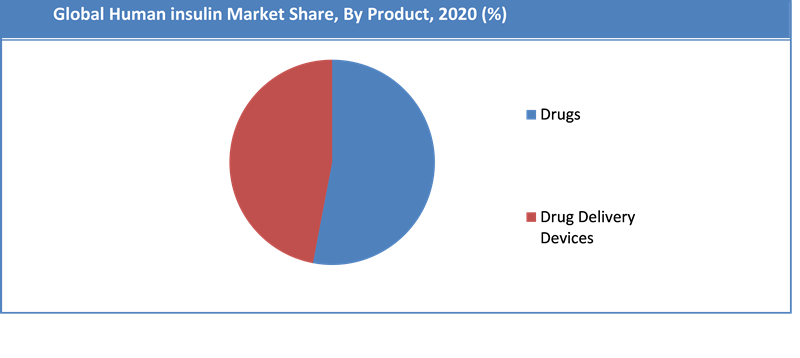 Request Free Sample
Key Market Players & Competitive Landscape
Some of the major players of the global human insulin market include Eli Lilly, GlaxoSmithCline, Biocon, Sanofi Aventis, Julphar, Novo Nordisk, SemBioSys, and Wockhardt among others.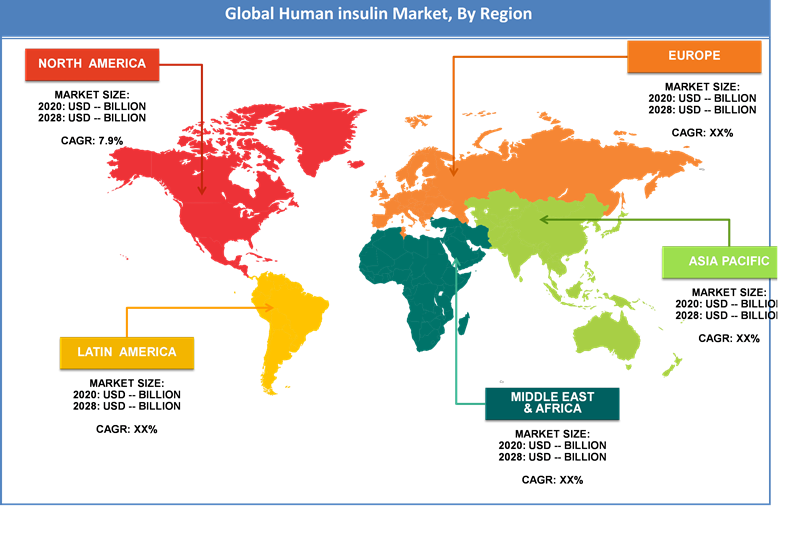 Request Free Sample
The global Human insulin Market is segmented as follows:
By Products
Drugs

Insulin Analogs and Biosimilars
Human Insulin Biologics

Drug Delivery Devices

Pens
Pen Needles
Syringes
By Applications
Insulin dependent diabetes mellitus (Type 1)
Non-Insulin dependent diabetes mellitus (Type 2)
By Region
North America
Europe

France
The UK
Spain
Germany
Italy
Rest of Europe

Asia Pacific

China
Japan
India
South Korea
Southeast Asia
Rest of Asia Pacific

Latin America

Brazil
Mexico
Rest of Latin America

Middle East & Africa

GCC
South Africa
Rest of Middle East & Africa