The report covers a detailed analysis and forecast for the cooking oil market on a global and regional level from 2015 to 2024. The study offers historical data for 2015, 2016 and 2017 along with a forecast from 2018 to 2024 based on revenue (USD billion). The study comprises a comprehensive view of the market with the review of market drivers, restraints, and opportunities. It also provides the level of impact of drivers and restraints on the cooking oil market.
The study included a detailed competitive scenario and product portfolio of key vendors. The report evaluates Porter's Five Forces model to analyze the different factors affecting the growth of the cooking oil market. Moreover, the study encompasses a market attractiveness analysis, which provides the most attractive and least attractive market segments information by extraction method, type, application, and region.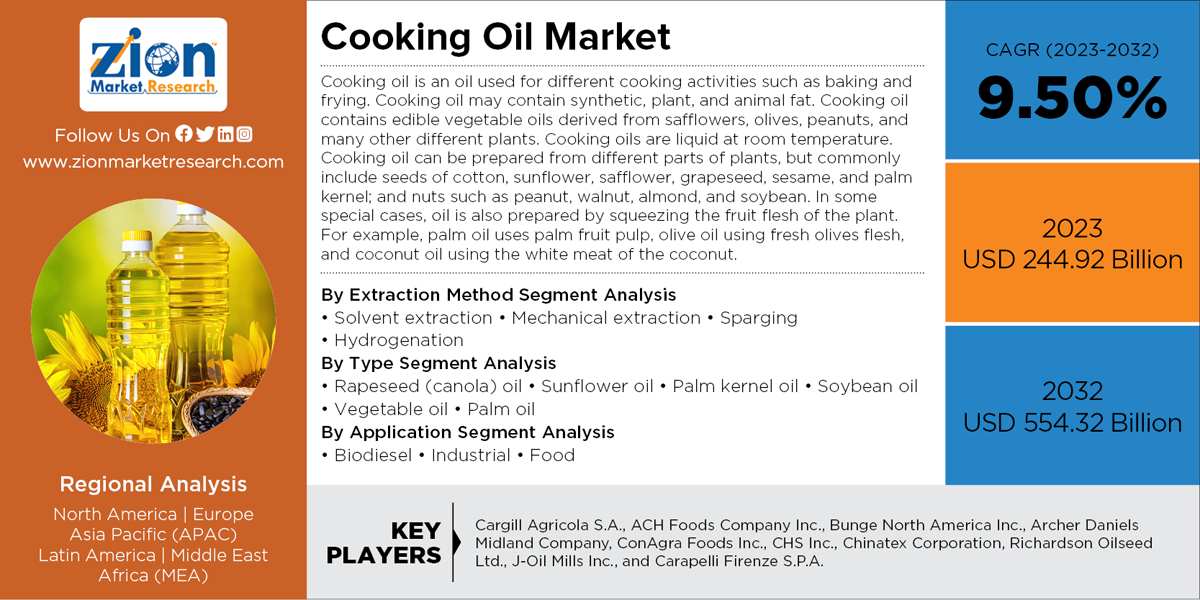 The report includes detailed segmentation of the cooking oil market based on extraction method, type, application, and region. On the basis of the extraction method, the market can be classified as solvent extraction, mechanical extraction, sparging, and hydrogenation. Based on the type, the market can be segmented into rapeseed (canola) oil, sunflower oil, palm kernel oil, soybean oil, minor vegetable oil, and palm oil. Based on application, the market can be segmented into biodiesel, industrial, and food. Major regional segment analyzed in this report include North America, Europe, Asia Pacific, Latin America, and the Middle East & Africa with its further bifurcation into major countries including the U.S., Germany, France, UK, China, Japan, India, and Brazil.
The report provides detailed competitive outlook including market share and company profiles of the important players operating in the global cooking oil market. Some of the important participants in the report include Cargill Agricola S.A., ACH Foods Company Inc., Bunge North America Inc., Archer Daniels Midland Company, ConAgra Foods Inc., CHS Inc., Chinatex Corporation, Richardson Oilseed Ltd., J-Oil Mills Inc., and Carapelli Firenze S.P.A.
This report segments the global cooking oil market as follows:
Global Cooking Oil Market: Extraction Method Segment Analysis
Solvent extraction
Mechanical extraction
Sparging
Hydrogenation
Global Cooking Oil Market: Type Segment Analysis
Rapeseed (canola) oil
Sunflower oil
Palm kernel oil
Soybean oil
Vegetable oil
Palm oil
Global Cooking Oil Market: Application Segment Analysis
Biodiesel
Industrial
Food
Global Cooking Oil Market: Regional Segment Analysis
North America
Europe
Asia Pacific
Latin America
Middle East and Africa