Industry Prospective:
The global confectionery market size was worth around USD 206.53 Billion in 2022 and is estimated to grow to about USD 261.7 Billion by 2030, with a compound annual growth rate (CAGR) of approximately 3.9 percent over the forecast period. The report analyzes the confectionery market's drivers, restraints/challenges, and the effect they have on the demands during the projection period. In addition, the report explores emerging opportunities in the confectionery market.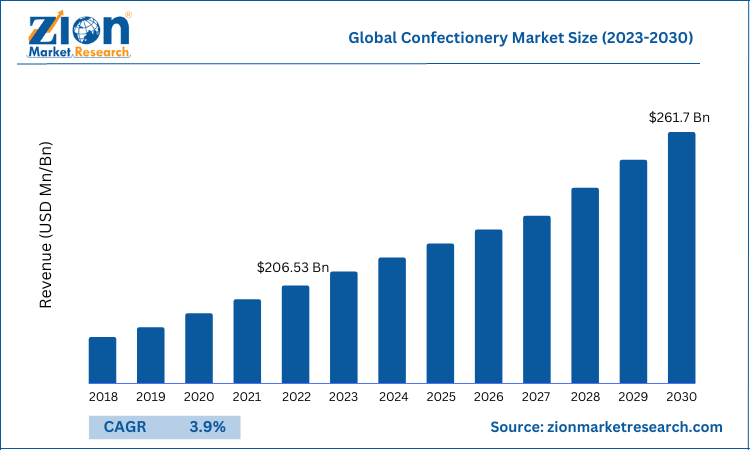 Request Free Sample
Confectionery Market: Overview
Foods high in sugar and carbs are referred to as confections. Chocolates, biscuits, bars, candies, mints, and other confections are among the items available. The behaviors, interests, and preferences of consumers are always changing. This has resulted in confectionary innovation, which is driving market expansion.
To fulfill evolving customer preferences, manufacturers are expanding their product variety by integrating tropical fruit, organic herbal fillings, functional ingredients, and nut-based & exotic tastes in product formulations. Furthermore, in recent years, the practice of giving confectionery products such as chocolates, cookies, bakery items, and others has aided market expansion. Confectionery items are heavily purchased, thus brands are continuously developing novel engaging strategies to attract consumer attention.
Key Insights
As per the analysis shared by our research analyst, the global confectionery market is expected to grow annually at a promising CAGR of around 3.9% during the forecast period 2022-2030.
In terms of revenue, the global confectionery market size was valued at around USD 206.53 billion in 2022 and is estimated to grow to about USD 261.7 billion by 2030
Increase in the consumption of foods with high sugar content, rapid changes in the preferences of customers, availability of sugar-free confectionery, and introduction of innovative products with functional ingredients and organic fillings propel the growth of the confectionery industry.
Based on product type, the chocolate segment held the largest market share in 2022.
Based on distribution channel, the hypermarkets/supermarkets segment held the dominating market share in 2022.
Based on region, the Europe region held the largest market share in 2022.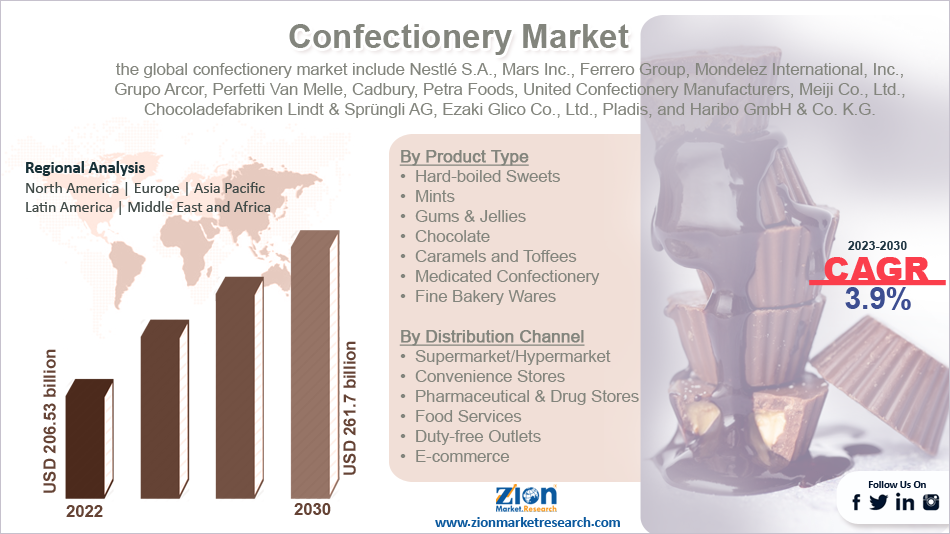 Request Free Sample
To know more about this report, Request a sample copy
COVID-19 Impact:
The COVID-19 pandemic has had a significant impact on the confectionery industry. During FY 2020, the strict rules and lockdown had repercussions on the confectionery industry, causing differential impacts on the supply of raw materials such as food ingredients, agricultural produce, and intermediate food products. The impact also resulted in disruption in trade & logistics, demand-supply uncertainty, iffy consumer demand, and availability of workforce at the industrial scale. Further, the sales declines as a consequence of diminished gifting and impulse spending among customers throughout the world were one of the primary issues that affected the confectionery business during the shutdown.
Confectionery Market: Growth Drivers
Rise in demand for organic chocolate is boosting the growth of the market
Healthier snacking, coupled with simplicity and flavor, is a growing trend among buyers, and firms are responding with a big plan to cater to the increasing demand for healthier snacks. As a result, confectionery businesses are developing packaging that allows consumers to eat tiny quantities and save the remainder for later. Snack bars are also widely considered a healthy alternative to chocolate or confectionery, and they have a strong image as a treat owing to product variety in terms of varied nutrients, such as proteins.
For example, Mars Inc. launched "Goodness Knows," a new low-chocolate and low-calorie bar that is the first low-calorie bar in 20 years. Thus, all these factors coupled with the rise in the export of organic chocolates are fostering global confectionery market growth. In addition to this, the growing trend of gifting confectionery products, rise in the retail market, online distribution channels, rising disposable income, and hectic lifestyle are also some of the key factors that are propelling the market growth.
Confectionery Market: Restraints
Raw material price fluctuations can affect market growth
Sugar and cocoa are two fundamental raw ingredients used in the production of confectioneries all over the world. Cocoa and sugar prices have fluctuated in recent years due to rapid changes in production and demand in the worldwide marketplace. Unfavorable weather conditions, labor availability, stock ratios, crop diseases, and other economic issues all impact cocoa and sugar yields, interfering with the seamless functioning of need and supply in the confectionery industry. As a result, the average yearly price of raw materials ranges from low to high, resulting in excess or understock in the market for sugar and chocolate goods. As a result, raw material price changes are projected to impact overall demand in the future years.
Confectionery Market: Opportunities
Rise in sugar-free confectionery popularity in developed economies to fuel the market growth
Low-calorie items, including sugar-free confectionaries, are likely to drive the global confectionery market's modest rise throughout the forecast period. High sugar consumption is also a matter of concern across the world since it has been related to a variety of health issues. When it comes to sweets, many individuals opt for sugar-free products to avoid ingesting too much sugar. Artificial sweeteners and sugar alcohols are the most common sweeteners used in the production of sugar-free chocolate and gums.
For example, Hershey, the largest chocolate company in the United States, offers sugar-free versions of popular brands like Hershey's and Reese's that employ polyglucitol and maltitol instead of sugar. Thus, the growing inclination of consumers towards a healthy lifestyle has led to the growing demand for sugar-free confectionery. Hence, sugar minimizing movement in the new products by the manufacturers may generate ample opportunities for market growth during the forecast period.
Confectionery Market: Challenges.
Traceability and need for flexibility in supply chain challenges the market expansion
The capacity to trace any foodstuff through all phases of the food chain is a critical component of both administration and information. Each stakeholder in the supply chain, from farmer and breeder to manufacturer, distributor, and retailer, must be able to trace goods movements back and forth. Each instance should take one stride forward and one step back. This should include the ability to identify the source of all dietary inputs in order to take remedial actions appropriately and safely. In addition to this, product lifecycles are smaller than they were previously.
There is a trend toward ongoing product innovation and package modifications to promote products. As the number of products changes rises, so does the number of portfolio changes. Inventory levels are low, and fast-moving consumer products are moving at a quicker rate than ever before. To manage this, flexibility in the supply chain is required which serves as a major challenge to the confectionery industry growth along with the traceability factor.
Confectionery Market: Segmentation
The global confectionery market is segmented as product type, price point, age group, distribution channel, and region.
Based on age group, the market is categorized into adults, children, and geriatric.
The price point segment of the market is divided into luxury, mid-range, and economy.
Based on product type, the market is bifurcated into hard-boiled sweets, mints, gums & jellies, chocolate, caramels & toffees, medicated confectionery, fine bakery wares, and others. The chocolate segment held the largest market share in 2022 and is further predicted to occupy a dominant status and simultaneously grow at a significant CAGR during the forecast period. The reason for the growth of this segment is that the highest per capita consumed confectionery product across the globe is chocolate, and hence it is widely consumed among all age groups, particularly among children so as to appease their taste buds. Besides, the surge in demand for premium, organic, and exotic flavors of chocolates be it white or dark, or milk-based chocolate among people further drive the growth of this segment.
Based on distribution channel, the market is bifurcated into supermarkets/hypermarkets, convenience stores, pharmaceutical & drug stores, food services, duty-free outlets, e-Commerce, and others. The supermarkets/hypermarkets segment held the largest market share in 2022 and is further predicted to occupy a significant market share during the forecast period. The main reason for the growth of this segment is the convenient access and wide variety of confectionery products based on the preference of consumers in supermarkets and hypermarkets. Besides, consumers can physically validate the quality and size of the products and can even taste them in some cases which increases credibility and further drives the growth of the segment.
Recent Developments
In March 2022, Chewters Chocolates, a Canadian confectionery company, made a significant investment in cutting-edge product inspection technology to improve its packaging line competency to "world-class standards".
In March 2022, Pharmactive Biotech Products, located in Madrid, entered the gummies flavor market with Aged Black Garlic+ (ABG+), which they describe as a sweet,' social' taste that is odor-free and so perfect for functional gummies.
In November 2022, Fazer, one of the oldest confectionery companies based in Finland, announced that they have collaborated with Aberdeen Group, in order to launch its extensive range of confectionery products in India. Fazer will leverage Aberdeen Group's vast network of retail outlets, e-commerce platforms, and airport stores for the launch of Frazer's popular products.
In May 2022, Moo Free, a dominant UK-based confectionery brand, announced the launch of its new chocolate bar range called 'Jub-moo-lee Bar' which is made from exquisite Hispaniola cocoa beans. This limited-edition line of chocolate is free from soya, gluten, and dairy and is made from superior cocoa that is certified by Rainforest Alliance farmers.
Confectionery Market Report Scope:
Report Attributes
Report Details
Report Name
Confectionery Market Research Report
Market Size in 2022
USD $206.53 Billion
Market Forecast in 2030
USD $261.7 Bllion
Compound Annual Growth Rate
CAGR of 3.9%
Number of Pages
214
Forecast Units
Value (USD Billion), and Volume (Units)
Key Companies Covered
Nestlé S.A., Mars Inc., Ferrero Group, Mondelez International, Inc., Grupo Arcor, Perfetti Van Melle, Cadbury, Petra Foods, United Confectionery Manufacturers, Meiji Co., Ltd., Chocoladefabriken Lindt & Sprüngli AG, The Hershey Company, Ezaki Glico Co., Ltd., Pladis, and Haribo GmbH & Co. K.G.
Segments Covered
By Age Group, By Product Type, By Distribution Channel, By Price Point, And By Region
Regions Covered
North America, Europe, Asia Pacific (APAC), Latin America, Middle East and Africa (MEA)
Countries Covered
North America: U.S and Canada
Europe: Germany, Italy, Russia, U.K, Spain, France, Rest of Europe
APAC: China, Australia, Japan, India, South Korea, South East Asia, Rest of Asia Pacific
Latin America: Brazil, Argentina, Chile
The Middle East And Africa: South Africa, GCC, Rest of MEA
Base Year
2022
Historical Year
2017 to 2021
Forecast Year
2023 - 2030
Customization Scope
Avail customized purchase options to meet your exact research needs. Request For Customization
Confectionery Market: Regional Landscape
Europe to account for the highest market share during the forecast period
In 2021, Europe accounted for the largest portion of the global confectionery market, with over 35 percent of the share. Due to their expanded taste preferences and permissive eating habits, people are increasingly seeking quality and premium chocolates over sugar confectionery goods. One of the primary causes that are becoming important motivators to eat confectioneries in their daily routine is the mix of work-life, health concerns, and individual wishes among consumers.
Consumers are requesting specialized and personalized chocolates in the market, such as "melt-in-the-mouth" feel chocolate, "quality-for-chocolate," and others, resulting in increased confectionery sales in the region. In several European nations, including Germany, Austria, and the United Kingdom it is the most popular snack. Asia Pacific is the world's second-largest and rapidly growing confectionery market, with enormous potential for chocolate product consumption. The rise of the regional market is mostly due to rapid urbanization, rising disposable income, a youthful & dynamic population, and the simple availability of confectioneries in consumer packs.
Confectionery Market: Competitive Landscape
Major players functioning in the global confectionery market include:
Nestlé S.A.
Mars Inc.
Ferrero Group
Mondelez International Inc.
Grupo Arcor
Perfetti Van Melle
Cadbury
Petra Foods
United Confectionery Manufacturers
Meiji Co. Ltd.
Chocoladefabriken Lindt & Sprüngli AG
The Hershey Company
Ezaki Glico Co. Ltd.
Pladis
Haribo GmbH & Co. K.G.
Global confectionery market is segmented as follows:
By Age Group
By Product Type
Hard-boiled Sweets
Mints
Gums & Jellies
Chocolate
Caramels and Toffees
Medicated Confectionery
Fine Bakery Wares
Others
By Distribution Channel
Supermarket/Hypermarket
Convenience Stores
Pharmaceutical & Drug Stores
Food Services
Duty-free Outlets
E-commerce
Others
By Price Point
By Region
North America
Europe

France
The UK
Spain
Germany
Italy
Rest of Europe

Asia Pacific

China
Japan
India
South Korea
Southeast Asia
Rest of Asia Pacific

Latin America

Brazil
Mexico
Rest of Latin America

Middle East & Africa

GCC
South Africa
Rest of Middle East & Africa