Abstract
The report covers forecast and analysis for the bakery ingredient market on a global and regional level. The study provides historical data from 2015 to 2017 along with a forecast from 2018 to 2024 based on revenue (USD Billion). The study includes drivers and restraints of the bakery ingredient market along with the impact they have on the demand over the forecast period. Additionally, the report includes the study of opportunities available in the bakery ingredient market on a global level.
In order to give the users of this report a comprehensive view of the bakery ingredient market, we have included a detailed competitive scenario and product portfolio of key vendors. To understand the competitive landscape in the market, an analysis of Porter's Five Forces model for the bakery ingredient market has also been included. The study encompasses a market attractiveness analysis, wherein segments are benchmarked based on their market size, growth rate, and general attractiveness.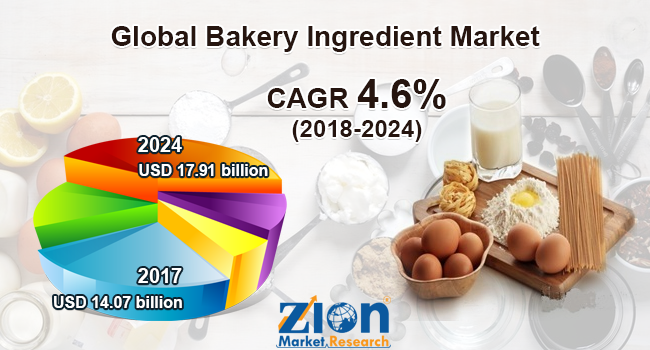 The study provides a decisive view of the bakery ingredient market by segmenting the market based on type and regions. All the segments have been analyzed based on present and future trends and the market is estimated from 2018 to 2024. The type segmentation includes baking powders & mixes, enzymes, leavening agents, starch, emulsifiers, oil, fats & shortenings, and colors & flavors. The regional segmentation includes the current and forecast demand for North America, Europe, Asia Pacific, Latin America, and the Middle East and Africa.
The report covers a detailed competitive outlook including the market share and company profiles of the key participants operating in the global bakery ingredient market. Key Players in the market include Burris Logistics, Henningsen Cold Storage, John Swire, and AGRO Merchants, Preferred Freezer Services, Kloosterboer Services, Nichirei Logistics, Interstate Cold Storage, AmeriCold Logistics, Frialsa Frigoríficos, Lineage Logistics Cloverleaf Cold Storage etc.
This report segments the bakery ingredient market as follows:
Global Bakery Ingredient Market: Product Segment Analysis
Emulsifiers
Leavening Agents
Enzymes
Baking Powders & Mixes
Oil
Fats & Shortenings
Starch
Colors & Flavors
Global Bakery Ingredient Market: Regional Segment Analysis
North America
Europe
Asia Pacific
Latin America
Middle East and Africa