Market Overview
The U.S. Chocolate Beverage Powder Market size accounted for USD 1,396 Million in 2020 and is expected to reach USD 1,959 Million by 2028, growing at a CAGR of 4.2% from 2021 to 2028.
According to the data from various sources, such as bars, cafes, and convenience stores, there has been a significant rise in the purchasers of the products. The reason for this is that these products contain high content of caffeine and sugar that can affect the body positively. It gives more energy to improve mental focus and endurance during exercise activities that require physical effort. In addition, drinking powdered drinks with cacao will help satisfy hunger by giving a slow release of carbohydrates into the blood system. This will make the stomach feel full longer, especially in adolescents who are often busy with various activities after school.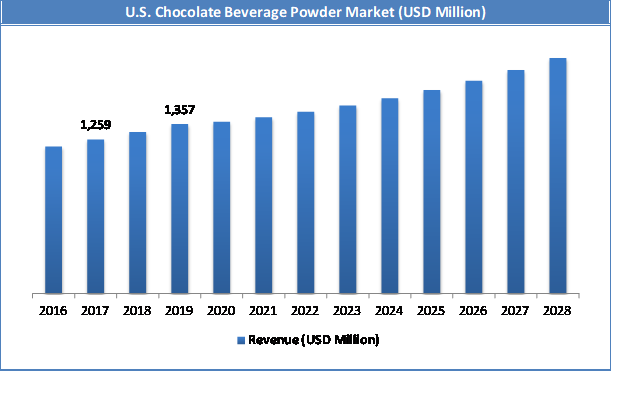 Request Free Sample
COVID-19 Impact Analysis
The covid-19 pandemic has affected almost all sectors across the globe. However, the chocolate beverage powder market remains unaffected during this period. On top of that several leading market players in the region reported improvement in revenue as people were found to be stockpiling their favorite food, especially premium chocolate powder. Since they are staying at home for a longer time and spending less time outside, they have started consuming more comfort food. For instance, it has been found that 51% of people are preferring chocolate as their comfort food and the remaining 49% are considering it as their favorite food.
Growth Factors
Teens, young adults, and even children are concerned about their weight and overall health. This has led them to make healthier choices of food and drinks they consume on a daily basis. Obesity is a serious issue around the world. A huge part of healthier beverage demand is driven by the functional benefits drinks can provide to consumers. Functional benefits refer to "cues that something possesses beneficial physiological effects. These cues that manufacturers place on packaging or advertisements regarding what a product can do for consumers' health typically influence consumer preferences. For instance, calcium content is linked with healthy, which could be advertised as one of Citrus's benefits. It would be wise to include this on the packaging, or in advertisements. Unhealthy beverages, such as soda and fruit drinks are perceived by millennials as "outdated". Millennials have started avoiding purchasing these products, which has led to an increase in demand for healthier options. Currently, health-related claims are the second most common type of claim on beverage labels behind "natural".
Chocolate's use in a beverage is growing fast in the US and a wide range of chocolate drinks can now be found everywhere from restaurants and airport lounges to supermarkets and grocery stores, making them easy to acquire for those who suddenly develop a taste for them. While traditional hot chocolate consists of melted chocolate mixed with hot water or milk, the drinks are gaining popularity because they are made with premium ingredients without preservatives, artificial flavors or colors.
Global U.S. Chocolate Beverage Powder Market Report Scope:
Report Attributes
Report Details
Report Name
U.S. Chocolate Beverage Powder Market Research Report
Market Size in 2020
USD 1,396 Million
Market Forecast in 2028
USD 1,959 Million
Compound Annual Growth Rate
CAGR of 4.2%
Number of Pages
160
Forecast Units
Value (USD Billion), and Volume (Units)
Key Companies Covered
Nestle, Mars, Pepsico, Mondelez, kanegrade, and Hershey's, among others.
Segments Covered
By Type, By Packaging Format, By Distribution Channel, By Packaging Size, And By Region
Regions Covered
North America, Europe, Asia Pacific (APAC), Latin America, Middle East and Africa (MEA)
Countries Covered
North America: U.S and Canada
Europe: Germany, Italy, Russia, U.K, Spain, France, Rest of Europe
APAC: China, Australia, Japan, India, South Korea, South East Asia, Rest of Asia Pacific
Latin America: Brazil, Argentina, Chile
The Middle East And Africa: South Africa, GCC, Rest of MEA
Base Year
2021
Historical Year
2016 to 2020
Forecast Year
2022 - 2030
Customization Scope
Avail customized purchase options to meet your exact research needs. Request For Customization
Type Analysis Preview
The white chocolate powder segment held a share of around 40.94% in 2020. This drink is targeted at younger customers who like to experiment with the different tastes they could get from drinks than older people who enjoy drinking white chocolate powder drink which mostly consists of milk and sugar taste due to its traditional character. The demand for this product over the last five years has been increasing every year because it offers an alternative to other milk drinks such as dairy coffee and yogurt. However, there is still a price problem that may cause potential customers not to buy this product; therefore, marketers should give more attention to this problem.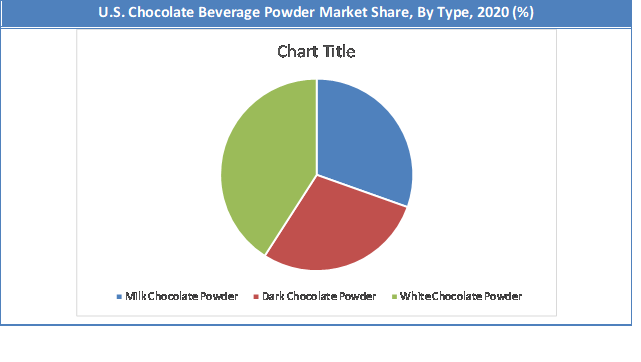 Request Free Sample
Distribution Channel Segment Analysis Preview
The hypermarkets/Supermarkets segment is expected to grow at a CAGR of over 4.3% from 2021 to 2028. In today's society, people are living very busy life. With the increasing pressure from work and family, many consumers live a fast-paced lifestyle which has changed their quality of life. This has led to a significant change in consumer buying behaviors as they look for convenience and products that can help them manage the numerous demands on their time. In this modern society, people have a lot of different choices when it comes to beverages. When consumers look for the right beverage that suits their needs at home or when they are on the go, convenience is a major consideration. Consumers would choose to buy from the supermarket instead of other places such as specialty shops because supermarkets offer more convenient services and have wider product offerings.
Regional Analysis Preview
U.S. is growing at 4.2% CAGR from 2021 to 2028. In dollar sales, the natural channel has been experiencing a steady increase in demand since 2013, growing from $28.9 billion to over $33.5 billion from 2016 to 2017. This is a result of an increase in demand for healthy beverages driven by health-conscious millennials. Healthy beverage consumption has increased significantly due to functional benefits and greater access to these products. The overall market will continue growing as long as new and unique functional benefits are added and new products are created with the goal of satisfying consumer demands while also providing them with some sort of benefit that can improve their daily lives.
Key Market Players & Competitive Landscape
Some of the key players in the U.S. Chocolate Beverage Powder Market are
Nestle
Mars
Pepsico
Mondelez
kanegrade
Hershey's
The U.S. Chocolate Beverage Powder Market is segmented as follows:
By Type
Milk Chocolate Powder
Dark Chocolate Powder
White Chocolate Powder
By Packaging Format
Plastic Containers
Cartons
Pouches
Others
By Distribution Channel
Hypermarkets/Supermarkets
Food and Drug mass
CLubs
Specialty
Global Travel Retail
By Packaging Size
Up to 500 Grams
501–1,000 Grams
1,000–1,500 Grams
More than 1,500 Grams
By Region
North America
Europe

France
The UK
Spain
Germany
Italy
Rest of Europe

Asia Pacific

China
Japan
India
South Korea
Southeast Asia
Rest of Asia Pacific

Latin America

Brazil
Mexico
Rest of Latin America

Middle East & Africa

GCC
South Africa
Rest of Middle East & Africa