Global Cloud Based Collaboration Software Market Overview
The global cloud-based collaboration software market accounted for USD 4.67 Billion in 2020 and is expected to reach USD 11.26 Billion by 2028, growing at a CAGR of 11.88% from 2021 to 2028.
Cloud-based collaboration software is in high demand in the software industry. Developers use this software to work with a variety of programming languages and source files. One of the benefits of cloud-based collaboration software is that it may be integrated with a variety of third-party services such as Google Drive and Dropbox. Organizations are finding it difficult to handle the increasing data flow and changing data structures. Aside from that, increasing storage capacity is an expensive process that necessitates new infrastructure and computational resources. As a result, businesses are turning to cloud-based collaboration software and other cloud-based services, which can provide improved storage capacity, increased productivity, and simplicity of use.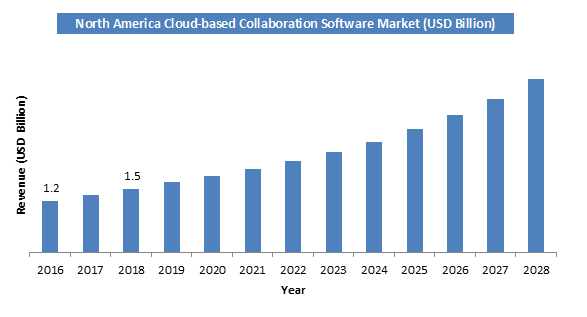 Request Free Sample
COVID-19 Impact Analysis
With the outbreak of Covid-19 and global lockdown business challenges in continuity, and a growing trend in work-from-home setup. The organizations are supporting remote working and are forced to move to cloud environments to cope-up with the crisis and facilitate daily data access, sharing, and work collaboration to its geographically spread teams. Moreover, the demand for services such as consulting, training, support and maintenance, and integration and implementation are also increasing as more companies are moving their workloads to the cloud owing to its scalability, flexibility, and ubiquitous availability benefits.
Growth Factors
The increasing adoption of software as a service among businesses is a major driver driving the market's growth. Furthermore, the growing trend of building your own devices (BYOD) and mobility is contributing to the market's good trend. Furthermore, the increasing use of electronic gadgets has fueled market expansion. However, the market's growth is hampered by its strong reliance on the internet and concerns about data security. Cloud-based collaboration software provides a communication solution that enables for real-time information and data transmission while also being incredibly cost-effective.
Artificial Intelligence (AI) combined with collaborative tools allows organizations to automate and improve communication. AI has the ability to increase the accuracy of voice and chat assistants, as well as aid in real-time message translation.
Report Scope: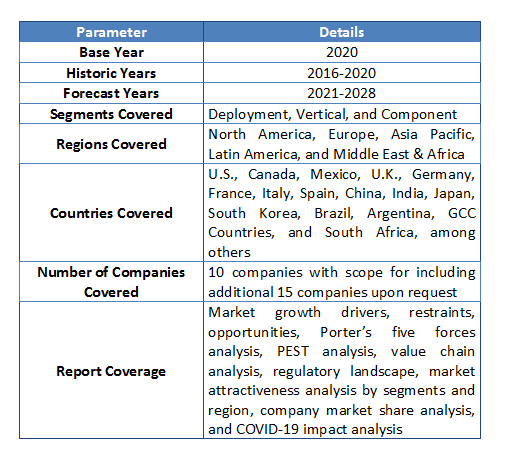 Request Free Sample
Deployment Segment Analysis Preview
The hybrid cloud segment will grow at a CAGR of over 25% from 2021 to 2028. There has been a significant shift to hybrid cloud as primary deployment model. Because of the high prices of private cloud and emerging risk of open threats in public cloud storage among end-users in sectors like banking, healthcare, and government sectors gave a sharp to the need of hybrid storage where flexibility is provided to switch between private and public storage space. Private cloud is gaining importance too because of the rise in usage of cloud among banks and retail sector.
Vertical Segment Analysis Preview
The BFSI sector held a share of over 24% in 2020. As BFSI companies are witnessing expanded customer base and internet user and are required to manage, recover, and secure large volumes of data, they continuously require cloud storage as it provides a transformative digital solution. Also, IT and Telecommunications is expected to grow further in terms of usage of cloud storage just like the previous years. The surging demand of OTT platforms has made an opportunity and a need for telecommunications to have increased usage of cloud storage. The healthcare sector is expected to make a remarkable growth in the expected period as cloud storage provides them real-time data insights and reduces IT complexities.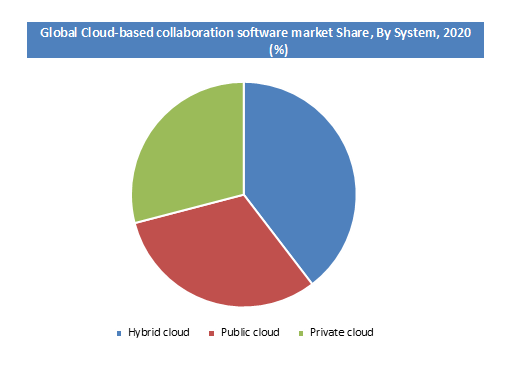 Request Free Sample
Regional Analysis Preview
North America, which was followed by Europe, had the second-largest revenue share of more than 30% in 2020 and will grow at a steady CAGR from 2021 to 2028. North America's increasing adoption of web conferencing solutions, communication and coordination tools, and collaboration portals is likely to propel the regional industry forward.
The Asia Pacific region is projected to grow at a CAGR of over 12.34% over the forecast period. Among the other regions, Asia Pacific is expected to be the fastest expanding. This expansion can be attributable to the growing demand for superior technologies in various industries. In order to provide better services to their customers, businesses are implementing cloud-based collaboration tools. Increasing small and medium enterprises in developing countries such as China and India help to grow the market of cloud-based collaboration software in this region.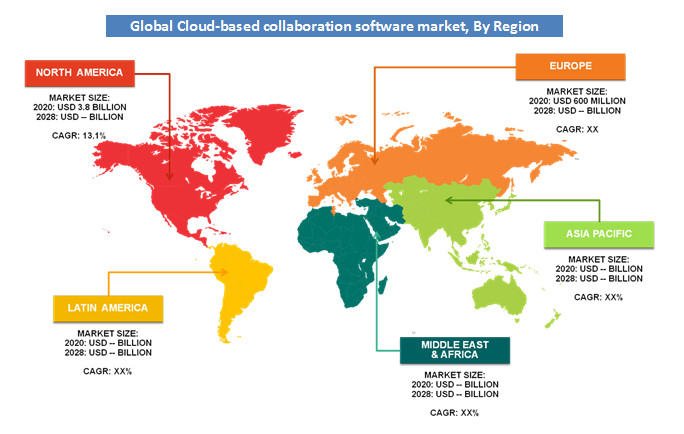 Request Free Sample
Key Market Players & Competitive Landscape
Some of key players in automated sortation system market are Apple, Microsoft Corp., Google, Slack Technologies Inc., Salesforce.com Inc., Jive software Inc., Mitel Networks Corporation, Box Inc., Aspect software, Cisco Systems, Oracle, among others.
Key businesses are concentrating on providing group collaboration tools, also known as hubs, for communicating, meeting, and calling to gain competitive advantage.
The global Cloud-based collaboration software market is segmented as follows:
By Deployment
Public Cloud Storage
Private Cloud Storage
Hybrid Cloud Storage
By Vertical
Government and public services
BFSI
IT
Telecom
Retail
Media and Entertainment
Others
By component
Solutions
Object Storage
Block Storage
File Storage
Services
Consulting
Integration and Implementation
Training, Support and Maintenance
Managed Services
By Region
North America
Europe

France
The UK
Spain
Germany
Italy
Rest of Europe

Asia Pacific

China
Japan
India
South Korea
Southeast Asia
Rest of Asia Pacific

Latin America

Brazil
Mexico
Rest of Latin America

Middle East & Africa

GCC
South Africa
Rest of Middle East & Africa