Global Cloud Storage Market Overview
The global cloud storage market accounted for USD 50.5 Billion in 2020 and is expected to reach USD 235.4 Billion by 2028, growing at a CAGR of 21.2% from 2021 to 2028.
Cloud storage permits to save data and files in an off-site location that can be accessed either through the public internet or a dedicated private network connection. Cloud storage solutions are best-suited for user home directories, application development, and media storage, which makes it an efficient solution for archiving and primary storage. The global market covers technologies like natural language processing, machine learning, automated reasoning, and information retrieval, which are used in interpreting unstructured data and forecasting the best solutions. As organizations are moving forward to a distributed system of work environment, cloud-based systems are enabling the workforce to collaborate and stay connected.
Request Free Sample
COVID-19 Impact Analysis
With the outbreak of COVID-19 and global lockdown business challenges in continuity, and growing trend in work from home setup, people and companies are moving towards cloud storage facilities. Organizations are supporting remote working and are forced to move to cloud environments to cope-up with the crisis and facilitate daily data access, sharing, and work collaboration to its geographically spread teams. Moreover, the demand for services such as consulting, training, support and maintenance, and integration and implementation are also increasing as more companies are moving their workloads to the cloud owing to its scalability, flexibility, and ubiquitous availability benefits. For instance, and Microsoft, has boosted the benefits of Windows and made Azure cloud credits for non-profit and critical care organizations extensive, such as food & nutrition, public safety, and health support. Hence, we can expect the onset of Coronavirus to fuel the adoption of cloud storage solution in every sector.
Growth Factors
The growth of Cloud storage market is mainly due to the growing interest of organizations to achieve better collaboration and productivity at same time managing and storing their day-to-day data for anytime and anywhere access. Organizations are progressively moving towards the cloud space for their storage supplies as it allows the storage of varied data sets irrespective of the data type. The enterprises have been facing issues with data management with the exponential growth in variety and volume of the data. Moreover, growth in cloud among small and medium enterprises are expected to make significant impact on the growth of the global cloud storage market.
The increase in data sprawl issues and data integrity, enterprises are rapidly moving towards adoption of Artificial Learning and Machine Learning competencies. So some cloud storage vendors provide AI and MI infused solutions to assess their customers solve queries before they move in the cloud. Hence, this marks as a major opportunity for vendors to have a competitive advantage by including AI and MI infused solutions to their cloud storage. Additionally, the low investment related to cloud storage augments for the growth of the industry. As cloud storage does not require on-premise data centers and additional services and maintenance cost it is relatively low on investment.
Report Scope :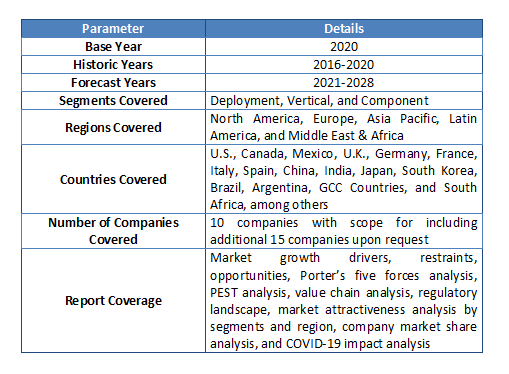 Request Free Sample
Deployment Segment Analysis Preview
The hybrid cloud storage segment will grow at a CAGR of over 20% from 2021 to 2028. There has been a significant shift to hybrid cloud as primary deployment model. Because of the high prices of private cloud and emerging risk of open threats in public cloud storage among end-users in sectors like banking, healthcare, and government sectors gave a sharp to the need of hybrid storage where flexibility is provided to switch between private and public storage space. Private cloud is gaining importance too because of the rise in usage of cloud among banks and retail sector.
Vertical Segment Analysis Preview
The BFSI sector held a share of around 12% in 2020. As BFSI companies are witnessing expanded customer base and internet user and are required to manage, recover, and secure large volumes of data, they continuously require cloud storage as it provides a transformative digital solution. Also, IT and Telecommunications is expected to grow further in terms of usage of cloud storage just like the previous years. The surging demand of OTT platforms has made an opportunity and a need for telecommunications to have increased usage of cloud storage. The healthcare sector is expected to make a remarkable growth in the expected period as cloud storage provides them real-time data insights and reduces IT complexities.
Component Segment Analysis Preview
Solutions segment is held a share of over 65% in 2020. Although Solution is likely to be one of the most rewarding segments, and is expected to grow at a notable rate. The file storage sub-segment of solutions is expected to lead in it because of its increased storage capacity. Solutions and service form the component segment. Solution is further bifurcated into object storage, block storage and file storage and services is bifurcated into consulting, integration and implementation, training support and maintenance and managed services.
Regional Segment Analysis Preview
North America region held a share of around 35% in 2020. The region is expected to dominate the market even in coming period because of the presence of large cloud storage providers like AWS, Google, IBM, Dell Technologies, and Microsoft, among others. Companies in the U.S. are highly flexible and have negligible maintenance costs. China, Asia-Pacific is world's second largest economy and is expected to grow the market size of cloud storage by CAGR of XX% over the forecasted period. Europe is expected gain a profitable increase in the market attributing to rising migration towards cloud storage from traditional data centers. Germany is expected to make the most remarkable growth, in Europe.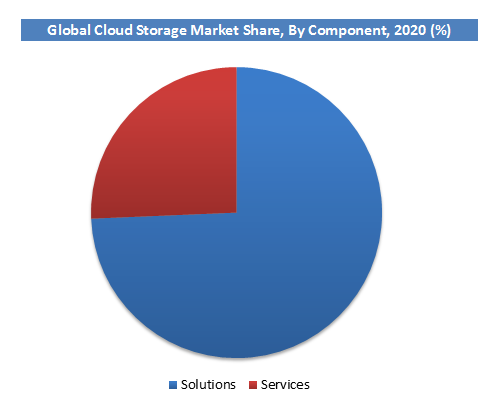 Request Free Sample
Asia Pacific region is projected to grow at a CAGR of around 23% over the forecast period. This surge is due to the increasing adoption of cloud storage in the region. Organizations are using cloud solutions and services in their facilities to real time access to employees and ease of work from remote facilities.
Key Market Players & Competitive Landscape
Some of key players in global cloud storage market are Amazon Web Services, Google, IBM, Hitachi Vanatara, Alibaba, Dropbox, Rackspace Inc., Dell Technologies, Hewlett Packard Enterprise Development LP, Oracle Corporation, Box, Fujitsu ltd., Degoo, SpiderOak, and pCloud AG, among others.
Microsoft, IBM, and Amazon make some of the top companies operating in the global cloud storge. They are striving to widen their product offerings by keeping up with the latest trends. They will also be able to surge their revenue this way. Strategic partnerships are likely to promote the growth for market players. Rackspace is expected to make heavy investments in Europe and Middle East and Africa.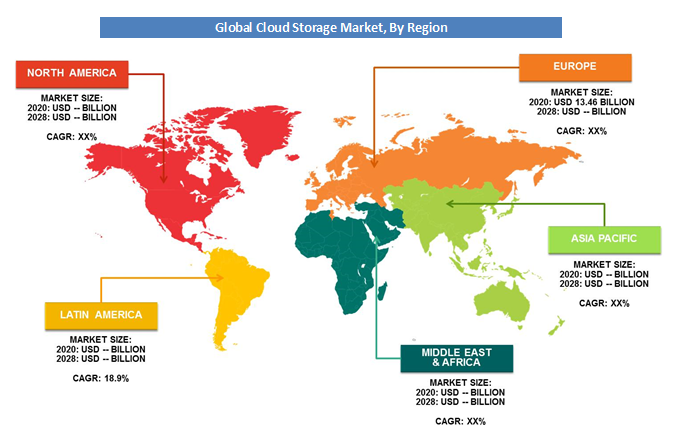 Request Free Sample
The global cloud storage market is segmented as follows:
By Deployment
Public Cloud Storage
Private Cloud Storage
Hybrid Cloud Storage
By Vertical
Government and public services
BFSI
IT
Telecom
Retail
Media and Entertainment
Others
By component
Solutions
Object Storage
Block Storage
File Storage
Services
Consulting
Integration and Implementation
Training, Support and Maintenance
Managed Services
By Region
North America
Europe

France
The UK
Spain
Germany
Italy
Rest of Europe

Asia Pacific

China
Japan
India
South Korea
Southeast Asia
Rest of Asia Pacific

Latin America

Brazil
Mexico
Rest of Latin America

Middle East & Africa

GCC
South Africa
Rest of Middle East & Africa