The report includes forecast & analysis of the Neuroendoscopy Market in terms of value on a global as well as regional level. It also offers historic data ranging from 2016 to 2019 and provides valuation or estimation of the industry growth during 2020-2026 in terms of USD Million. Our study includes competitive strategies adopted by the major industry participants based on the framework offered by the Porter's Five Forces Analysis swaying the market progression.
According to the report, global demand for Burn Injury Treatment Market was valued at nearly USD 2,754.37 Million in 2019, and is expected to generate revenue of around USD 3,841.8 Million by end of 2026, growing at a CAGR of around 4.91% between 2020 and 2026.
Our study offers perfect market attractiveness analysis and thus assist the customer in measuring the growth potential of the burn injury treatment market over the period from 2020 to 2026. Additionally, the market is segregated in terms of product, degree of burns, treatment type, and end-user.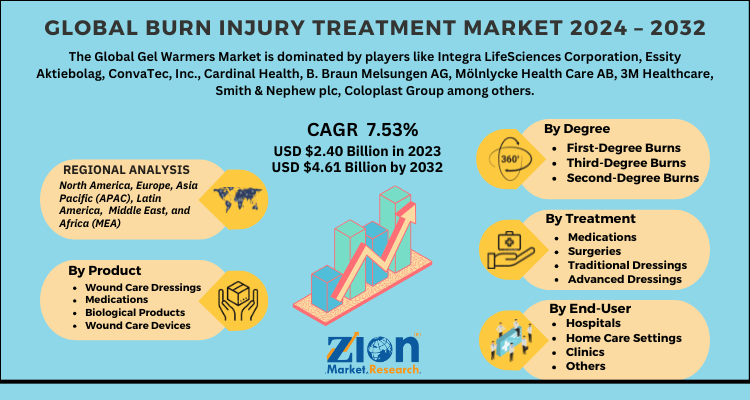 Request Free Sample
Product-wise, the market is sectored into Wound Care Dressings, Medications, Biological Products, and Wound Care Devices. On the basis of Degree of Burn, the industry is divided into First-Degree Burns, Third-Degree Burns, and Second-Degree Burns. Based on Treatment Type, the market is classified into Medications, Surgeries, Traditional Dressings, Advanced Dressings, and Others. In terms of end-user, the industry is bifurcated into Hospitals, Home Care Settings, Clinics, and Others. Region-wise, the industry is segmented into North America, Europe, the Middle East and Africa, Asia Pacific, and Latin America.
The report includes an exhaustive and detailed presentation of PESTEL and SWOT analysis for rigorously scrutinizing the aspects affecting the dynamics of performance of each industry player in the current situation as well as during the forecast timeline. It also delves deeply into the competitive moves adopted by the key market players to gain competitive edge.
Key Drivers:
Burgeoning requirement for new procedures or surgical methods of treating burn injuries for alleviating the stress, trauma, and pain in children will prop up rate of growth of the burn injury treatment business during the timespan from 2019 to 2025. Additionally, the extended scope of the business is credited to the huge requirement for artificial skin substitutes like biosynthetic skin substitutes for treating the patient wounds caused due to burn injuries.
The key players leveraging the burn injury treatment market growth and profiled in the report include:
This report segments the Burn Injury Treatment market as follows:
Global Burn Injury Treatment Market: By Product Segment Analysis
Wound Care Dressings

Medications

Biological Products

Wound Care Devices
Global Burn Injury Treatment Market: By Degree of Burn Segment Analysis
First-Degree Burns

Third-Degree Burns

Second-Degree Burns
Global Burn Injury Treatment Market: By Treatment Type Segment Analysis
Medications

Surgeries

Traditional Dressings

Advanced Dressings

Others
Global Burn Injury Treatment Market: By End-User Segment Analysis
Hospitals

Home Care Settings

Clinics

Others
Global Burn Injury Treatment Market: By Regional Segment Analysis
North America
Europe
Asia Pacific
Latin America
Middle East and Africa