According to the report published by Zion Market Research, global demand for wound care market was valued at approximately USD 19,800 Million in 2019, and is expected to generate revenue of around USD 25,500 Million by end of 2026, growing at a CAGR of around 4.5 % between 2020 and 2026.
Global Wound Care Market: Overview
A type of injuries caused by blows, cuts, forceful hits, which breaks the skin and tissues is referred to as a wound. In day-to-day life, we sometimes experience some accidental events that lead to minor or severe injury to our bodies. In medical terminology, wounds are characterised by their forms, such as abrasion, contusion and laceration. Several techniques are used to treat wounds in order to prevent potential risks.
Global Wound Care Market: Growth Factors
The growing number of geriatric population and surgeries is driving the global demand for wound care. Increasing awareness among people about first aid drugs has also boosted the demand for the global market for wound care. The high number of traffic injuries and accidents and improved medical services are some of the main reasons responsible for the rise of the global demand for wound care. The government's focus on health benefit plans and reimbursement policies has increased the rate of hospitalisation for wound injuries and medicines that indirectly affect the growth of the global market for wound care. The increase in the number of cosmetic and plastic surgeries and other surgical methods has boosted the growth of the global market for wound care.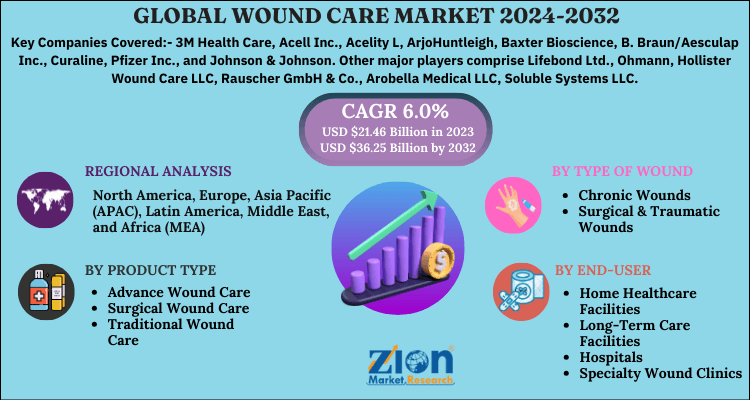 Request Free Sample
Global Wound Care Market: Segmentation
The global wound care market is segmented based on various factors. Such as based on the product type it is divided as advance wound care, surgical wound care, and traditional wound care. Further, the advance wound care products include hydrogel dressings, foam dressings, alginate dressings, collagen dressings, and many others. Similarly, surgical wound care products are sub -segmented as sealants, tissue adhesives, sutures and staples, and anti-infective dressings. Further, traditional wound care products are also diversified in cleansing agents, dressing, and medical tapes. Moreover, based on the type of wound it is segmented as chronic wounds that include pressure ulcers, diabetic foot ulcers, and surgical & traumatic Wounds such as burns comprise under acute wounds. The end-user industries include home healthcare facilities, long-term care facilities, and hospitals and specialty wound clinics.
Global Wound Care Market: Regional Analysis
Geographically, North America is leading the global market for wound care due to an increasing number of geriatric patients and a rising number of diabetic patients. Europe is second in the global market for wound care, as the country is creating a beneficial care facility for the population. The Asia-Pacific region is expected to rise dramatically due to a rising population.
Global Wound Care Market: Competitive Players
Some main participants of the wound care market are 3M Health Care, Acell Inc., Acelity L, ArjoHuntleigh, Baxter Bioscience, B. Braun/Aesculap Inc., Curaline, Pfizer Inc., and Johnson & Johnson. Other major players comprise Lifebond Ltd., Ohmann, Hollister Wound Care LLC, Rauscher GmbH & Co., Arobella Medical LLC, Soluble Systems LLC, among others
Wound Care Market: Regional Segment Analysis
North America
Europe

France
The UK
Spain
Germany
Italy
Rest of Europe

Asia Pacific

China
Japan
India
South Korea
Southeast Asia
Rest of Asia Pacific

Latin America

Brazil
Mexico
Rest of Latin America

Middle East & Africa

GCC
South Africa
Rest of Middle East & Africa