Advanced Wound Care Market: Industry Prospective
The Advanced Wound Care Market was worth around USD 9,215.1 million in 2021 and is estimated to grow to about USD 12,997.9 million by 2028, with a compound annual growth rate (CAGR) of approximately 5.9 percent over the forecast period. The report analyzes the Advanced Wound Care Market drivers, restraints/challenges, and the effect they have on the demands during the projection period. In addition, the report explores emerging opportunities in the Advanced Wound Care Market.
Advanced Wound Care Market: Overview
Advanced wound care solutions aid in the treatment of diabetic foot ulcers, which are common in diabetic patients. These products aid in the retention of moisture and the quick healing of wounds both inside and topically. The use of advanced wound care products is predicted to expand as the number of diabetic patients increases. Additionally, these medications aid in the absorption of necrotic tissues, which is useful in the treatment of surgical site infections. As a result, healthcare professionals prefer improved wound care products, which is expected to drive market expansion throughout the forecast period. The constantly increasing frequency of hospital visits for wound treatment will drive up the demand for advanced wound care. The growing frequency of chronic diseases around the world is driving the demand for sophisticated wound care solutions. Moreover, the growing senior population is likely to drive market expansion, as the older population heals slowly. The technical advances in advanced wound care products are expected to have a substantial impact on the advanced wound care market.
Covid-19 Impact
The onset of the COVID-19 pandemic has altered medical care delivery around the world. The increased pressure caused by the rising prevalence of COVID-19 hospitalization had resulted in the re-profiling of several hospitals and departments for treating COVID-19 patients. As a result, numerous elective procedures have been canceled or postponed around the world in order to reserve or allocate scarce capacities and resources (such as hospital beds and patient care specialists) toward COVID-19 patient care.
On the other hand, the pandemic has caused supply chain disruptions, impacting the worldwide medical equipment business. The pandemic has had a negative influence on global financial expectations, the supply chain, operations, and crisis response strategies. The spread of COVID-19 caused disruptions for makers of advanced wound care devices, resulting in lockdowns and travel restrictions. As a result of the development of COVID-19 infections, major economies were badly impacted, causing a huge impact on the manufacturing of sophisticated wound care products.
For chronic wounds, healthcare providers have shifted to new models of care, such as telehealth platforms and virtual consultations. In the coming years, this is expected to revolutionize wound management guidelines and lead to a new model of care.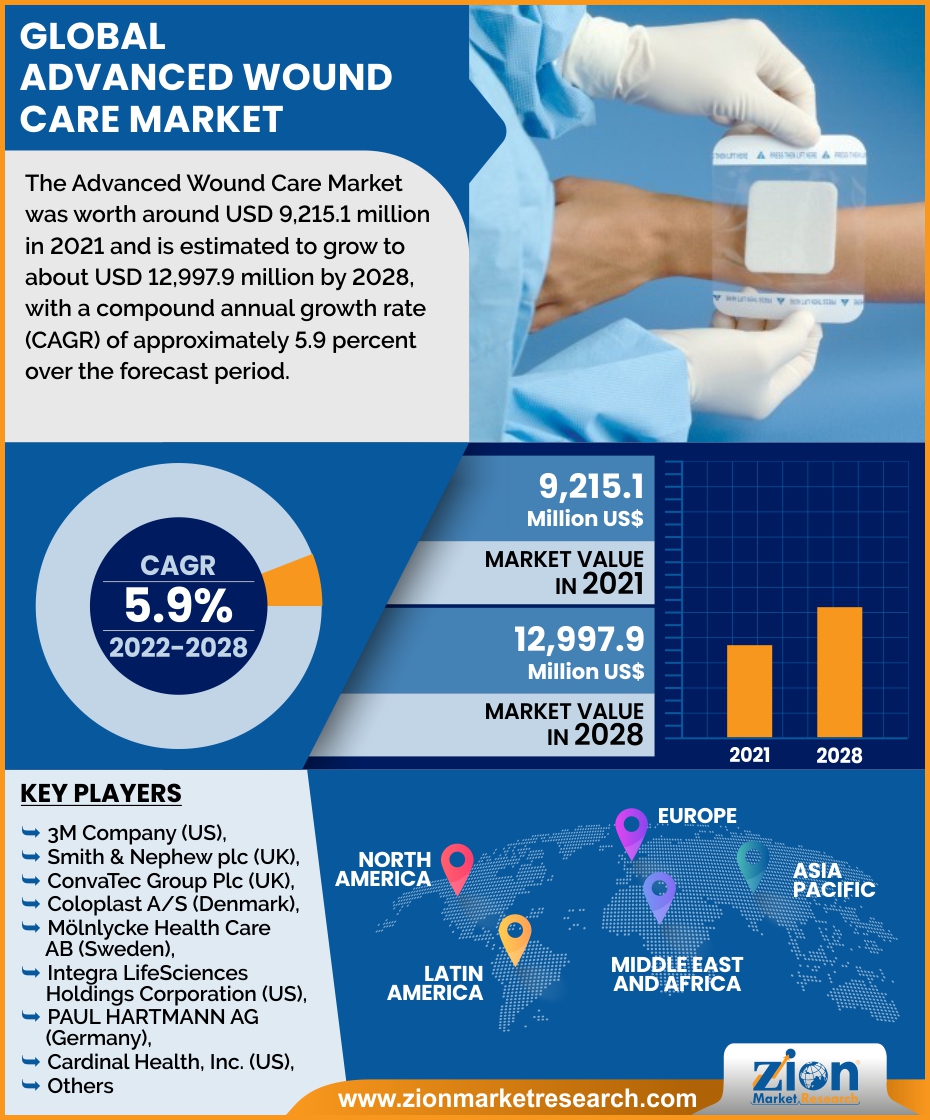 Request Free Sample
Advanced Wound Care Market: Driver
The increasing prevalence of diseases and disorders that impair wound healing abilities
Wound healing is hampered by physical health issues such as acute wounds, chronic wounds, and surgical wounds. The presence of acute, chronic, and surgical wounds has increased significantly over the last decade, owing primarily to an increase in the global aging population, increasing traumatic wounds, an increase in the number of surgeries, and an increase in the prevalence of conditions such as obesity and diabetes. Diabetes and obesity can increase the overall frequency and complexity of wounds such as infections, ulcerations (leg or foot ulcers), and chronic wounds, all of which require treatment (advanced wound management) and result in high medical expenses. Advanced wound care treatments such as hydrophilic foam dressings, hydrogels, hydrofibers, and alginates, which can absorb up to 20 times their weight, allow for a faster and more successful recovery from these disorders. Incisions can be used to drain abscesses in most cases. Since incisions on the plantar area heal slowly, patients are immobilized for a longer period of time. This will increase the need for advanced wound management for wound drainage and faster healing, which will increase the demand for advanced wound care products.
Advanced Wound Care Market: Restraint
Advanced wound care products are expensive.
The high cost of chronic wound therapies and advanced wound care products may limit their uptake, particularly in cost-sensitive areas such as Asia and the Rest of the World. In these areas, patients and physicians prefer less expensive advanced wound care products. However, with increased awareness of the efficacy of these treatments and rising disposable incomes in many of these nations, the use of advanced wound care products is projected to rise in the future years. Although these goods are more expensive than standard gauzes, current studies show that they save money in the long run due to lower labor costs.
Report Scope:
Advanced Wound Care Market: Opportunity
Emerging economies' growth potential
In comparison to Europe and North America, the Asia Pacific and Latin American markets for advanced wound treatment are relatively underdeveloped and offer enormous growth potential. As a result, various players are working on expanding their presence in these locations. Emerging economies such as India, South Korea, Malaysia, and Vietnam, as well as Africa and Middle Eastern countries such as Israel, Saudi Arabia, and the United Arab Emirates, provide considerable growth prospects for major market players. This is due to reduced regulatory hurdles, advancements in healthcare infrastructure, an increasing patient population, and increased healthcare expenditure. Furthermore, regulatory rules in the Asia Pacific region are more adaptable and business-friendly than in industrialized countries.
Advanced Wound Care Market: Segmentation
The Advanced Wound Care Market is segregated based on Product, Wound Type, and End User.
By Product, the market is classified into Dressings, Grafts & Matrices, and Topical Agents. The dressings sector held the greatest share of the advanced wound care market in the forecast period, owing to rising spending on chronic and surgical wounds, a rise in burn injuries, and technical developments in dressings. The cheaper cost of wound dressings and their great efficiency in wound exudate management is likely to increase their usage.
By Wound Type, the market is classified into Surgical & Traumatic Wounds, Diabetic Foot Ulcers, Pressure Ulcers, Venous Leg Ulcers, and Burns & Other Wounds. In the forecast period, the surgical & traumatic wounds segment held the greatest proportion of the advanced wound care market. This segment's growth is being driven by factors such as an increase in the number of surgical procedures performed and an increase in the prevalence of chronic illnesses. The chronic wounds segment, on the other hand, is predicted to grow at the fastest rate throughout the projection period. The segment's growth is likely to be driven by an increase in the frequency of diabetic foot ulcers, venous pressure ulcers, and other chronic wounds.
By End User, the market is classified into Hospitals, ASCs, Wound Care Centers, Home Care Settings, and Other End Users. The hospitals, ASCs, and wound care centers category held the greatest proportion of the advanced wound care market in the forecast period. The high volume of treatment operations performed in hospitals, as well as the availability of reimbursements, are driving the expansion of this market. Similarly, an increase in the number of procedures performed around the world is aiding the market's momentum. During the projected period, the home healthcare category is expected to grow at the quickest rate. During the COVID-19 pandemic, there was an increase in demand for improved wound care items in-home healthcare. Furthermore, an increase in the senior population is expected to drive improved wound care products even further.
Recent Developments
In 2020, ConvaMax, a novel superabsorbent wound dressing solution from ConvaTec Group PLC, was introduced. This medication was created to treat wounds that exude a lot of fluid, such as diabetic foot ulcers, pressure ulcers, leg ulcers, and others.
Advanced Wound Care Market: Regional Landscape
In terms of revenue, North America dominated the advanced wound care market throughout the forecast period. Adoption is predicted to increase because of the rising prevalence of acute and chronic wounds, as well as the greater treatment expenses associated with pressure ulcers, diabetic foot ulcers, and surgical wounds. Furthermore, North America's dominance in this industry is due to the presence of acceptable reimbursement rules in the United States and Canada. Furthermore, the expanding geriatric population and the increasing number of chronic wound patients would boost the market's growth rate in this region.
The Asia Pacific market is likely to rise rapidly because of rising per capita healthcare spending. Furthermore, market participants in this region are making significant expenditures, which will boost demand for sophisticated wound treatment products. Furthermore, there is a growing awareness of the availability of chronic wound care, as well as a surge in demand for these goods. Furthermore, increased healthcare expenditure will drive the market's growth rate in this area.
Advanced Wound Care Market: Competitive Landscape
Some of the main competitors dominating the Advanced Wound Care Market include - 3M Company (US), Smith & Nephew plc (UK), ConvaTec Group Plc (UK), Coloplast A/S (Denmark), Mölnlycke Health Care AB (Sweden), Integra LifeSciences Holdings Corporation (US), PAUL HARTMANN AG (Germany), B. Braun Melsungen AG (Germany), Cardinal Health, Inc. (US), Organogenesis Holdings Inc. (US), Misonix, Inc. (US), MiMedx Group, Inc. (US), Zimmer Biomet Holdings, Inc. (US), Lohmann & Rauscher GmbH & Co. KG (Germany), DeRoyal Industries, Inc. (US), Medline Industries, Inc. (US), DermaRite Industries, LLC (US), Kerecis (Iceland), Advancis Medical (UK), Winner Medical Co., Ltd. (China), Hollister Incorporated (US), Mil Laboratories Pvt. Ltd. (India), Shield Line (US), ZENI MEDICAL (US), Carilex Medical (Germany), Pensar Medical, LLC (US), Wuhan VSD Medical Science & Technology Co., Ltd. (China), and HAROMED B.V. (Belgium).
Advanced Wound Care Market is segmented as follows:
By Product
Dressings
Grafts & Matrices
Topical Agents
By Wound Type
Surgical & Traumatic Wounds
Diabetic Foot Ulcers
Pressure Ulcers
Venous Leg Ulcers
Burns & Other Wounds
By End-User
Hospitals, ASCs, and Wound Care Centers
Home Care Settings
Other End Users
By Region
North America
Europe

France
The UK
Spain
Germany
Italy
Rest of Europe

Asia Pacific

China
Japan
India
South Korea
Southeast Asia
Rest of Asia Pacific

Latin America

Brazil
Mexico
Rest of Latin America

Middle East & Africa

GCC
South Africa
Rest of Middle East & Africa