Blood and Fluid Warmer Industry Prospective:
The global blood and fluid warmer market size was worth around USD 1054.72 million in 2022 and is predicted to grow to around USD 1874.96 million by 2030 with a compound annual growth rate (CAGR) of roughly 7.38% between 2023 and 2030.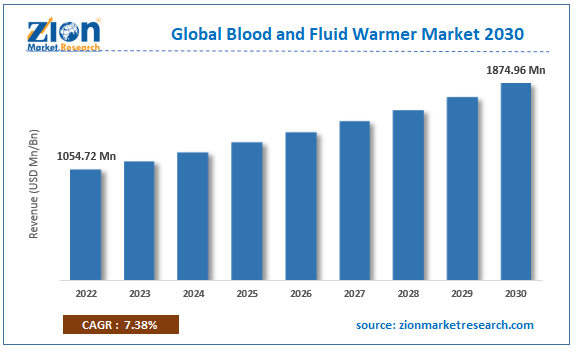 Request Free Sample
Blood and Fluid Warmer Market: Overview
Blood and fluid warmers are critical medical devices and are considered extremely essential for patients requiring blood or bodily fluid transfusion due to medical concerns or surgery. Blood warmers are used to prevent homeostasis within the body of a patient undergoing a blood transfusion. Fluid warmers are used to warm blood products, colloids, crystalloids, and other fluids before they are administered to a patient's body. The temperature these components are warmed at the levels of body temperature to prevent hypothermia in surgical or traumatized patients. If a blood warmer fails to deliver an appropriate warming temperature, the patient may suffer from hemolysis or breakdown of body cells. Blood and fluid warmers are found in operating rooms, emergency departments, and intensive care units of a hospital setting. While some warmers are placed in medical facilities, the demand for portable blood and fluid warmers is equally high since they are helpful in maintaining the temperature of the blood components even when they are being transported from one place to another. The industry for blood and fluid warmer is growing rapidly.
Key Insights:
As per the analysis shared by our research analyst, the global blood and fluid warmer market is estimated to grow annually at a CAGR of around 7.38% over the forecast period (2023-2030)
In terms of revenue, the global blood and fluid warmer market size was valued at around USD 1054.72 million in 2022 and is projected to reach USD 1874.96 million, by 2030.
The blood and fluid warmer market is projected to grow at a significant rate due to the increasing number of surgical interventions
Based on application segmentation, acute care was predicted to show maximum market share in the year 2022
Based on end-user segmentation, hospital was the leading segment in 2022
On the basis of region, North America was the leading revenue generator in 2022
Blood and Fluid Warmer Market: Growth Drivers
Increasing number of surgical interventions to drive market growth
The global blood and fluid warmer market is expected to grow owing to the rising number of surgical interventions across the globe. The increasing number of patients suffering from several medical conditions including life-altering or threatening issues along with surging access to medical care as global healthcare expenditure is on the rise are leading factors for higher consumption of blood and fluid warmers. For instance, a new survey indicates that more than 8,900,000 cardiac surgeries are performed every year in the US alone. As per market projections, the statistic is expected to cross 1.29 million by the end of the decade. The leading cause of high cardiac surgeries is an increase in the number of people with cardiovascular diseases (CVDs) including conditions such as aortic disease, stroke, peripheral arterial diseases, and coronary heart disease. The high prevalence of a sedentary lifestyle, poor lifestyle choices, excess consumption of unhealthy or fatty food, frequent smoking, or alcohol consumption leads to a higher risk of contracting CVDs. In 2017, the US registered sales of more than 259 billion cigarettes. These numbers are indicative of the mounting pressure on hospitals and other treatment centers dealing with massive numbers of patients on an everyday basis thus contributing to demand for effective medical instruments such as fluid and blood warmers.
Rising applications in trauma centers to generate significant revenue
The applications of blood and fluid warmers are not limited to surgical centers since they are widely used in trauma units as well. The growing number of accidents, incidents, and injuries caused by several external factors have pushed for increased use of warmers in trauma units. Increasing developments in trauma care such as the launch of Artificial Intelligence (AI) powered Viz™ Trauma Suite by Viz.ai to reduce response teams and help trauma caregivers meet the changing standards in the industry could assist in future growth trends in the global market.
Blood and Fluid Warmer Market: Restraints
Technical concerns related to warmer manufacturing, use, and data interpretation to restrict market growth
The blood and fluid warmer industry is expected to face growth restrictions due to the several associated technical challenges in terms of manufacturing blood and fluid warmers along with skilled expertise required to use these devices and data interpretation followed by making changes to the system if necessary. Brands providing these units employ different warming mechanics and the medical professional using the tool should be well-versed with the device protocols to obtain accurate results. For instance, certain warmers use surface heat while others use an outer tube for transferring warmed blood to the patient. Other aspects such as recording temperature when using warmers and testing the over-temperature alarm along with other functions help to determine if the tools are functioning correctly.
Blood and Fluid Warmer Market: Opportunities
Increasing technological innovation and new device launches to create growth opportunities
The global blood and fluid warmer market size is expected to expand further owing to the increasing technological innovation in the field of blood and fluid warmers. The rapidly changing technical requirements and expectations from the health sector have resulted in a greater need for novel developments in the medical equipment and devices industry. In April 2021, MEQU, a Danish medtech company, announced the launch of the °M Warmer System. It is a portable IV fluid and blood warmer and has applications in military and pre-hospital segments. The device functions on patented technology and is capable of warming fluids from cold temperature to body temperature level in a span of 10 seconds. In June 2023, Life-Assist and QinFlow Inc. announced the completion of distribution partnership integration for managing the supply chain for the Warrior line of IV fluid and blood warmers catering to the portable device segment. Life-Asset has been a leading provider to first responders with Emergency Medical Services (EMS) equipment and supplies. QinFlow is a producer of high-functioning and patented warming technology. The strategic collaboration is expected to improve access to crucial medical care equipment in the US.
Blood and Fluid Warmer Market: Challenges
Strict regulatory compliance, concerns over contamination risk, and other factors are existing challenges
The blood and fluid warmer industry size is plagued with several technical and non-technical challenges. For instance, the industry is highly regulated and the sale of blood or fluid warmer in the commercial market is subject to strict regulatory guidelines. In addition to this, there is a contamination risk associated with the improper use of these warming devices especially by untrained staff. Other factors that could potentially damage market expansion include the high cost of the devices such as portal warmers that may cost between USD 1000 to USD 5000, and the presence of multiple players offering a wide range of products leading to extreme market saturation.
Blood and Fluid Warmer Market: Segmentation
The global blood and fluid warmer market is segmented based on application, product, end-user, and region.
Based on application, the global market segments are homecare, acute care, newborn care, preoperative care, and others. In 2022, the highest growth was observed in the acute care segment. It refers to medical procedures for an urgent medical condition, illness, severe injury, or during the recovery phase after surgery. The increasing number of accident cases and the rising number of patients in trauma care centers have resulted in higher segmental growth. The growing investments in constructing well-equipped EMS units are expected to assist in future growth. As per data submitted by the Centers for Medicare and Medicaid Services (CMS), the US has more than 4740 acute care centers.
Based on product, the blood and fluid warmer industry is divided into patient warming accessories, intravenous warming systems, and surface warming systems.
Based on end-user, the global market divisions are clinics, hospitals, specialty centers, and others. In 2022, the hospitals segment was a leading revenue generator driven by a high number of patients visiting hospitals every day for medical care. Hospitals are the main hub for conducting surgical interventions and deal with a large pool of patients on a regular basis. The surge in hospital infrastructure investments and growing access to medical care are the primary driving factors. In 2022, the global hospital services market was valued at USD 12 trillion.
Blood and Fluid Warmer Market : Report Scope
Report Attributes
Report Details
Report Name
Blood and Fluid Warmer Market
Market Size in 2022
USD 1054.72 Million
Market Forecast in 2030
USD 1874.96 Million
Growth Rate
CAGR of 7.38%
Number of Pages
229
Key Companies Covered
The 37 Company (37°C), Smiths Medical, Enthermics Medical Systems, Becton, Dickinson and Company (BD), The 41st Parameter, 3M Healthcare, Gambro, Stihler Electronic GmbH, Barkey GmbH & Co. KG, Meridian Medical Systems, Stryker Corporation, Inditherm Medical, Belmont Medical Technologies, Sintetica S.A., EMIT Corporation, and others.
Segments Covered
By Application, By Product, By End-User, and By Region
Regions Covered
North America, Europe, Asia Pacific (APAC), Latin America, Middle East, and Africa (MEA)
Base Year
2022
Historical Year
2017 to 2021
Forecast Year
2023 - 2030
Customization Scope
Avail customized purchase options to meet your exact research needs. Request For Customization
Blood and Fluid Warmer Market: Regional Analysis
North America will continue leading market growth in the coming period
The global blood and fluid warmer market is expected to witness the highest growth in North America led by the extensive use of these warming devices in the regional healthcare sector. The growing number of players focusing on additional research and development for improved device performance along with the presence of skilled medical professionals is likely to trigger regional growth. In addition to this, the US healthcare industry is regulated by stringent quality-ensuring guidelines with clear protocols in place that shape the country's medical care sector. The increasing rate of US Food and Drugs Administration (FDA) approval rate and entry of new players has been a crucial growth propeller in North America. In December 2022, Quality In Flow Inc., the producer of IV fluid and blood-warming portable devices belonging to the Warrior line made its entry into the US region. In December 2022, Belmont Medical Technologies donated over 100 buddy lite® portable blood and fluid warmers to Ukraine along with 20 rapid infusers.
Blood and Fluid Warmer Market: Competitive Analysis
The global blood and fluid warmer market is led by players like:
The 37 Company (37°C)
Smiths Medical
Enthermics Medical Systems
Becton
Dickinson and Company (BD)
The 41st Parameter
3M Healthcare
Gambro
Stihler Electronic GmbH
Barkey GmbH & Co. KG
Meridian Medical Systems
Stryker Corporation
Inditherm Medical
Belmont Medical Technologies
Sintetica S.A.
EMIT Corporation
The global blood and fluid warmer market is segmented as follows:
By Application
Homecare
Acute Care
Newborn Care
Preoperative Care
Others
By Product
Patient Warming Accessories
Intravenous Warming System
Surface Warming System
By End-User
Clinics
Hospitals
Specialty Centers
Others
By Region
North America
Europe

France
The UK
Spain
Germany
Italy
Rest of Europe

Asia Pacific

China
Japan
India
South Korea
Southeast Asia
Rest of Asia Pacific

Latin America

Brazil
Mexico
Rest of Latin America

Middle East & Africa

GCC
South Africa
Rest of Middle East & Africa