Aspirin Industry Prospective:
The global aspirin market size was worth around USD 2356.55 million in 2022 and is predicted to grow to around USD 2917.59 million by 2030 with a compound annual growth rate (CAGR) of roughly 2.70% between 2023 and 2030.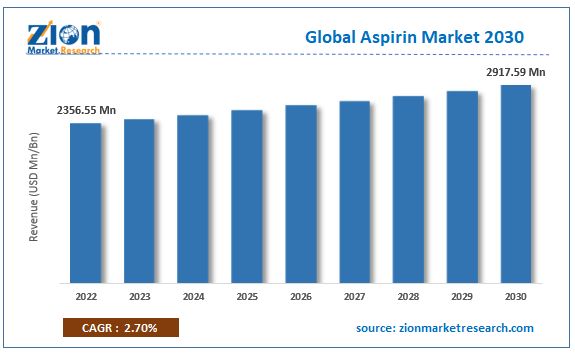 Request Free Sample
Aspirin Market: Overview
Aspirin is a highly popular and common medicinal drug used for treating medical conditions such as fever, pain, and aches. It is used as a blood thinner or as an anti-inflammatory drug. The first of its kind to be discovered, aspirin is a nonsteroidal anti-inflammatory drug (NSAID). It consists of salicylate, which is a compound found in plants such as myrtle and willow trees. The history of aspirin dates back to around 4000 years ago as per official research. Aspirin is one of the most commonly used medicines as it helps to alleviate mild to moderate swelling, pain, or both caused by several medical conditions including flu, cold, menstrual cramps, headaches, or chronic conditions such as migraine and arthritis. In case of severe pain, medical professionals tend to recommend aspirin in combination with other medicines for better results. Research has also concluded that aspirin can be extremely beneficial in avoiding blood clotting in people at high risk of cardiovascular conditions. In specific cases such as high blood pressure, poor blood flow rate to the brain, diabetes, high cholesterol level, diabetes, and blood vessels or heart disease, doctors may recommend low-dose aspirin to be taken every day.
Key Insights:
As per the analysis shared by our research analyst, the global aspirin market is estimated to grow annually at a CAGR of around 2.70% over the forecast period (2023-2030)
In terms of revenue, the global aspirin market size was valued at around USD 2356.55 million in 2022 and is projected to reach USD 2917.59 million, by 2030.
The aspirin market is projected to grow at a significant rate due to the increasing number of patients with high blood pressure
Based on application segmentation, pain/fever/inflammation was predicted to show maximum market share in the year 2022
Based on product segmentation, over-the-counter (OTC) was the leading segment in 2022
On the basis of region, Asia-Pacific was the leading revenue generator in 2022
Increasing number of patients with high blood pressure to drive market growth
The global aspirin market is expected to grow owing to the increasing number of patients with high blood pressure also known as hypertension. As per the World Health Organization (WHO), it is a commonly occurring medical condition and impacts nearly 1.28 billion adults in the age group of 30 to 79 years. The report also claims that around 1 in every 5 patients is taking appropriate care to manage or treat the condition. Several risk factors are influencing the growing rate of patients living with the condition including genetics, old age, sedentary lifestyle, drinking too much alcohol, smoking frequently, and obesity. The rising number of people with limited physical exercise is a leading cause of higher hypertension patient rates. Aspirin, in the form of medicine, does not directly lower blood pressure but it is mainly used for its ability to thin out blood has proven helpful in treating patients with hypertension.
Rising rate of contagious diseases including flu and cold to push market demand
Aspirin is one of the most commonly used medicines to treat symptoms of flu and cold that generally involves body aches, headaches, and pain in the joints. The increasing rate of people contracting such a common contagious disease is likely to impact the demand for aspirin during the forecast period. As per official data from Mayo Clinic, adults are at risk of contracting colds around 2 to 3 times a year while the disease rate in young children and infants is much higher. Maintaining poor hygiene and the rising number of people living in densely populated areas are primary reasons for the surging rate of patients with colds and flu.
Aspirin Market: Restraints
Associated side effects of aspirin intake to restrict market growth
The global aspirin market growth is projected to be impacted by the several side effects associated with the consumption of aspirin. As per medical records, the most common side effects are drowsiness, dizziness, thirst, nausea, sweating, fatigue, heartburn, swelling, and fluid retention. However, there are certain more discomforting and unwanted effects of aspirin including depression and blurred vision. In addition to this, there is a risk of aspirin overdose especially when the medicine is not prescribed. Chronic overdose is often associated with long-term consumption of aspirin and it includes building up of everyday aspirin dose in the body over time and is mostly observed in older adults during summer time caused by dehydration.
Aspirin Market: Opportunities
Increasing research and development in the aspirin industry to create growth opportunities
The aspirin industry size is likely to be impacted by the increasing research and development programs undertaken by pharmaceutical giants. In 2020, pharmaceutical giants Takeda Pharmaceutical Co., Ltd. and Otsuka Pharmaceutical Co., Ltd. announced the launch of Cabpirin® Combination Tablets. These medicines are produced as a combination of low-dose aspirin and vonoprazan fumarate. Under the contractual obligations, Takeda will manufacture the medicine while both companies will invest in product marketing and sales. On the other hand, in 2015, the UK witnessed the inauguration of the world's largest clinical trial to establish if aspirin had the potential to stop most common cancers from resurfacing. The trial was conducted by the National Institute for Health Research and Cancer Research UK.
Growing number of pharmacies to assist in delivering better results
The demand for aspirin is likely to be further impacted by the increasing number of pharmacies across the globe. This includes smaller stores and large pharmacy giants such as CVS. As per official data, India has more than 1,10,000 pharmacies catering to the needs of the general population. The rising number of people, growing investments in the pharmaceutical industry, and higher demand for basic medical care are the driving crucial factors affecting growth.
Aspirin Market: Challenges
Patent expiry, gradual increase in aspirin tolerance, and other associated issues to create challenges against growth
The aspirin industry players face a lot of challenges due to patent expiration which leads to higher production of generic medicines at lower costs. This directly impacts all the resources initially invested in research and development. While aspirin does not lead to physical addiction such as heroin and other drugs, there is a significant number of people who are addicted to the action of chewing aspirin among other forms of aspirin-related psychological addictions. In addition to this, several long-term impacts of aspirin have been reported frequently. Some of these effects include abnormal bleeding and easy bruising, an allergic reaction, low red blood cell count, reduced kidney and liver function, and inflamed stomach lining.
Aspirin Market: Segmentation
The global aspirin market is segmented based on application, product, and region.
Based on application, the global market segments are pain/fever/inflammation, cardiovascular disease, and others. In 2022, the highest growth was registered in the pain/fever/inflammation segment since the primary function of aspirin is to relieve mild to moderate body aches and headaches. Typically, the medicine should be taken at a dose of 300 to 650 mg orally. However, aspirin has proven extremely effective in managing cardiovascular diseases. It is known to reduce the risk of atherothrombosis but should only be consumed when recommended by doctors.
Based on product, the aspirin industry is divided into over-the-counter (OTC) and prescription. In 2022, the highest demand was for over-the-counter (OTC) type driven by an increasing rate of people affected by common conditions such as cold, flu, and fever. Easier access to basic medicines such as aspirin owing to an increased number of pharmacists and rising sales of medicine through online sales channels further contributed to segmental growth. Prescribed aspirin is generally provided by medical professionals after thorough medical check-ups, especially for patients with other medical conditions such as diabetes and heart conditions. Aspirin starts showing its effect within 20 to 30 minutes of consumption.
Aspirin Market: Report Scope
Report Attributes
Report Details
Report Name
Aspirin Market
Market Size in 2022
USD 2356.55 Million
Market Forecast in 2030
USD 2917.59 Million
Growth Rate
CAGR of 2.70
Number of Pages
222
Key Companies Covered
Allegiant Health, Bayer AG, Bal Pharma Limited, Globalimporter Inc., JQC (Huayin) Pharmaceutical Co. Ltd., Cardinal Health, Par Pharmaceutical, Industria Quimica Andina Y Cia Sa, Perrigo Company plc., Nanjing pharmaceutical factory Co. ltd., Trumac Healthcare, Globela Pharma Pvt Ltd, LNK International Inc., and others.
Segments Covered
By Application, By Product, and By Region
Regions Covered
North America, Europe, Asia Pacific (APAC), Latin America, Middle East, and Africa (MEA)
Base Year
2022
Historical Year
2017 to 2021
Forecast Year
2023 - 2030
Customization Scope
Avail customized purchase options to meet your exact research needs. Request For Customization
Aspirin Market: Regional Analysis
Asia-Pacific to register the highest growth rate during the forecast period
The global aspirin market is expected to witness the highest growth in Asia-Pacific driven by the presence of a robust pharmaceutical industry, especially in regions such as China and India. These nations are world leaders in terms of the production of Active Pharmaceutical Ingredients (APIs) and cater to the needs of other drug manufacturers across the globe. On the other hand, Asia has a huge population base which results in higher sales of basic medicines such as aspirin. These regions are densely populated resulting in faster spread of contagious diseases such as cold and flu. Furthermore, there is a rapid expansion of pharmacies providing OTC medicines including aspirin. Rising numbers of patients with cardiovascular diseases, increasing healthcare expenditure, and higher investments in regional pharma industries could propel regional market growth. In September 2023, the Indian government approved an investment of INR 6000 crore in the country's pharma market under the production-linked incentive (PLI) scheme.
Aspirin Market: Competitive Analysis
The global aspirin market is led by players like:
Allegiant Health
Bayer AG
Bal Pharma Limited
Globalimporter Inc.
JQC (Huayin) Pharmaceutical Co. Ltd.
Cardinal Health
Par Pharmaceutical
Industria Quimica Andina Y Cia Sa
Perrigo Company plc.
Nanjing pharmaceutical factory Co. ltd.
Trumac Healthcare
Globela Pharma Pvt Ltd
LNK International Inc.
The global aspirin market is segmented as follows:
By Application
Pain/Fever/Inflammation
Cardiovascular Disease
Others
By Product
Over-the-Counter(OTC)
Prescription
By Region
North America
Europe

France
The UK
Spain
Germany
Italy
Rest of Europe

Asia Pacific

China
Japan
India
South Korea
Southeast Asia
Rest of Asia Pacific

Latin America

Brazil
Mexico
Rest of Latin America

Middle East & Africa

GCC
South Africa
Rest of Middle East & Africa