Industry Prospective:
The global long-term acute care market size was worth around USD 1,095.06 Billion in 2022 and is predicted to grow to around USD 1,669.31 Billion by 2030 with a compound annual growth rate (CAGR) of roughly 5.58% between 2023 and 2030.
The report analyzes the global long-term acute care market drivers, restraints/challenges, and the effect they have on the demands during the projection period. In addition, the report explores emerging opportunities in the long-term acute care industry.
Request Free Sample
Long-Term Acute Care Market: Overview
Long-term acute care (LTAC) is a part of the larger healthcare industry that deals with providing specialized medical care to patients that suffer from complex and difficult medical conditions and require extended hospitalization or medical care. Most of the patients that undertake LTAC suffer from chronic conditions that cause health deterioration as time passes. This is the reason why they need ongoing monitoring and medical treatment. Long-term acute care providing agencies provide a range of services like physical therapy, respiratory therapy, medication management, and wound care. In most cases, the nurse-to-patient ratio is higher in these units as compared to traditional hospitals. The medical professionals in LTAC segments are highly trained in terms of medical concepts and therapies since they have continuously dealt with complex medical cases that change from one patient to another. In recent years, the fraternity has registered high growth and is expected to continue its steady trajectory during the forecast period.
Key Insights:
As per the analysis shared by our research analyst, the global long-term acute care market is estimated to grow annually at a CAGR of around 5.58% over the forecast period (2023-2030)
In terms of revenue, the global long-term acute care market size was valued at around USD 1,095.06 billion in 2022 and is predicted to grow to around USD 1,669.31 billion by 2030.
The long-term acute care market is projected to grow at a significant rate due to the growing rate of an aging population
Based on service segmentation, hospitals & palliative care were predicted to show maximum market share in the year 2022
Based on payer segmentation, the public was the leading payer in 2022
On the basis of region, North America was the leading revenue generator in 2022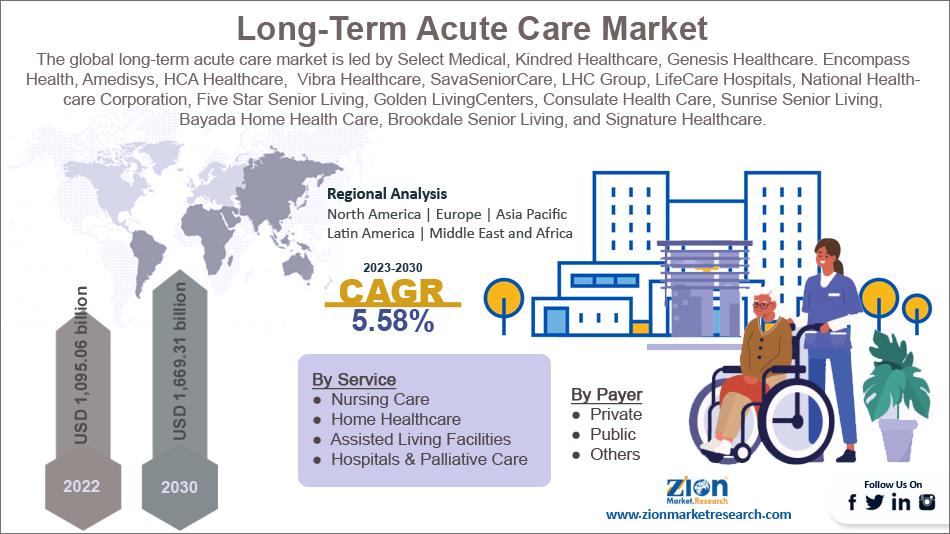 Request Free Sample
Long-Term Acute Care Market: Growth Drivers
Growing rate of the aging population to propel market demand
The global long-term acute care market is expected to grow owing to the increasing rate of the aging population across the globe. As per reports by the United Nations, the global population aged 65 and over is projected to triple by 2050, from 703 million in 2019 to 1.5 billion in 2050. In Japan, the proportion of the population aged 65 and over is already the highest in the world. The geriatric population is more vulnerable to different types of long-term medical conditions that worsen with age. They are also in need of regular health monitoring to prevent any severe impact on their medical condition. One of the most common treatment procedures undertaken by people over the age of 65 years is arthritis which causes joint pain and inflammation and makes daily activities difficult. Other growing conditions include dementia, diabetes, cardiovascular diseases, and chronic obstructive pulmonary disease (COPD). In addition to this, the rising number of patients with chronic illnesses could lead to higher demand for LTAC units in the coming years.
Long-Term Acute Care Market: Restraints
Limited availability of LTAC centers to restrict market expansion
Although the demand and need for long-term acute care have grown over the years, the global long-term acute care industry is fairly new and still requires more awareness programs to educate the patient group about the benefits of associating themselves with LTAC centers. Currently, the world has more traditional hospitals, and continues to remain a priority amongst patients due to the existing confidence and awareness rate. In addition to this, the industry also struggles with a lack of skilled healthcare professionals that can work in the industry, for instance, respiratory therapists.
Long-Term Acute Care Market: Opportunities
Growing investments toward technological advancements to provide growth opportunities
Since the global long-term acute care market has tremendous potential, it is registering a high rate of investments directed toward technological advancements that can help the centers provide better medical care and assist in reducing the length of hospital stays. With the adoption of advanced medical technical devices, therapies, and treatment plans, the industry players can work toward benefiting the patients and improving their revenue status.
Long-Term Acute Care Market: Challenges
Managing regulatory compliance to challenge market growth
One of the key challenges faced by the long-term acute care industry players is managing the stringent regulatory compliances that are extremely dynamic and change from one region to another. Since LTAC centers are crucial parts of the healthcare sector, they are bound by various regulations and laws as per state and federal laws that can sometimes be very time-consuming and complex to navigate. In case LTAC units fail to adhere to the rules, they may have to face large fines or penalties.
Long-Term Acute Care Market: Segmentation
The global long-term acute care market is segmented based on payer, service, and region.
Based on payer, the global market segments are private, public, and others. The highest revenue was generated from the public payer segment in 2022. One of the leading players in the segments is Medicare which currently caters to the needs of a large segment of the patient group. As compared to other public payers, the reimbursement rate at Medicare is higher than other players and private insurance payers. The private payer segment is also crucial to the industry growth however, the revenue depends on the rate of reimbursement that generally tends to vary between one service provider and another. Worker's compensation programs or self-insured employers form an integral part of the industrial revenue but the portion is considerably low as compared to the other two segments. As per the Australian Prudential Regulation Authority (APRA), more than 44% of the regional population was insured as of 2021.
Based on service, the global market is divided into nursing care, home healthcare, assisted living facilities, and hospitals & palliative care. In 2022, the highest growth was observed in the hospitals & palliative care segment. It includes dedicated LTAC hospitals or specialized units within acute care hospitals. It's worth noting that the LTAC industry is complex, and the distinction between different service categories can vary every year. As of 2022, more than 1.3 million individuals were living in nursing homes in the US.
Recent Developments:
In October 2022, PointClickCare Technologies, a global healthcare technology platform, announced the launch of Virtual Health, a program that offers combined telemedicine solutions and is created specifically for the Skilled Nursing Facilities (SNF) segment. In collaboration with Sound Physicians, the company has managed to tap into more than 50% of the US states
In October 2022, Flare Capital Partners and Allina Health announced the launch of Inbound Health, under a joint collaboration. It is a new company that promotes health plans and health systems and offers its services to skilled nursing-at-home hospital-at-home programs
In January 2023, Orlando Health announced its acquisition of Biofourmis, a healthcare technology platform and aims to encourage hospital-at-home programs in over 23 hospitals
Long-Term Acute Care Market: Report Scope
Report Attributes
Report Details
Report Name
Long-Term Acute Care Market Research Report
Market Size in 2022
USD 1,095.06 Billion
Market Forecast in 2030
USD 1,669.31 Billion
Growth Rate
CAGR of 5.58%
Number of Pages
254
Key Companies Covered
Kindred Healthcare, Genesis Healthcare. Encompass Health, Amedisys, HCA Healthcare, PruittHealth, Vibra Healthcare, SavaSeniorCare, LHC Group, LifeCare Hospitals, National Healthcare Corporation, Five Star Senior Living, U.S. Physical Therapy, Golden LivingCenters, Consulate Health Care, Sunrise Senior Living, Bayada Home Health Care, Brookdale Senior Living, and Signature Healthcare.
Segments Covered
By Payer, By Service, And By Region
Regions Covered
North America, Europe, Asia Pacific (APAC), Latin America, Middle East, and Africa (MEA)
Base Year
2022
Historical Year
2016 to 2020
Forecast Year
2023 - 2030
Customization Scope
Avail customized purchase options to meet your exact research needs. Request For Customization
Long-Term Acute Care Market: Regional Analysis
North America to hold the largest part of the market
The global long-term acute care market is expected to witness the highest growth in North America with the US emerging as the most dominant regional shareholder. Factors like the growing elderly population and growing emphasis on value-based care models could act as growth propellers. In addition to this, the healthcare sector has initiated multiple programs to improve the quality of medical care and patient comfort. Due to this change in functional properties, the country is witnessing a rise in the number of players that are working toward developing hospital-at-home models that emphasize ensuring that the patients feel minimum to no discomfort. Europe is the second-most revenue-generating segment due to greater program awareness further strengthened by the presence of acute care management systems.
Long-Term Acute Care Market: Competitive Analysis
The global long-term acute care market is:
Kindred Healthcare
Genesis Healthcare. Encompass Health
Amedisys
HCA Healthcare
PruittHealth
Vibra Healthcare
SavaSeniorCare
LHC Group
LifeCare Hospitals
National Healthcare Corporation
Five Star Senior Living
U.S. Physical Therapy
Golden LivingCenters
Consulate Health Care
Sunrise Senior Living
Bayada Home Health Care
Brookdale Senior Living
Signature Healthcare.
The global long-term acute care market is segmented as follows:
By Payer
By Service
Nursing Care
Home Healthcare
Assisted Living Facilities
Hospitals & Palliative Care
By Region
North America
Europe

France
The UK
Spain
Germany
Italy
Rest of Europe

Asia Pacific

China
Japan
India
South Korea
Southeast Asia
Rest of Asia Pacific

Latin America

Brazil
Mexico
Rest of Latin America

Middle East & Africa

GCC
South Africa
Rest of Middle East & Africa