Avalanche Airbags Industry Prospective:
The global avalanche airbags market size was worth around USD 77.46 million in 2022 and is predicted to grow to around USD 119.86 million by 2030 with a compound annual growth rate (CAGR) of roughly 5.64% between 2023 and 2030.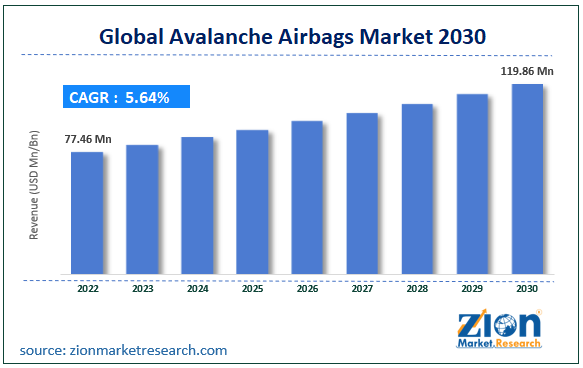 Request Free Sample
The report delves deeper into several crucial aspects of the global avalanche airbags market. It includes a detailed discussion of existing growth factors and restraints. Future growth opportunities and challenges that impact the avalanche airbags industry are comprehensively addressed in the report.
Avalanche Airbags Market: Overview
Avalanche airbags are also known as avalanche backpacks. They are a set of specialized backpacks that are used to help the carriers improve their chances of survival during an avalanche. They are considered important safety equipment for people who participate in outdoor activities such as skiing, snowboarding, or mountaineering in avalanche-prone areas. One of the main purposes of avalanche airbags is to prevent burial under the snow by keeping the user closer to the surface in the event of an avalanche. When an avalanche is triggered, the wearer has to deploy the bag by either pulling a handle or activating a gas canister. This causes the airbag contained in the backpack to instantly inflate which helps in creating a large volume around the wearer. This increases the overall buoyancy and keeps the person closer to the snow surface and reduces the risk of burial.
Key Insights:
As per the analysis shared by our research analyst, the global avalanche airbags market is estimated to grow annually at a CAGR of around 5.64% over the forecast period (2023-2030)
In terms of revenue, the global avalanche airbags market size was valued at around USD 77.46 million in 2022 and is projected to reach USD 119.86 million, by 2030.
The avalanche airbag market is projected to grow at a significant rate due to the growing undertakings of adventure sports
Based on activation segmentation, canister/cartridge-powered was predicted to show maximum market share in the year 2022
Based on sales channel segmentation, specialty stores was the leading channel in 2022
On the basis of region, North America was the leading revenue generator in 2022
Avalanche Airbags Market: Growth Drivers
Increasing undertakings of adventure sports to drive market growth
The global avalanche airbags market is projected to grow owing to the increasing number of people participating in adventure sports. In the last decade, several forms of adventure sports have witnessed a surging number of casual and professional participants. This trend is also observed in snow-related activities such as skiing and mountain climbing. A recent report by Climbing showcases that nearly 690 individuals were successful in reaching Mount Everest Summit in 2022. Similarly, another research claimed that nearly 410 million people visit ski resorts every year. Such adventure sports require the participants to invest in superior-grade protection gear and avalanche airbags are a crucial part of protection gears that are supposed to be used in snow-related activities. Social media has played a crucial role in promoting such sporting events as it has assisted in generating better awareness rates in terms of option availability and planning itineraries.
Avalanche Airbags Market: Restraints
High cost of avalanche airbags to restrict market expansion
When compared to other safety and prevention equipment used in adventure sports, avalanche airbags can be considered relatively more expensive. Additionally, the cost of high-grade bags is even higher. For instance, the Block Diamond JetForce Pro 25L costs around USD 1500. It weighs around 6 lbs and has a lightweight battery-powered fan along with a modular design. Such high costs can lead up to limited revenue as not many sports enthusiasts can afford such investments.
Avalanche Airbags Market: Opportunities
Increasing application in other outdoor activities to provide growth opportunities
Avalanche airbags are primarily used in sports that are associated with snow. However, there is a growing market for using these bags in other related sporting events that have a similar level of risk involved. Some examples of these activities include snowmobiling, ice climbing, and backcountry hiking. The avalanche airbag industry players can target the rising group of consumers belonging to this segment to garner higher revenue. Additionally, the increased access to sports equipment through online portals and e-commerce websites adds to a better growth trajectory.
Avalanche Airbags Market: Challenges
Increasing incidents of product failure to challenge the market expansion
Like other pieces of equipment, avalanche airbags are prone to failure. Manufacturers are constantly working toward providing customers with the most advanced versions of the product; however, the avalanche event is extremely unpredictable and is quick to take a brutal form. In such cases, the bags along with other equipment may not perform as per expectations. Estimates show that nearly 152 people die every year due to avalanches and around 89.9% of the time, an avalanche is caused by a victim or someone associated.
Avalanche Airbags Market: Segmentation
The global avalanche airbags market is segmented based on activation, capacity, sales channel, system, and others.
Based on activation, the global market segments are electric fan-powered and canister/cartridge-powered. In 2022, the canister/cartridge-powered segment generated the highest revenue due to higher demand and consumption. These bags typically use a gas canister or cartridge that contains compressed gas such as argon or nitrogen. Once the handle is pulled during an avalanche, the gas released in the bag causes it to inflate. The gas is not dependent on external factors and stored under pressure in the bag. Once deployed, these bags continue to remain inflated for some time keeping the wearer closer to the surface. Electric fan-powered work with the help of a rechargeable battery-powered fan to inflate the airbag. Upon activation, the fan fills the bag with ambient air and hence such bags can be deployed multiple times. In 2022, more than 15 people died in the US due to an avalanche.
Based on capacity, the avalanche airbag industry is divided into small, medium, and large.
Based on sales channel, the global market is divided into modern trade channels, specialty stores, sports variety stores, and direct-to-customer. Specialty stores were the leading revenue generator in the avalanche airbags industry since these units provide some of the best deals in terms of product options and prices. Moreover, the owners of specialty stores tend to have higher awareness and knowledge about which equipment is best suited depending on customer needs. This is why most sports enthusiasts prefer buying from specialty stores as they also offer customization options in certain cases. Sports variety stores may also generate high revenue during the forecast period as the number of such stores is growing globally. An inflated avalanche bag can reduce the mortality rate by up to 50%.
Based on system, the avalanche airbags industry is segmented into removable systems, base units, and integrated.
Recent Developments:
In November 2022, Ortovox, a pioneer in developing and manufacturing innovative backpacks for men & women, collaborated with Arc'teryx, a leading supplier of outdoor equipment. The companies worked together to develop AVABAG LiTRIC, a brand-new electric avalanche airbag. The product is extremely lightweight and is powered using a Lithium-ion battery. It can operate at temperatures ranging between -22°F to 113°F
In January 2019, Porcher Sport, the sports and leisure segment of Porcher Industries, announced the launch of a new ultra-lightweight avalanche airbag fabric that is designed to promote the safety of snowboarders and skiers. The fabric was unveiled at the 2019 Internationale Fachmesse für Sportartikel und Sportmode (ISPO)
Avalanche Airbags Market: Report Scope
Report Attributes
Report Details
Report Name
Avalanche Airbags Market Research Report
Market Size in 2022
USD 77.46 Million
Market Forecast in 2030
USD 119.86 Million
Growth Rate
CAGR of 5.64%
Number of Pages
221
Key Companies Covered
Mammut, ABS Avalanche Airbag, BCA (Backcountry Access), Arc'teryx, Black Diamond Equipment, Ortovox, Scott Sports, The North Face, Dakine, Pieps, Arva, Snowpulse, POC, Deuter, Vaude, Grivel, Salewa, Millet, EVOC, Jones Snowboards, Burton Snowboards, WildSnow, Oakley, Sweet Protection, and Mountain Hardwear.
Segments Covered
By Activation, By Capacity, By Sales Channel, By System, and By Region
Regions Covered
North America, Europe, Asia Pacific (APAC), Latin America, Middle East, and Africa (MEA)
Base Year
2022
Historical Year
2017 to 2021
Forecast Year
2023 - 2030
Customization Scope
Avail customized purchase options to meet your exact research needs. Request For Customization
Avalanche Airbags Market: Regional Analysis
North America to register the highest growth
The global avalanche airbags market is expected to witness the highest growth in North America during the forecast period. The US and Canada may act as the most dominant countries in this region owing to the high number of adventure sports enthusiasts in these countries. As per recent reports, the US has around 14.9 million skiers and 7.6 million snowboarders who regularly participate in domestic or global sports events. Additionally, consumers in North America have a better product awareness rate due to access to advanced tools and new launches. The presence of extensive mountain ranges, backcountry skiing, and snowboarding has allowed the regional population better access and opportunities to explore snow-associated games thus driving the consumption and demand for avalanche airbags. Canada has more than 290 ski resorts spread across the country. Moreover, increasing sports tourism in the US and Canada further drives revenue in the regional avalanche airbags industry.
Avalanche Airbags Market: Competitive Analysis
The global avalanche airbags market is led by players like:
Mammut
ABS Avalanche Airbag
BCA (Backcountry Access)
Arc'teryx
Black Diamond Equipment
Ortovox
Scott Sports
The North Face
Dakine
Pieps
Arva
Snowpulse
POC
Deuter
Vaude
Grivel
Salewa
Millet
EVOC
Jones Snowboards
Burton Snowboards
WildSnow
Oakley
Sweet Protection
Mountain Hardwear..
The global avalanche airbags market is segmented as follows:
By Activation
Electric Fan-Powered
Canister/Cartridge-Powered
By Capacity
By Sales Channel
Modern Trade Channels
Specialty Stores
Sports Variety Stores
Direct-to-Customer
By System
Removable Systems
Base Units
Integrated
By Region
North America
Europe

France
The UK
Spain
Germany
Italy
Rest of Europe

Asia Pacific

China
Japan
India
South Korea
Southeast Asia
Rest of Asia Pacific

Latin America

Brazil
Mexico
Rest of Latin America

Middle East & Africa

GCC
South Africa
Rest of Middle East & Africa