Automotive Platooning System Market
The global Automotive Platooning System Market accrued earnings worth approximately 2.7 (USD Billion) in 2021 and is predicted to gain revenue of about 30.2 (USD Billion) by 2028, is set to record a CAGR of nearly 54.1% over the period from 2022 to 2028. The study provides assessment and analysis of the Automotive Platooning System Market on a global & regional level. It offers a comprehensive assessment of the market competition, constraints, revenue estimates, opportunities, evolving trends, and industry-validated data. The report provides historical data from 2018 to 2021 along with a forecast from 2022 to 2028 based on revenue (USD Billion).
Automotive Platooning System Market: Overview
Vehicle platooning is an intelligent transport system app that has evolved as potential solution for traffic management in highway. The key concept of automotive platooning system is a set of vehicles travelling together while maintaining a meager distance between them. This can result in rise in traffic capacity along with enhanced traffic management activities as well as reduction in travelling timespan. Precisely, automotive platoon system is viewed as vehicle group travelling in close co-ordination with headway control mechanism. Furthermore, passenger safety & comfort is improved with acceleration & deceleration scenario removed as well platoon vehicle considered as a sole unit.
Automotive Platooning System Market: Growth Dynamics
Platooning provides massive benefits including fuel economy, enhanced road safety, and improved road capacity. This will drive growth of automotive platooning system industry over forecasting timeline. Furthermore, automotive platooning system makes use of myriad techniques for attaining safe & effective transport. Apparently, vehicle platooning tools reduce distance between two automotive through use of mechanical and electronic coupling. In addition to this, it facilitates vehicle to move at rapid pace and stop simultaneously. Moreover, these systems assist in improving fuel efficiency and reducing traffic jams as well as vehicular collisions.
Additionally, thriving vehicle manufacturing sector is set to crop up growth of automotive platooning system industry. Moreover, large numbers of participants are investing majorly in developing automotive platooning systems, thereby creating new growth avenues for automotive platooning system industry. However, key challenges to growth of automotive platooning system industry are technical errors of automotive, impaired drivers, and implementation of novel applications in current road infrastructure.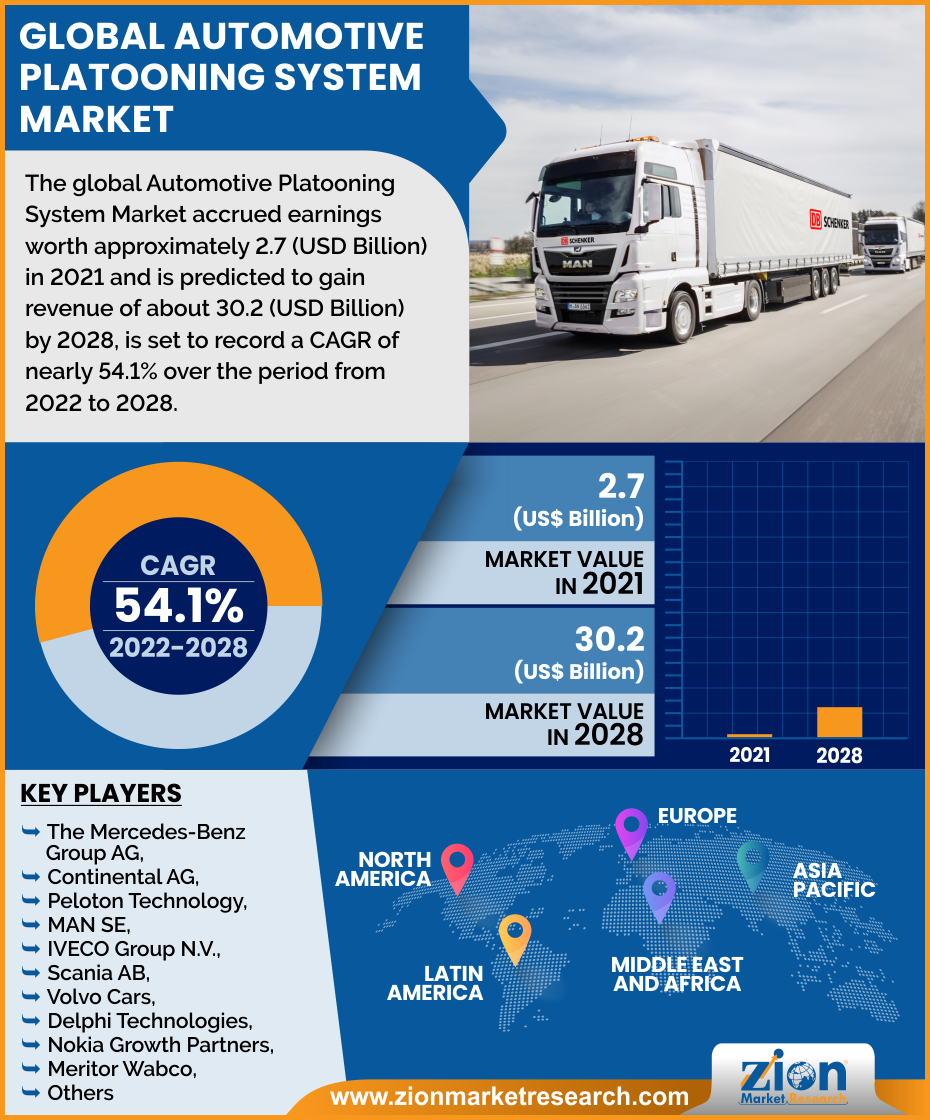 Request Free Sample
Automotive Platooning System Market: Regional Landscape
North American Market To Exhibit Tremendous Surge Over Forecast Timeline
Growth of regional market over forecasting period is subject to rise in use of automotive platooning systems in countries such as Canada and the U.S. Furthermore, presence of major players in countries such as the U.S. will multiply automotive platooning system market earnings. Huge focus of market players on minimizing GHG emissions will expedite growth rate of regional market over forecasting period. A prominent increase in utilization of trucks for goods transport will contribute substantially towards automotive industry size, thereby driving regional market trends.
Automotive Platooning System Market: Competitive Outlook
Key players have lucratively impacted business space and are likely to do so even in foreseeable future. They are The Mercedes-Benz Group AG, Continental AG, Peloton Technology, MAN SE, IVECO Group N.V., Scania AB, Volvo Cars, Delphi Technologies, Nokia Growth Partners, Meritor Wabco, Navistar International Corporation, and TomTom N.V.
Report Scope:
The global Automotive Platooning System Market is segmented as follows:
By Type
Vehicle to Vehicle (V2V)
Vehicle to Infrastructure (V2I)
By Application
Passenger Vehicles
Commercial Vehicles
By Region
North America
Europe

France
The UK
Spain
Germany
Italy
Rest of Europe

Asia Pacific

China
Japan
India
South Korea
Southeast Asia
Rest of Asia Pacific

Latin America

Brazil
Mexico
Rest of Latin America

Middle East & Africa

GCC
South Africa
Rest of Middle East & Africa