Free Analysis
Automotive platooning is a group of vehicles which travels in close proximity to each other. The platooning system uses different technologies to attain safe and competent transport. The automotive platooning system reduces carbon dioxide (CO2) emission. Truck platooning consist of two or more trucks driving close behind the platoon leader, with the next truck automatically following the leading truck through vehicle-to-vehicle communication. Further, trucks rely on an abundance of sensors and technologies such as radar and GPS to sense their environment and drive safely. Truck platooning offers the reduction of road freight operational costs owing to fuel savings and possible higher productivity of both driver and truck.
A platoon is a group of vehicles that can run closely together, safely at desired speed. Leading vehicle controls the speed and direction of vehicles, and following vehicles (which have precisely matched braking and acceleration) reacts accordingly to the lead vehicle's movement.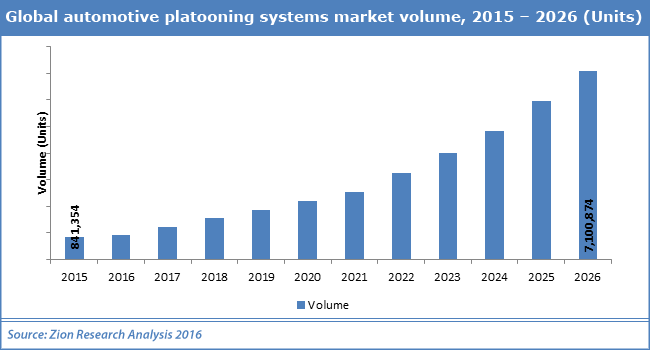 Road accidents in the emerging regions like Asia Pacific have increased dramatically over the past couple of years. The main reason behind these accidents is congested traffic, growing driver fatigue owing to long working hours and unregulated traffic discipline. The automotive platooning system is projected to be the very profitable market in the near future. Increased safety benefits, fuel efficiency, emission reduction and reduced traffic congestion together stimulate the demand for automotive platooning systems. However, low consumer awareness, lack of adequate infrastructure, and comparatively low maturity of the autonomous vehicle technology in few economies are some of the challenges restraining the growth of this market.
The major players are also participating in several projects such as; PATH, SARTRE, GCDC, and Energy ITS where this technique is tested and verified. The automotive platooning system is projected to be the very profitable market in the near future. Europe accounted for nearly 29.56% of the market share in 2015. Europe is a mature automotive market and holds significant potential for the truck platooning system market. Due to sophisticated ICT infrastructure and implementation of favorable regulatory mandates, Europe is expected to witness promising growth in platooning systems technology over the forecast period.
Collaborative efforts between automotive platooning system providers, R&D organizations, connected vehicle service providers, OEMs, transportation and logistics service providers and regulators would play the crucial part in the augmenting proliferation of automotive platooning systems in the market in the near future. The key players operative in the global automotive platooning market includes Daimler, Peloton Technology, Scania, Volvo, Continental, Delphi, IVECO, MAN Truck & Bus, Meritor Wabco, Navistar, Nokia Growth Partners, TomTom and others.