Industry Prospective:
The global automotive panoramic market was worth around USD 2.21 Billion in 2021 and is estimated to grow to about USD 12.74 Billion by 2030, with a compound annual growth rate (CAGR) of approximately 16.8% over the forecast period. The report analyzes the automotive panoramic sunroof market's drivers, restraints/challenges, and the effect they have on the demands during the projection period. In addition, the report explores emerging opportunities in the automotive panoramic sunroof market.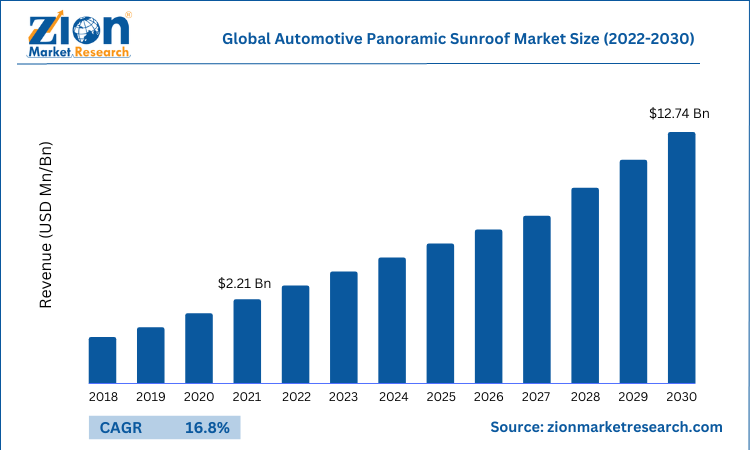 Request Free Sample
Automotive Panoramic Sunroof Market: Overview
A panoramic sunroof is a big sunroof that covers a vehicle's whole roof. It's a lot bigger than a regular sunroof, and it can be transparent or colored. A single complete panel of glass or many panels make up this sunroof. The single panel can simply move toward the back of the car when the roof is opened. The many panels will stack on top of every other to the back of the roof opening in the other form. Furthermore, due to a lack of space, this sunroof does not vanish into the vehicle's top. They're meant to block as much of the view as possible, allowing passengers in the front and back seats to experience the sunlight and fresh air.
COVID-19 Impact:
The impact of the COVID-19 pandemic on car production has hampered the growth of the global automotive sunroof market since manufacturing facilities have been shut down and the supply chain has been disrupted in several regions of the world. Many glass and fiber sunroof manufacturers struggled to maintain the demand amid COVID restrictions. However, the market is recovering and expected to grow at a rapid rate over the forecast period.
Automotive Panoramic Sunroof Market: Growth Drivers
Upsurge in a revolution in glass technology and increasing demand for convenience & comfort is likely to boost the market growth.
Increased demand for comfort, safety, and aesthetic elements has resulted in several technical developments in automobiles, including the installation of sunroofs that allow for greater air circulation. A broad range of automobiles with panoramic sunroof features is being introduced by leading automotive manufacturers.
In China, for example, Kia Motors Inc., a world-class car manufacturer, has unveiled the new KX3, a sports utility vehicle (SUV). Furthermore, advances in technology can remove fog or ice from windows to improve vision in all weather conditions with improved illumination, hence increasing passenger comfort. As a result, the demand for safety and comfort features in vehicles is increasing, boosting the market for automotive panoramic sunroofs.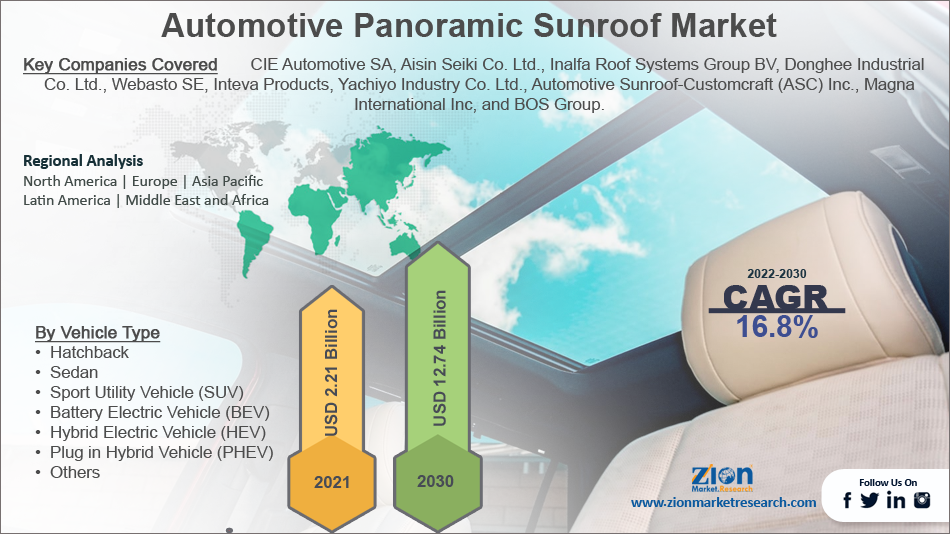 Request Free Sample
Automotive Panoramic Sunroof Market: Restraints
High costs of integration and maintenance may hinder the growth of the market.
Several factors might cause a sunroof to leak or cease operating, including defective motors, faulty tracks, and cracked or chipped glass. Sunroof installation and repair are costly. Rain sensors powered by sliding glass panels, aluminum or plastic handles, and other accessories are less expensive than steel or carbon fiber. These components are combined into a single plate, increasing the weight of the sunroof. They also need extensive maintenance, which is projected to stifle the market for automobile panoramic sunroofs. Furthermore, in low-segment automobiles, power sunroof penetration is minimal which is also contributing to the slow growth of the market.
Automotive Panoramic Sunroof Market: Opportunities
Growing inclination towards premium vehicles may create opportunities for market growth.
Most of the population in developed, as well as developing countries, are shifting towards the purchase of premium vehicles. This is majorly due to an increase in the standard of living, a rise in disposable income as well an increase in purchasing power. In addition to this, rise in passion for the panoramic sunroof, there is an increase in demand for automotive with panoramic sunroofs in the tourism sector as well as for personal use. All such factors may ultimately lead to an increase in sales of sports utility and SUVs vehicle type with panoramic sunroofs thereby creating numerous opportunities for the growth of the market during the forecast period.
Automotive Panoramic Sunroof Market: Challenges.
Management of issues related to panoramic sunroof may act as a challenge for the key players
Despite everything inside the cabin appears to be roomier due to the natural light, automobiles with a panoramic sunroof have significantly less headroom. The extra glass can make the interior of the vehicle warmer than automobiles without a sunroof during the warmest summer months.
Condensation from the windows may bring moisture to seep inside the cabin during the coldest winter months. In addition to this, lighter cars have greater gas mileage, stop more easily, and accelerate more quickly. This implies that the 200 pounds added by the glass roof may have an impact on your overall handling and stability. Thus, to enhance the performance of the automotive, it is essential to address these issues and overcome them which may act as a major challenge for the market
Automotive Panoramic Sunroof Market: Segmentation
The global automotive panoramic sunroof market is segregated based on material type, vehicle type, and region.
Based on material type, the market is categorized into glass and fiber. Due to features such as the complete opening of the roof panel, which glides between the metal roof and the interior headliner, the glass segment led the worldwide automobile panoramic sunroof market in 2021, accounting for about 91 percent of total sales.
The vehicle type segment of the market is split into sedan, hatchback, sport utility vehicle, hybrid electric vehicles, battery electric vehicles, plug-in hybrid vehicles, and others.
Recent Developments:
In Feb 2022, Kia, a dominant carmaker based in South Korea, unveiled that the new top-end variant of Kia Seltos will eventually have a panoramic sunroof as a standard feature. The company mentioned that the latest model of 2022 Kia Seltos will make some innovative design alterations such as revamped bumpers, pristine alloys, and a refurbished front grille. The top-spec model of this automobile will also have an ADAS (Advanced Driver Assistance System) along with a new range of color schemes.
In September 2020, TATA launched a new panoramic sunroof variant for the Tata Harrier at a much lower price to compete with Hector. Just like the Nexon car, TATA has also included a panoramic sunroof in the lower variant of its Harrier, whereas Hector offerings were unchanged that provided a panoramic sunroof only in the top-end variant of the vehicle. The sunroof was previously accessible only in the XZA+ and XZ+ variants of TATA Harrier.
Automotive Panoramic Sunroof Market Report Scope:
Report Attributes
Report Details
Report Name
Automotive Panoramic Sunroof Market Research Report
Market Size in 2021
USD 2.21 Billion
Market Forecast in 2030
USD 12.74 Billion
Compound Annual Growth Rate
CAGR of 16.8%
Number of Pages
206
Forecast Units
Value (USD Billion), and Volume (Units)
Key Companies Covered
CIE Automotive SA, Aisin Seiki Co. Ltd., Inalfa Roof Systems Group BV, Donghee Industrial Co. Ltd., Webasto SE, Inteva Products, Yachiyo Industry Co. Ltd., Automotive Sunroof-Customcraft (ASC) Inc., Magna International Inc, and BOS Group.
Segments Covered
By Material Type, By Vehicle Type, And By Region
Regions Covered
North America, Europe, Asia Pacific (APAC), Latin America, Middle East and Africa (MEA)
Countries Covered
North America: U.S and Canada
Europe: Germany, Italy, Russia, U.K, Spain, France, Rest of Europe
APAC: China, Australia, Japan, India, South Korea, South East Asia, Rest of Asia Pacific
Latin America: Brazil, Argentina, Chile
The Middle East And Africa: South Africa, GCC, Rest of MEA
Base Year
2021
Historical Year
2016 to 2020
Forecast Year
2022 - 2030
Customization Scope
Avail customized purchase options to meet your exact research needs. Request For Customization
Automotive Panoramic Sunroof Market: Regional Landscape
Europe region is predicted to dominate the global market during the forecast period
Europe is expected to dominate the global automotive panoramic sunroof market throughout the anticipated period, followed by North America and Asia Pacific. Europe is the house of major automobile makers, and most of the automobile brands in the region offer futuristic designs to increase the sale of cars.
The use of panoramic sunroofs can be seen in cars of major brands like Volkswagen, Audi, BMW, Daimler, Deere, General Motors, and Ford in the region that offers elegant designs, comfort, and safety which is why the demand for automobiles with panoramic sunroofs are increasing rapidly in the European market.
On the other side, the popularity of sunroof systems as after-sale customization has increased, particularly among the younger demographic in Asian nations. These factors have had a significant impact on the resurgence of sunroof systems, and they are expected to continue to boost the market in the region.
Automotive Panoramic Sunroof Market: Competitive Landscape
Major players functioning in the global automotive panoramic sunroof market include:
CIE Automotive SA
Aisin Seiki Co. Ltd.
Inalfa Roof Systems Group BV
Donghee Industrial Co. Ltd.
Webasto SE
Inteva Products
Yachiyo Industry Co. Ltd.
Automotive Sunroof-Customcraft (ASC) Inc.
Magna International Inc
BOS Group.
Global automotive panoramic sunroof market is segmented as follows:
By Material Type
By Vehicle Type
Hatchback
Sedan
Sport Utility Vehicle (SUV)
Battery Electric Vehicle (BEV)
Hybrid Electric Vehicle (HEV)
Plug in Hybrid Vehicle (PHEV)
Others
By Region
North America
Europe

France
The UK
Spain
Germany
Italy
Rest of Europe

Asia Pacific

China
Japan
India
South Korea
Southeast Asia
Rest of Asia Pacific

Latin America

Brazil
Mexico
Rest of Latin America

Middle East & Africa

GCC
South Africa
Rest of Middle East & Africa