Market Overview
The automotive aftermarket industry market accounted for USD 403.6 billion in 2020 and is expected to reach USD 610.1 billion by 2028, growing at a CAGR of 5.7% from 2021 to 2028.
The automotive aftermarket is the secondary market of the automotive industry. It is one of the vigorous, highly complex, and competitive markets that are generally concerned with retailing, manufacturing, remanufacturing, and distribution. In addition, the aftersales sector includes accessories, installation of all vehicle parts, equipment, and chemicals after selling the products by the original equipment manufacturers (OEMs) to the buyers. The automotive aftermarket is a diverse market that majorly deals with maintenance, repair, and post-sale services. Automotive aftermarket comprises the process of replacement of the part damaged due to accident or crash. There is a wide variety of parts of different quality and prices for numerous different vehicle models.
Request Free Sample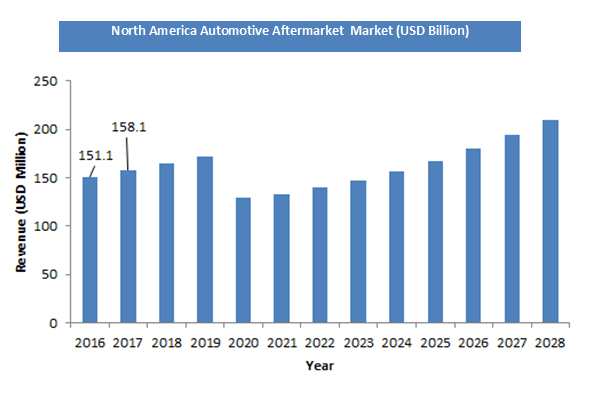 Request Free Sample
COVID-19 Impact Analysis
The automotive and transportation industries unit of measurement among the foremost susceptible to the continuing COVID-19 incidence, which they unit of measurement presently experiencing unequalled uncertainty. COVID-19 is expected to have a big impact on the industry's give chain and production. The industry's main concern has shifted from disruptions in China's give chain to a general return by demand for its merchandise offered aftermarket. With, all non-essential services pack up, demand for business vehicle parts is expected to plunge.
Furthermore, changes in consumer purchasing behaviour because of the pandemic's uncertainty could have a significant impact on the industry's near-term growth. Meanwhile, the aftermarket players have already been affected by a liquidity shortage and cash crunch.
Growth Factors
The maintenance and repair side of the automotive aftermarket is being pushed forward by rising used-car sales. The demand for aftermarket service and maintenance is being driven by an ageing vehicle fleet, which means this is a useful measure of the fleet's health. The median age of the fleet is equivalent to 0.5 the age of the oldest vehicle if the fleet has an outstanding age profile. A suitable average age is determined by a variety of variables, including the types of vehicles used, levels of use, and operating conditions, and is often affected by legislation: in certain countries, buses over a certain age are not allowed to operate.
The second growth factor is advanced technology used in the fabrication of auto parts, which means 3D printing, also known as additive manufacturing, is the process of printing a component from a digital template layer by layer.
Report Scope :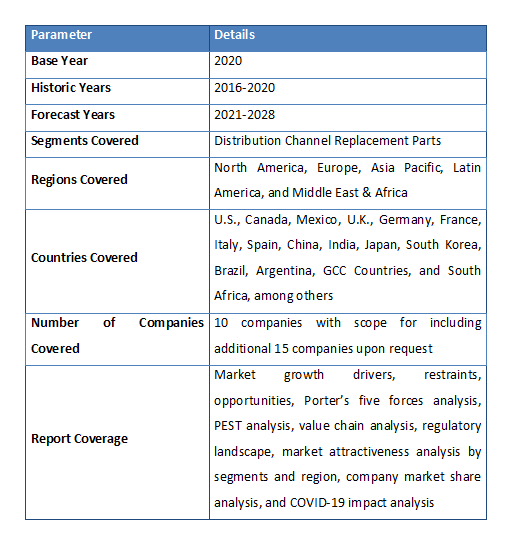 Request Free Sample
Replacement Part Segment Analysis
The tyre segment is expected to dominate the market in terms of revenue in 2020. Since tyres have a shorter replacement period than their component counterparts, it is expected to remain the dominant segment during the forecast period.
Consumer demand is being fuelled by changing consumer lifestyles and a growing need for practical and advanced gadgets. Due to increased adoption of audio video accessories, battery, turbochargers, filters, multicolour lamps, gauges, and switches, the interior accessory segment holds the substantial share in the industry. Fast-paced innovation and rapid prototyping enable manufacturers to respond quickly to market demands.
Distribution Channel Segment Analysis
The industry is being digitized because of the growing impact of technological innovation. The aftermarket is changing into a lot of digital, and therefore the market is shifting. components and facilities square measure obtainable for purchase on-line. Original instrumentation makers (OEMs), Original instrumentation Suppliers (OESs), wholesalers, insurers, and workshops square measure all responding to the burgeoning on-line aftermarket trend. The redoubled use of advanced technology in automotive vehicle components fabrication, the rise in client and traveller vehicle demand, and therefore the medical aid of automotive repair and maintenance services square measure simply many of the factors expected to drive market growth over the forecast amount.
Request Free Sample
Regional Segment Analysis
Asia Pacific region is projected to grow at a CAGR of 6.1% over the forecast period, from 2021 to 2028, the Asia Pacific market is projected to expand significantly. The use of advanced technology in auto part fabrication, a boom in consumer and passenger vehicle production and sales, and the digitalization of automotive component distribution services are all expected to boost automotive sales in the area.
Due to rising truck sales in developing region like Latin America, is expected to grow at the fastest CAGR during the forecast period. Due to poor road infrastructure, which necessitates regular maintenance of transportation fleets, the heavy-duty automotive aftermarket is expected to expand at a faster pace.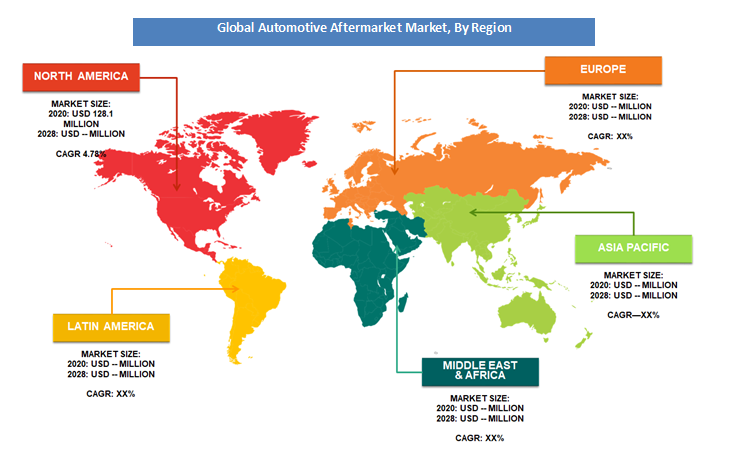 Request Free Sample
Key Market Players & Competitive Landscape
3M Company, Continental AG, Cooper Tire & Rubber Company, Delphi Automotive PLC, Denso Corporation, Federal-Mogul Corporation, HELLA KGaA Hueck & Co., Robert Bosch GmbH, Valeo Group, and ZF Friedrichshafen AG are among the leading industry participants. Technological propagation and improved investments in R&D activities by manufacturers and associations are projected to drive industry growth.
The Automotive Aftermarket Industry Market is segmented as follows:
By Replacement Part
Tyres
Filters
Body Parts
Turbochargers
Battery
Brake Parts
Lighting & Electronic components
Wheels
Exhaust Components
Others
By Distribution Channel
Local Shops
OEMs
Authorized Service Centres
Repair Shops
Others
By Region
North America
Europe

France
The UK
Spain
Germany
Italy
Rest of Europe

Asia Pacific

China
Japan
India
South Korea
Southeast Asia
Rest of Asia Pacific

Latin America

Brazil
Mexico
Rest of Latin America

Middle East & Africa

GCC
South Africa
Rest of Middle East & Africa