The automation testing market is set for a rapid growth over the forecast period. In terms of revenue, the global automation testing market accounted for USD 14.29 Billion in 2019 and is expected to reach USD 47.63 Billion by 2026, growing at a CAGR of 18.77%.
Global Automation Testing Market: Overview
Automation testing, also known as test automation, is a software testing methodology that executes a test case suite using special automated testing software tools. Manual research, on the other hand, is carried out by a person sitting in front of a computer, carefully carrying out the test steps. The automation testing software can also enter test data into the System Under Test (SUT), evaluate actual and standard outcomes, and produce comprehensive test reports. Software test automation necessitates substantial financial and resource investments. Following development cycles would necessitate the repeated execution of the same test suite. This test suite can be replayed and recorded as needed using a test automation tool. There is no need for human interference once the test suite has been automated. This improved the test automation Return on Investment (ROI). The aim of automation is to reduce the number of test cases that must be operated manually, and not to completely eradicate manual testing.
Global Automation Testing Market: Growth Factors
The popularity of automation testing services is increasing among enterprises because of the shorter turnaround time and increased reliability of testing services in software. To save money, the testing tools and frameworks automate GUI connection, login and registration forms, and database corrections. This expands their business opportunities. Moreover, the market participants are leaning toward the incorporation of innovative testing approaches, such as DevOps and Agile.
The growing penetration of cloud technology such as containerization and micro services is also expected to drive automation testing demand in the near future, as is the adoption of DevOps in software development. The centralised design of cloud computing offers a standard and cohesive framework for planning, testing, deployment, and development of applicating, providing cloud platforms a viable option for combining development and operation tools.
Market participants are increasingly incorporating cloud technology into their automation systems in order to reach a high degree of automation and offer an integrated digital experience. For instance, EggPlant announced the launch of its cloud platform in October 2020, with the aim of shortening time and providing a high degree of automation.
The COVID-19 pandemic has hastened automation testing industry dynamics toward e-commerce, online banking, and various mobile apps for entertainment and healthcare, among others, in order to achieve faster delivery time and better customer experience. Moreover, the lockdown scenario implemented by governments around the world has influenced many companies to integrate online and digital channels into their business models in order to preserve service continuity. The COVID-19 pandemic has intensified the movement toward work from home scenarios, generating a high growth potential for automation testing for various remote software applications and maintaining the IT infrastructure.
Global Automation Testing Market: Segmentation
Functional testing is the type of testing that is conducted against the application's business specifications. It is a form of black box testing. It evaluates the system's compliance with its defined specifications by involving the entire integrated system. This form of testing must be carried out based on the functional specification document. Actual testing requires testers to validate a particular behaviour or function of the code. Functional testing allows more applications to be reviewed with less time. It also grants access to data, objects, operating systems, and communication protocols, allowing for a more comprehensive test suite.
Implementation services aid in test case methodology, the creation of tailored steering technologies and technical controls, and the review of test results. These services provide customer-specific integrations and extensions, as well as installation, and roll out services. Implementation services are an important part of automation testing since they assist in the implementation of new iterations of automation testing tools as well as the incorporation of such tools with the conventional testing ecosystem. Moreover, the implementation of an automation testing system guarantees that the test suite is completely protected and that organisations gain tangible benefits from test automation.
In 2020, the BFSI application surpassed a market share of more than 25%, owing to the increasing acceptance of digital services in the banking sector, such as withdrawal, money deposit, balance inquiry, and fund transfer. Customers are accessing online banking services through various channels such as online banking, mobile apps, ATMs, and so on, which necessitates highly reliable software applications, increasing the demand for automation testing services. Moreover, the emergence of mobile wallets for linked banking systems and financial transactions in emerging economies such as India would increase the demand for banking testing services.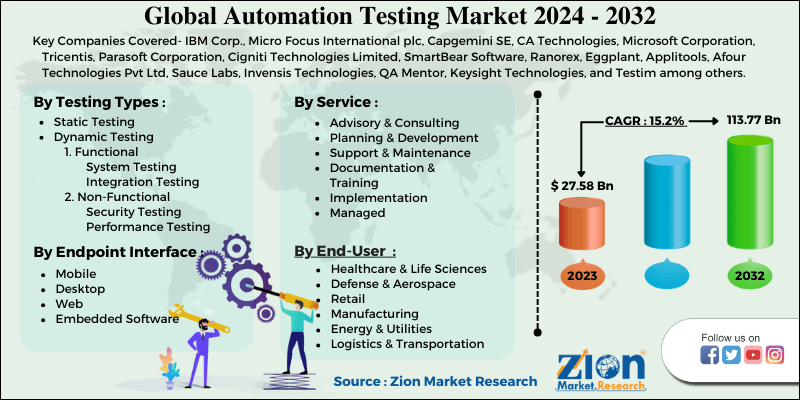 Request Free Sample
Global Automation Testing Market: Regional Analysis
By Geography, the automation testing market is segmented into North America, Europe, Latin America, Asia Pacific, and Middle East and Africa.
Asia Pacific automation testing market is expected to grow at a fastest rate over the forecast timeframe, due to the increasing prevalence of digitalization in countries such as India, China, and Japan. Rising government initiatives in India have enlisted many investments and schemes to accelerate the country's digitalization. Moreover, the presence of qualified IT professionals at lower pay in the country makes India one of the most relevant regions for outsourcing IT software and services.
The increased adoption of online retail in India, China, and Malaysia as a result of increasing consumer spending and lifestyle would accelerate market growth opportunities. The presence of various e-commerce companies in the region, such as Alibaba, Amazon, and others, would increase demand for application and web testing services. In 2018, Alibaba reported nearly USD 768 billion for retail sector in China, a 28% increase over the previous year.
Global Automation Testing Market: Competitive Players
The major players in the global automation testing market include IBM Corp., Micro Focus International plc, Capgemini SE, CA Technologies, Microsoft Corporation, Tricentis, Parasoft Corporation, Cigniti Technologies Limited, SmartBear Software, Ranorex, Eggplant, Applitools, Afour Technologies Pvt Ltd, Sauce Labs, Invensis Technologies, QA Mentor, Keysight Technologies, and Testim among others.
The report segment of global automation testing market are as follows:
Global Automation Testing Market: Testing Types Segment Analysis
Static Testing
Dynamic Testing

Functional

System Testing
Integration Testing
Unit Testing
Smoke Testing
Regression Testing
Others

Non-Functional

Security Testing
Performance Testing
API Testing
Usability Testing
Compliance Testing
Others
Global Automation Testing Market: Service Segment Analysis
Advisory & Consulting

Planning & Development

Support & Maintenance
Documentation & Training
Implementation
Managed
Global Automation Testing Market: Endpoint Interface Segment Analysis
Mobile
Desktop
Web
Embedded Software
Global Automation Testing Market: End-User Segment Analysis
Telecom & IT
BFSI
Automotive
Healthcare & Life Sciences
Defense & Aerospace
Retail
Manufacturing
Energy & Utilities
Logistics & Transportation
Media & Entertainment
Others
Global Automation Testing Market: Regional Segment Analysis
North America
Europe

France
The UK
Spain
Germany
Italy
Rest of Europe

Asia Pacific

China
Japan
India
South Korea
Southeast Asia
Rest of Asia Pacific

Latin America

Brazil
Mexico
Rest of Latin America

Middle East & Africa

GCC
South Africa
Rest of Middle East & Africa