Artificial Intelligence In Genomics Market Size And Industry Analysis
The global Artificial Intelligence In Genomics market, which was estimated at about 200 (USD Million) in 2019 and is predicted to accrue earnings worth 1,745 (USD Million) by 2026, is set to record a CAGR of nearly over 52.1% during 2020-2026. The report offers valuation and analysis of Artificial Intelligence In Genomics market on a global as well as regional level. The study offers a comprehensive assessment of the industry competition, limitations, sales estimates, avenues, current & emerging trends, and industry-validated market data. The report offers historical data from 2016 to 2019 along with a forecast from 2020 to 2026 based on value (USD Million).
Report Scope :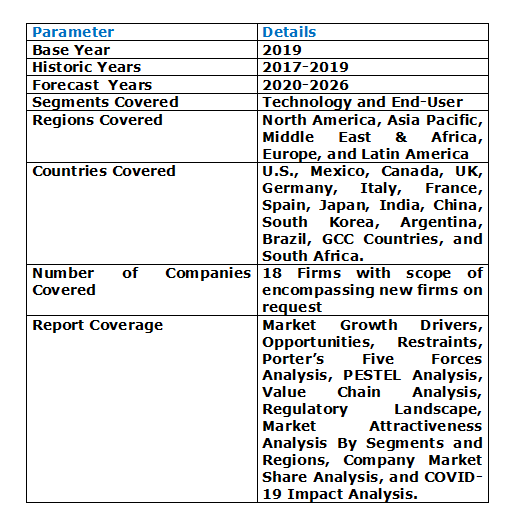 Request Free Sample
Artificial Intelligence In Genomics Market: Overview
Artificial intelligence is massively utilized in genomics for developing & exploring novel medicines for curing rare ailments. Moreover, it makes use of various DNA sequencing procedures, bioinformatics, and recombinant DNAs for assembling, sequencing, analyzing, and functioning of genomes. With machine learning playing a key role in emergence of genomics, the AI in genomics industry is likely to witness a humungous growth over forecast timespan. Apparently, genomics produces big data sets that are utilized in discovering new drugs and AI aids genomics study in producing these novel drugs in a short span. Moreover, AI accompanied by big data analytics helps the firms in gaining insights into in-depth understanding of cancer and other rare form of diseases in patients through genome study.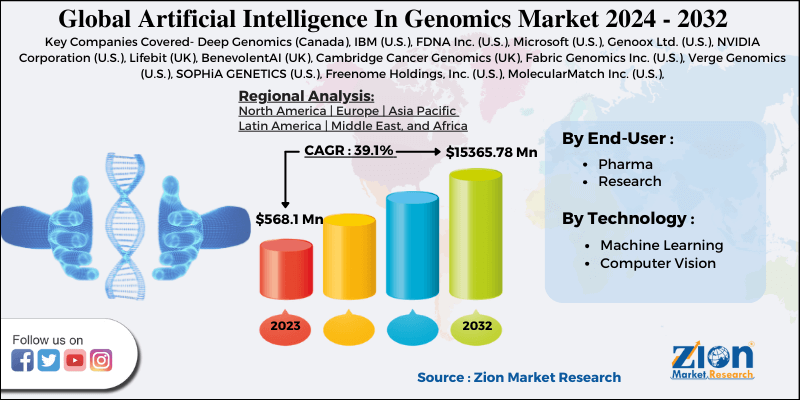 Request Free Sample
Artificial Intelligence In Genomics Market: Drivers
Massive use of next generation sequencing in genomics has resulted in rise in the precision and success of the healthcare sector. Hence, it has become imperative to combine this whole genome sequencing method with machine learning for improving the medical practice as well as improving the knowhow of diseases such as cancer. This will prompt the market growth over 2020-2026. Apart from this, thriving precision medicine market and need for exact whole genome synthesis has created huge growth avenues for artificial intelligence in genomics industry. In addition to this, artificial intelligence is also used in genome field that includes gene editing, direct-to-consumer genomics, and CRISPR as well as improving clinical workflow for improving the patient care, thereby driving market trends.
In addition to this, machine learning is slated to find large-scale applications in domains in the foreseeable future including pharmacogenomics, farming, and newborn genetic screening in the near future. This will create huge growth potential for artificial intelligence in genomics industry over the anticipated timeframe.
Regional Landscape
North American Market To Witness Humungous Surge Over 2020-2026
The growth of the market in North America over the forecast timeline is due to surge in the allocation of funds by private firms & public sector for AI research activities to determine or find its myriad uses in the field of genomics. Apart from this, favorable government schemes for promoting the use of precision medicine in the countries such as the U.S. will drive the regional market growth over the assessment period.
Competitive Landscape
Key players profiled in the study include Deep Genomics (Canada), IBM (U.S.), FDNA Inc. (U.S.), Microsoft (U.S.), Genoox Ltd. (U.S.), NVIDIA Corporation (U.S.), Lifebit (UK), BenevolentAI (UK), Cambridge Cancer Genomics (UK), Fabric Genomics Inc. (U.S.), Verge Genomics (U.S.), SOPHiA GENETICS (U.S.), Freenome Holdings, Inc. (U.S.), MolecularMatch Inc. (U.S.), Data4Cure Inc. (U.S.), PrecisionLife Ltd (UK), Diploid (Belgium), and DNAnexus Inc. (U.S.).
The global Artificial Intelligence In Genomics Market is segmented as follows:
By End-User:
By Technology:
By Region
North America
Europe

France
The UK
Spain
Germany
Italy
Rest of Europe

Asia Pacific

China
Japan
India
South Korea
Southeast Asia
Rest of Asia Pacific

Latin America

Brazil
Mexico
Rest of Latin America

Middle East & Africa

GCC
South Africa
Rest of Middle East & Africa