Analysis
The constant need for pixel resolution and power consumption reduction has led to the evolution of electronic displays and display technologies over the last few years. The next-generation display technology that displays dynamic information on transparent glass screens is called a transparent display. This unique transparent display technology has garnered tremendous attention worldwide.
One of the major factors propelling the transparent display market growth is the increasing number of consumer electronics and shopping centers worldwide. Transparent displays capture a consumer's attention. Furthermore, the rising adoption of transparent display technologies in corporates plays a significant role in driving the transparent display market development worldwide. In addition, the emerging market demand for transparent displays in smartphones and other wearable computing devices is anticipated to further support the transparent display market over the forecasted timeframe. However, the major restraining factor is the high purchasing cost of transparent displays. As the integration of transparent display technology in consumer goods is very expensive, it is observed to be unaffordable to most of the end-users. Furthermore, the removal of the backlight in electronics goods is also hindering this market's development. Alternatively, the growing adoption of transparent displays for digital signage applications in shopping centers and corporate offices is forecasted to create new growth opportunities in the upcoming years.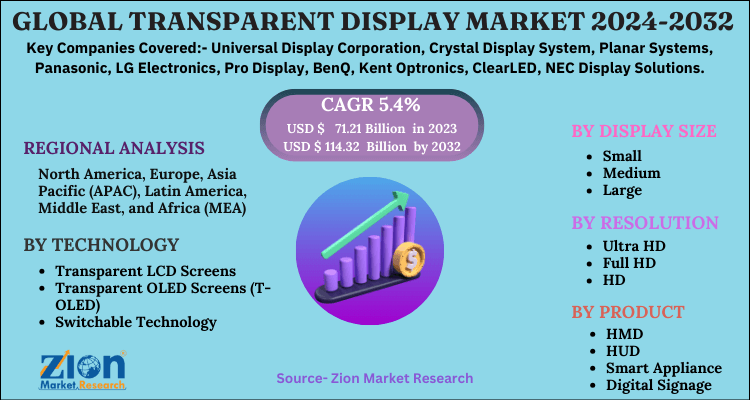 The global transparent display market is categorized based on technology, product, display size, resolution, and vertical. The technology segment includes transparent LCD screens, transparent OLED (T-OLED) screens, switchable technology, and others. Transparent OLEDs (T-OLED) are revolutionizing the entire display ecosystem and might even replace the existing display technologies in the future. HMD, HUD, smart appliance, and digital signage form the product segment of the market. The display size segment is majorly classified into small, medium, and large. On the basis of resolution, the market includes ultra HD, full HD, HD, and others. The vertical segment comprises industrial, retail and hospitality, automotive, aerospace and defense, transportation, healthcare, sports and entertainment, and others.
Regionally, the Asia Pacific transparent display market dominated globally in the year 2018 and is anticipated to continue its dominance in the future as well. This regional supremacy can be attributed to the rapid adoption of new advanced technologies in the emerging economies of India and China.
Some globally renowned key players operating in the transparent display market are Universal Display Corporation, Crystal Display System, Planar Systems, Panasonic, LG Electronics, Pro Display, BenQ, Kent Optronics, ClearLED, NEC Display Solutions, Evoluce GmbH, Globus Infocom, Hangzhou Hikvision Digital Technology, Samsung Display, Shenzhen HOXLED Optoelectronic Technology, Shenzhen NEXNOVO Technology, Pilot Screentime, and Shenzhen AuroLED Technology.