Free Analysis
Transportation is inextricably linked to the economic and social factor that favors mobility of people. The healthcare research team has opined that 20% of health can be attributed to medical care, while access to transportation, educational attainment, housing status, and healthy food accounted for 40%. Transportation barriers can be interrelated with social determinants of health, such as social isolation, poverty, racial discrimination, and access to education. It might result in increased health expenditures, overall poorer health outcomes, and delayed or missed healthcare appointments. The development of appropriate and affordable transportation options, bike lanes, walkable communities, and other healthy transit options can help improve health conditions.
The transportation system is considered an integral part of the entire healthcare market. Based on the instructions established by main healthcare bodies, the transport service providers have to comply with regulations like having sufficient field and clinical experience to deal with different types of health conditions. The rising geriatric population prone to cardiovascular diseases is one of the major driving forces of the U.S. healthcare transportation services market. Medical transportation has catered to a large number of patients in the past few years due to the aforementioned reason. Moreover, accelerating medical tourism, favorable reimbursement policies, and advancement in technology are some other factors fuelling the demand for healthcare transportation services in the U.S. However, the dearth of skilled healthcare professionals and expensive emergency care services can hamper the growth of the U.S. healthcare transportation services market.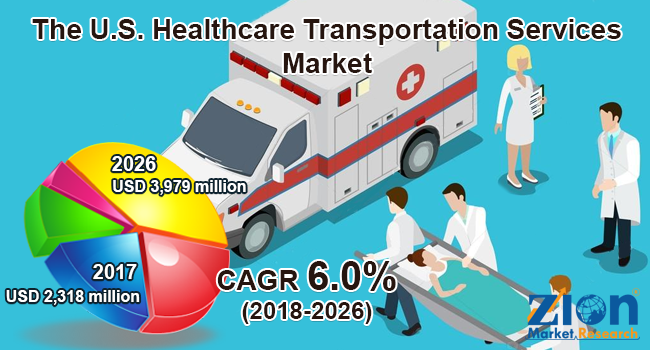 The U.S. healthcare transportation services market is segmented based on type, end-users, and states. On the basis of type, the U.S. healthcare transportation services market is bifurcated into medical transportation and non-medical transportation. Medical transportation is sub-segmented into medical products, incubator transport, mobile treatment facilities, and patient transport. The patient transport segment is further bifurcated into emergency, non-emergency, mental health transport, and intensive care patient transport. The non-medical transportation is further categorized into mailroom services, event covers, medical repatriation services, courier services, and others. In case of patient transportation, non-emergency segment held the largest market share in 2017, accounting for 31.3%, while the emergency module held a market share of 26.2% and is expected to reach nearly 26.5% during the forecast period. The end-users of healthcare transportation services are private paying customers, hospitals, medical centers, nursing care facilities, and airport shuttle. The segmentation by states comprises the current and forecast demand for the U.S., which is fragmented into Texas, Alabama, Massachusetts, New Jersey, Washington, and rest of the U.S.
The prominent players in the U.S. healthcare transportation services market are expected to balance a competitive edge in the market by increasing their product line-up and investing in mergers and acquisitions. For instance, in March 2017, American Medical Response, Inc. and Lyft, Inc. announced their partnership in order to offer non-emergency medical transportation services to patients. Moreover, in March 2018, Uber, a well-known transportation service company in the U.S., launched a new digital tool to book rides for patients. These services are known to be cheaper and more reliable than any other mode of non-emergency medical transportation.
Major participants involved in the U.S. healthcare transportation services market are Logisticare Solutions LLC, ProHealth Care Inc., Mercy Health Medical Transportation LLC, Molina Healthcare, Inc., Express Medical Transporters, Inc., Aramark Healthcare Technologies LLC, Crothall Healthcare Inc., MTM, Inc., Acadian Ambulance Service Inc., Mobile Care Group Inc., Medspeed LLC, WellMed Medical Management Inc., American Medical Response, Inc., Lyft, Inc., and Uber Technologies, Inc., among others.