Free Analysis
Manual testing is executed by a human who operates through computer carefully executing the test steps. Automation testing uses testing tools to execute the test case set. These tools demand considerable investments of money and resources. These tools record the test suite so that user can replay it if required. A manual test is very time consuming and may occur an error. Test automation overcomes these disadvantages. Test tool selection, the scope of automation, planning, designing and development, test execution and maintenance are the steps involved in automates the test. The test tool selection mainly depends on the technology the application under test is built on.
Increasing trend of digital transformation is the major driving factor for the demand of test automation market. Continuous adoption and development of the mobile application are expected to propel market growth over the forecast period. The need for digital transformation in the majority of organizations is expected to shift the focus towards automated testing. Additionally, the evolution of high-speed networking technologies and IoT across different organizations has driven the demand for test automation which helps to boost up the growth of this market.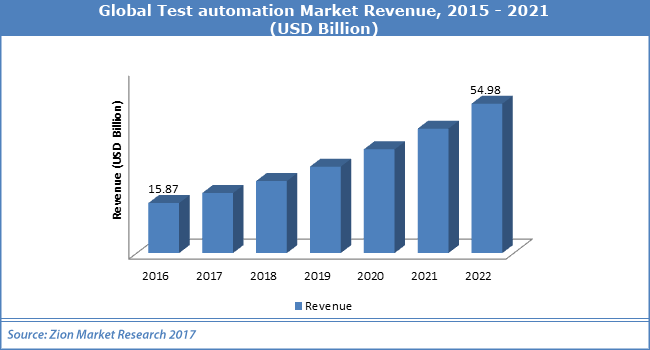 Functional testing, configuration testing, web services testing, acceptance testing, compatibility testing, integration testing, load testing, security testing, mobile testing, migration testing, platform testing, usability testing, network testing and QA process design are the different testing types of the test automation.
The functional testing segment is one of the leading segments of test automation market and acquired about 24.03% share of the global market in 2016. Functional testing provides continuity and application-grade tests. It also helps to automate the QA testing process. TestComplete is the one of the popular functional automated testing platform developed by SmartBear Software. Functional testing is widely used in Microsoft windows, web, Android (operating system), and iOS applications. The increased demand for automation is trending in software testing industry drives the demand of the automated functional testing market.
North America was one of the largest markets for test automation in 2016 due to the matured IT industry. The presence of leading test automation tool developer in U.S. like IBM Corporation, SmartBear Software contributes the major share in global test automation market. Asia Pacific is expected to grow at a significant rate due to the growing industrialization in the region. Asia Pacific is expected to emerge as a fastest growing region within forecast period due to the rapid growth of emerging economies like India and China.
The key players for global test automation market include IBM Corporation, Wipro Ltd., Capgemini S.A., Cognizant Technology, Infosys Ltd., Hewlett-Packard. TCS Ltd.