Analysis
A supercapacitor is also known as ultracapacitor or double-layer capacitor differs from a regular capacitor due to its very high capacitance. A capacitor stores energy by means of a static charge as opposed to an electrochemical reaction. Applying a voltage differential on the positive and negative plates charges the capacitor.
The growth of the supercapacitor market is primarily driven by ongoing green revolution to save energy and reduce the usage of fossil fuels. Another factor which is fueling the demand of supercapacitor market is increasing costs of fossil fuels and the hazardous impact of rising carbon emissions which are forcing several consumer electronics and automobile makers to choose for alternative power supplies. The supportive stance of governments across the globe to bring down CO2 emissions by encouraging sustainable energy consumption is also propelling the supercapacitor market. However, high initial cost of material is restraining the growth of supercapacitor market. Nonetheless, rising demand of supercapacitor in developing countries for the automotive sector will be anticipated to create growth opportunities over the forecast period.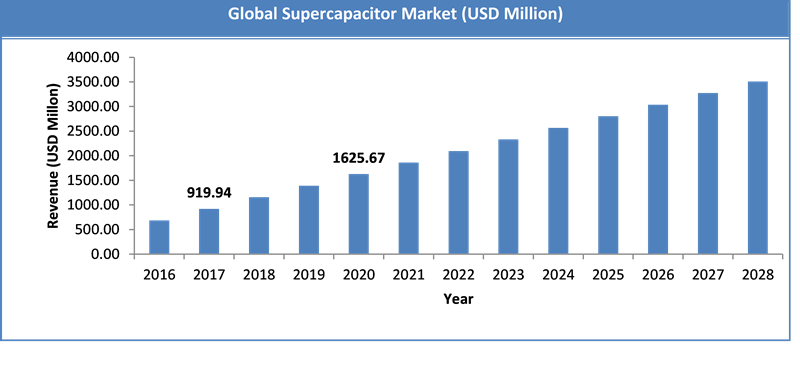 Supercapacitor market is broadly classified into type, product, vertical and region. By type the supercapacitor market is classified into supercapacitor module, supercapacitor cell and board mounted supercapacitor. On the basis of product, the market is segmented into double layer supercapacitor, pseudocapacitor, and a hybrid capacitor. Among these products, double layer supercapacitor is leading segment in this market and expected to sustain its position over the forecast period. It is electrostatic storage of the electrical energy achieved by separation of charge in a Helmholtz double layer at the interface between the surface of a conductor electrode and an electrolytic solution electrolyte. A pseudocapacitor is part of an electrochemical capacitor and forms together with an electric double-layer capacitor to create a supercapacitor. A hybrid capacitor is the combination of two electrodes, one that stores charge electrostatically and the other storing charge faradaically. Applications of supercapacitor are automotive, transportation, industrial energy, consumer electronics and others. Due to the growing implementation of automobiles that uses electrical systems to become more energy efficient capacitors are used which is fueling the growth of supercapacitor market in the automotive sector. By application, the supercapacitor market is bifurcated into automotive, transportation, industrial, energy, consumer electronics and other application. The automotive sector is dominating the supercapacitor market due to reduce carbon emission. As a result, several emerging applications for supercapacitor in the automotive ecosystem are driving the growth of this market such as regenerative braking systems, start-stop systems, voltage stabilization systems, active suspension systems, electric turbochargers and other higher power functions within the automotive.
Asia-Pacific held the largest share of supercapacitor market due to the presence of Panasonic Corporation, Murata Manufacturing Co., Ltd, and Nesscap Co., Ltd., among others. Economically emerging countries such as China, Japan, and India have strong growth in automotive and industrial and consumer electronic industry which is enforcing to spur the demand of supercapacitor market. Therefore, China held the largest share in 2016 for supercapacitor market.
Key participants in supercapacitor market are Cap-XX Limited, Panasonic Corporation, Nesscap Energy Inc., Murata Manufacturing Co., Ltd., Maxwell Technologies, Inc., AVX Corporation, Nippon Chemi-Con Corporation, Mouser Electronics, Inc., and Evans Capacitor Company, Skeleton Technologies and Elna Co. Ltd among others.