Free Analysis
Sports nutrition market has witnessed a robust growth in past few years.The major consumers of sports nutrition products were athletes and body builders however nowadays, the non-traditional consumer group are also shifting towards sports nutrition especially the younger demographic profile. Sports nutrition products include energy bars and drinks, protein bars and dietary supplements which are manufactured by using ingredients: creatine, caffeine, linoleic acid, and taurine and etc. The sports nutrition market is gaining pace due to the increase in health awareness among the population, new product development, the rapid increase in urbanization, and growth in a number of sales outlets, health clubs, fitness centers and gyms.
Athletes and bodybuilders have been the major consumers for the global sports nutrition products over the years, however, there is tremendous adoption among lifestyle users. The major factors driving the demand for sports nutrition products globally are rapid urbanization, increasing health awareness among the consumers and rise in disposable income of the consumers.In developed countries, a higher percentage of the obese population is also a driving factor for this market. In addition, an increasing number of youngsters choosing a career in sports is also raising substantial demand for sports nutrition products coupled with an immense rise in national and international sports events is also expected to fuel this market within the forecast period.Availability of cheap counterfeit products and food safety issues are expected to restrain the growth in this market.Increasing demand from developing can be an opportunity for the growth in the sports nutrition market within the forecast period.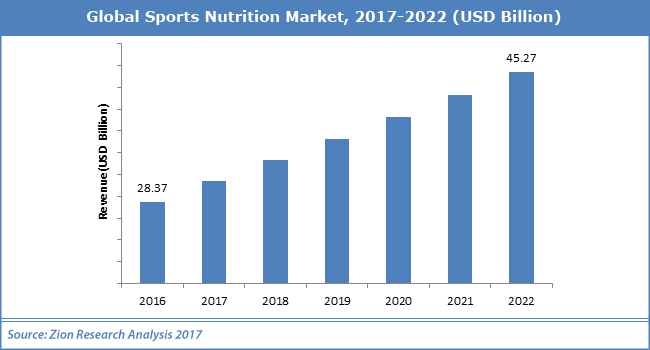 On the basis of product type, sports nutrition market can be categorized into; sports food, sports drink &sports supplements. Major consumers of this market are athletes and body builders, however, the consumption of these products has increased among recreational and lifestyle users due to increased health awareness and disposable income. The global sports nutrition market was dominated by sports food and drinks with a market share of more than 81% in 2016. Sports food segment is expected to witness the fastest growing market at a CAGR of 9.4% within the forecast period fueled by the increasing demand for sports nutrition products among the recreational and lifestyle users. Sports supplements market is expected to be fueled by the increasing number of health clubs and fitness centers.
In terms of geography, North America is expected to lead sports nutrition market due to the public openness to supplementation and increasing investment in fitness. Europe is also, expected to witness a significant growth in this market in coming six years fueled by the attractive lifestyle users who thinks sports nutrition products fits in with a healthy, active lifestyle. In Asia-Pacific, China and India are expected to witness a notable market growth which is expected to boost by the increasing consumption of sports nutrition products amongst lifestyle & recreational users.Latin America is estimated to show a massive growth in coming six years due to the increasing number of middle-class consumers.
Some of the key players of sports nutrition market such as Nestlé S.A., Glanbia plc, MaxiNutrition Ltd., Abbott Nutrition Inc., Yakult Honsha Co Ltd., The Coca-Cola Company, Reckitt Benckiser Group Plc, GNC Holdings Inc, Pepsi Co. and Honsha Co.