Free Analysis
Smart homes are designed to support the home residents in achieving their daily-living activities and having a healthier quality of life. Smart homes also help elderly people to live independently and comfortably. The most important feature of a smart home must be the fulfillment of a user's needs. The amalgamation of healthcare within smart homes is on the rise. Smart home healthcare has application in health status monitoring, fall detection and prevention, memory aids, and diet or nutrition monitoring.
The rapidly growing healthcare spending, increasing geriatric population, escalating demand for tailored healthcare, rising demand for mobile health (mHealth) and IoT-based technologies, accelerating launch of smart home healthcare technologies, growing use of connected technologies in integration with assisted living and e-health technology, and rising availability of high-speed internet are major driving factors of the global smart home healthcare market. Constant improvements in the healthcare set-up, innovation in the field of smart home healthcare equipment, and support offered by governments will generate new growth opportunities in the smart home healthcare market. However, patient privacy, security-related issues, and lack of required healthcare set-up in developing regions may restrict the global smart home healthcare market.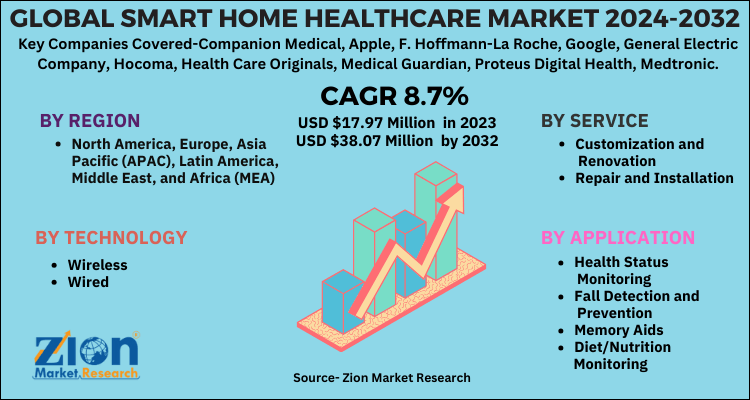 The smart home healthcare market is split based on technology, service, and application. Based on technology, the smart home healthcare market includes wireless and wired. The wireless segment is expected to dominate the technology segment, with over 58% share, in the future, owing to the rising focus on the development of wireless technology that is compact and portable. The service segment includes customization and renovation and repair and installation. By application, the market comprises fall detection and prevention, health status monitoring, diet/nutrition monitoring, and memory aids.
North America will lead the smart home healthcare market over the forecast time period. North America accounted for over 41% of the global market in 2018, due to the rising incidences of different chronic diseases, high healthcare expenditure, presence of latest healthcare facilities, and early use of latest healthcare technologies. Europe will be the second major market for smart home healthcare, due to the high in research and development investments made by top companies, growing geriatric population, increasing prevalence of chronic ailments, and encouraging reimbursement scenario. The Asia Pacific region will grow rapidly over the forecast period, owing to the growing interest in smart home healthcare, rising chronic diseases incidences, huge patient pool, and initiatives taken by the government to provide internet connectivity.
Some key players of the smart home healthcare market are Companion Medical, Apple, F. Hoffmann-La Roche, Google, General Electric Company, Hocoma, Health Care Originals, Medical Guardian, Proteus Digital Health, Medtronic, Samsung Electronics, and VitalConnect.