Market Overview
The global MHealth market accounted for USD 45.0 Billion in 2020 and is expected to reach USD 639.4 Billion by 2028, growing at a CAGR of 34.6% from 2021 to 2028.
mHealth is a technology that involves use of mobile commination devices, such as mobile phones, PDAs (personal digital assistants), tablets, and other wireless devices for distributing health as well as services. It monitors chronic conditions and help developing the prevention aspect of the healthcare system. In addition to this, it enables to offer the services on consultation, diagnosis, care management, and self-management services by using information & communication technologies (ICT).
Moreover, the mHealth includes wide range of tactics and technologies to deliver virtual health, medical, and education services to the users. mHealth may include apparatus, instruments, machines or software (including mobile applications) that are involved in the delivery of healthcare services.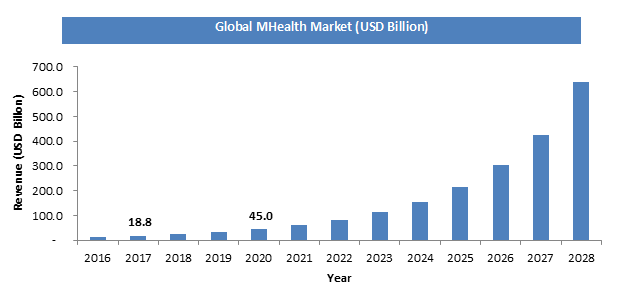 Request Free Sample
COVID-19 Impact Analysis:
The global MHealth market has witnessed a significant growth during the COVID-19 pandemic. The pandemic is having an unprecedented effect on daily lives and this has impacted every single sector and the global economy. However, the demand for MHealth is growing exponentially during the pandemic, as the value of digital approaches which are designed to help health professionals and the public stay up to date about the disease, allow better strategic planning, and maintain communication are now rapidly being highlighted and adopted.
The market would remain bullish in upcoming year.
Growth Factors
Rising awareness among the users about healthcare is one of the major factors that are responsible for the development of the global mHealth market, as per the analysts at Zion Market Research. In addition to this, various mergers and acquisitions by market players is also set to boost the global mHealth market. For example, in July 2017, Cisco purchased, Observable Networks, the network security startup. In addition, in June 2017, Actelion was obtained by Johnson & Johnson, thereby boosting the mHealth market.
Report Scope: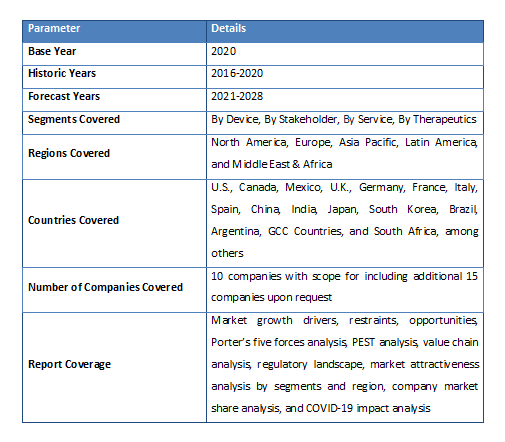 Request Free Sample
Segment Analysis Preview
On the basis of device, the mHealth market has been divided into multi-parameter trackers, pulse oximeters, sleep & apnea monitor, blood glucose meters, neurological monitoring device, wearable fitness sensor device, blood pressure monitors, heart rate meters, cardiac monitors, ECG monitors, and peak flow meters. The blood pressure monitors segment surfaced as the primary division in mHealth market and added up for more than 20% share of total income created in 2020. Mobile blood pressure monitors segment are turning out to popular in the mHealth market in the years to come. In addition to this, blood glucose meter was the second biggest division in the mHealth market and is likely to develop at a significant CAGR in the years to come.
Request Free Sample
Regional Analysis Preview
North America ruled the mHealth with more than 30% share for the year 2020 in terms of income followed by Asia Pacific and Europe owing to development of monitoring services segment. By therapeutics, the mHealth market can be divided into diabetes, neurology, respiratory, cardiovascular, and others. Monitoring services segment added up for more than 34% share of the total mHealth market in 2014. The diagnosis & consultation service segment was the second biggest division in global mHealth market. Diagnosis services permits healthcare professionals to link distantly with patients. Diagnosis services include IVR-based services and mobile telemedicine services in addition to call center services.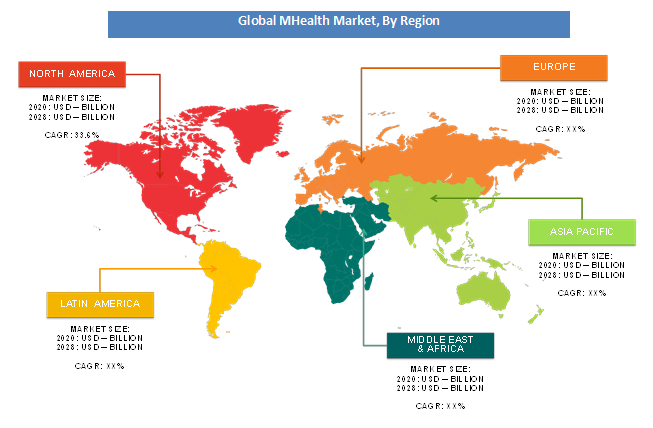 Request Free Sample
Key Market Players & Competitive Landscape
Some of key players in MHealth Market are Athenahealth, Inc., AT&T, Inc., Cisco Systems, Inc., BioTelemetry, Inc., Johnson & Johnson, Sanofi S.A., Apple, Inc., Philips N.V., LifeWatch AG, AirStrip Technologies Inc., Cerner Corporation, Nike Inc., Omron Healthcare, and Medtronic, Inc. among others.
The global MHealth Market is segmented as follows:
By Device
Pulse Oximeters
Multi-Parameter Trackers
Blood Glucose Meters
Sleep & Apnea Monitor
Wearable Fitness Sensor Device
Neurological Monitoring Device
Heart Rate Meters
Blood Pressure Monitors
ECG Monitors
Cardiac Monitors
Peak Flow Meters
Others
By Stakeholder
Healthcare Providers
Mobile Operators
Application Players
Device Vendors
Others
By Service
Treatment Services
Monitoring Services
Wellness Services
Diagnosis Service
Prevention Services
Healthcare System Strengthening Services
Other Service
By Therapeutics
Neurology
Diabetes
Cardiovascular
Respiratory
Others
By Application
Chronic Care Management Apps

Blood Pressure & ECG Monitoring Apps
Cancer Management Apps
Diabetes Management Apps
Mental Health and Behavioral Disorder Management Apps
Others

Medical Apps

Alert and Awareness Apps
Continuing Medical Education (CME) Apps
Diagnostic Apps
Medical Reference Apps

Women's Health Apps

Breastfeeding Apps
Fertility Apps
Pregnancy Apps
Others

Medication Management
Personal Health Record (PHR) Apps
Healthcare and Fitness Apps

Nutrition and Fitness Apps
Health-Tracking Apps
Weight Loss Apps

Others
By Region
North America
Europe

France
The UK
Spain
Germany
Italy
Rest of Europe

Asia Pacific

China
Japan
India
South Korea
Southeast Asia
Rest of Asia Pacific

Latin America

Brazil
Mexico
Rest of Latin America

Middle East & Africa

GCC
South Africa
Rest of Middle East & Africa