Free Analysis
Scleroderma is an autoimmune condition that is characterized by hard and thickened skin along with blood vessel problems. Scleroderma is a connective tissue disease that results in an overactive immune system. This condition can also lead to scarring, pain, and inflammation. Scleroderma, a chronic disease, sometimes leads to scarring on kidneys and lungs. It might cause blood vessels to thicken leading to high blood pressure and tissue damage. This condition is not infectious, cancerous, or contagious. Scleroderma symptoms vary from person to person. The effects vary from very mild to serious and life-threatening. The gravity of effects depends on the affected body parts and the extent of alteration. Early and accurate diagnosis followed by effective treatment can curtail the symptoms. The exact cause of scleroderma is still unknown. Factors such as silica exposure, genetic factors, and family history can lead to scleroderma.
There are two types of scleroderma: localized and systemic. In localized scleroderma, the condition is limited to the skin and internal organs are not affected. Apart from the skin, localized scleroderma may also affect underlying muscle and tissue. Localized scleroderma is not fatal; however quality of life is seriously affected due to changes in appearance. Majority of patients develop only a couple of thick patches that appear lighter or darker than surrounding skin. Localized scleroderma mostly affects children. Localized scleroderma is of four types: morphea, generalized morphea, linear scleroderma, and en coup de sabre. In systemic scleroderma, the condition spreads to visceral organs. The vascular and the immune systems are affected in systemic scleroderma. Blood vessels are also affected leading to spasmodic color changes. This condition is referred to as Raynaud's phenomenon. Systemic scleroderma is subdivided into two types based on the degree of skin involvement. These two subtypes are diffuse cutaneous scleroderma and limited cutaneous scleroderma.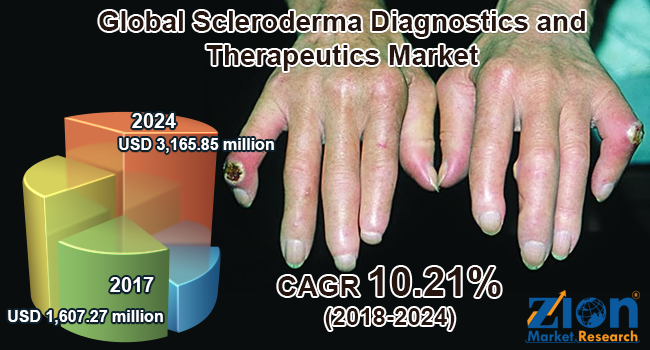 Around 300,000 people have scleroderma in the United States. Out of these, one-third people have systemic scleroderma. As scleroderma develops progressively and appears in varied forms, it is not very easy to diagnose. Most often, the physicians carry out some tests along with a physical examination. The tests include skin biopsy and blood tests along with a microscopic examination of the skin. The physicians look for symptoms like GERD, skin thickening, shortness of breath, calcium deposits, and joint pain. Currently, a cure for scleroderma doesn't exist as overproduction of collagen cannot be stopped by any medication. It is, however, possible to treat organ system complications for minimizing damage and maintaining functionality.
Rising incidence of scleroderma and increasing frequency of genetic mutations along with severe environmental changes are the major drivers that will boost the growth of scleroderma diagnostics and therapeutics market. Moreover, the rise in disposable income and increasing awareness regarding preventive healthcare is expected to take the market to new heights. Factors such as extensive R&D related to diagnosis and treatment of scleroderma will create opportunities for the market players. Unfavorable drug effects, ironclad government regulations, high costs related to the diagnosis of scleroderma are some of the factors that will restrict the growth of scleroderma diagnostics and therapeutics market.
The global scleroderma diagnostics and therapeutics market have been segmented into drug class, indication, diagnostic test type, and region. The drug class segment has been segmented into immunosuppressive agents, corticosteroids, endothelin receptor agonists, calcium channel blockers, chelating agents, PDE-5 inhibitors, H2 blockers, prostacyclin analogs, ACE inhibitors, and proton pump inhibitors. Based on the indication, scleroderma diagnostics and therapeutics market have been segmented into systemic and localized. Based on diagnostic test type, scleroderma diagnostics and therapeutics market have been segmented into imaging techniques, skin biopsy, electrocardiogram and echocardiogram, pulmonary function tests, and blood test.
North America will be the dominant region during the forecast period. Rising incidence of scleroderma and availability of latest diagnostics methods will drive the market growth in this region. Europe will be the second largest market. The Asia Pacific is expected to grow at a rapid rate over the forecast period. Extensive research and development activities and increasing awareness will boost the scleroderma diagnostics and therapeutics market in this region. Latin America market will grow at a conservative rate during the forecast period. The Middle East and Africa are expected to experience appreciable growth in the near future.
Some of the key players in the scleroderma diagnostics and therapeutics market include Bayer AG, Allergan, Inc., Active Biotech AB, BioLineRx, Ltd., Digna Biotech, Bristol-Myers Squibb Company, GlaxoSmithKline plc, Vida Therapeutics Inc., Angion Biomedica Corp., Daval International Ltd., Corbus Pharmaceuticals, Inc., and F. Hoffmann-La Roche Ltd., among others.