Industry Perspective:
The global autoimmune disease therapeutics market was worth around USD 54.8 billion in 2021 and is estimated to grow to about USD 113.48 billion by 2028, with a compound annual growth rate (CAGR) of approximately 12.9% over the forecast period. The report analyzes the autoimmune disease therapeutics market's drivers, restraints/challenges, and their effect on the demands during the projection period. In addition, the report explores emerging opportunities in the autoimmune disease therapeutics market.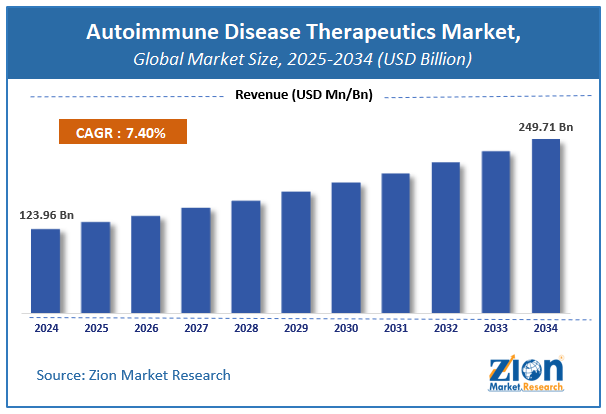 Request Free Sample
Autoimmune Disease Therapeutics Market: Overview
Autoimmune illnesses are brought on by an autoimmune reaction that targets cells and destroys body tissue. Autoimmune disorders are nearly incurable and without a permanent cure. There are about 80 autoimmune disorders around the globe with unidentified causes. Over 300 million people worldwide have this condition, and between 70 and 80% of those sufferers are female. The two main drivers driving the market's expansion are the increased prevalence of autoimmune illnesses and the expanding understanding of these conditions. Over the projected period, the market development for autoimmune disease therapeutics is expected to be further bolstered by the expansion of autoimmune disease research and the rise in autoimmune disease therapeutic usage. Furthermore, technological developments in screening processes, widespread availability of therapeutics, and the significant presence of pipeline medications such as secukinumab, tocilizumab, certolizumab, tofacitinib, etanercept, and others are projected to have a positive impact on the market growth. The critical barriers to the worldwide autoimmune disease therapeutics market, however, include the lack of funding for developing nations, the high cost of treating the disease, the lack of availability of the medication in developing countries, and the development of substitute technologies. A stringent regulatory process and increasing treatment side effects are further factors that are expected to limit market expansion.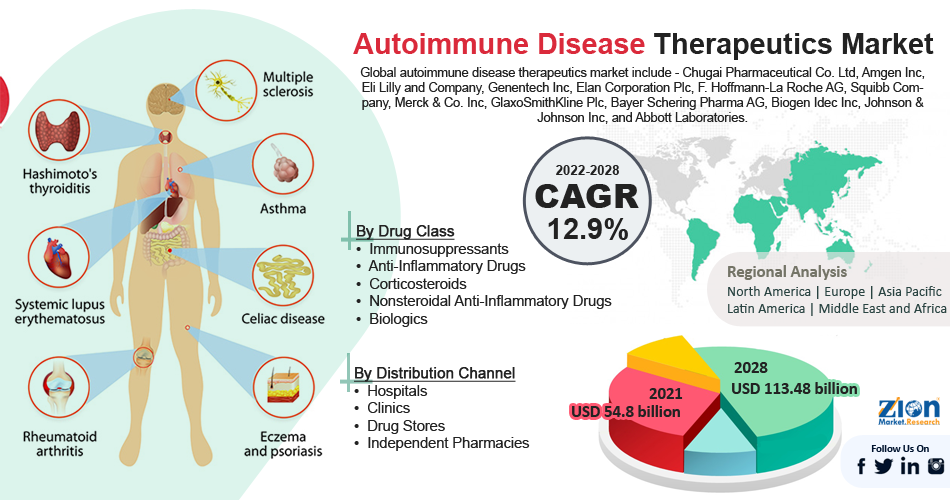 Request Free Sample
COVID-19 Impact:
The pandemic is influencing the therapeutic approach to a multifactorial disease such as rheumatoid arthritis (RA). Patients are at a higher infectious risk than the general population due to the overall immune system impairment associated with autoimmune diseases and the iatrogenic effect of immunosuppressive and corticosteroid drugs. However, growing awareness of the pathophysiology of the severe acute respiratory infectious disease leads to some anti-rheumatic drugs being considered as potential options for treating and managing COVID-19, resulting in the autoimmune disease therapeutics market growth.
Key Insights
The key factors driving the global market for autoimmune disease therapeutics include an increase in the prevalence of autoimmune disease, a surge in the use of therapeutics for the disorder, and an increase in R&D efforts to create the best possible treatments.
The main constraints for the global autoimmune disorder therapeutics market are insufficient funding in developing nations, high treatment costs, and treatment non-availability in developing countries.
By drug class, the anti-inflammatory drugs segment accounted market share of more than 30% in 2021.
The hospital segment is anticipated to grow at a CAGR of 5% from 2022 to 2028.
The Biologics segment will grow at a CAGR of 5.3% from 2022 to 2028.
In 2020, North America accounted largest revenue share of 42.4% 2021.
Europe is projected to grow at a CAGR of 6.5% from 2022 to 2028.
Autoimmune Disease Therapeutics Market: Growth Drivers
The growing prevalence of several autoimmune disorders drives the global market growth.
Factors contributing to the global autoimmune disease therapy market's growth include rising autoimmune disease prevalence, more patient awareness, and increased laboratory automation, which allows for the simultaneous diagnosis of several diagnostic tests, resulting in faster and more accurate findings thereby increasing patient awareness of such disorders fuels market expansion. Autoimmune illness targets healthy tissues, cells, and organs. It can affect any body area, weakening body function and threatening life. These illnesses sometimes need lifetime treatment to control symptoms because there is no known cure. Compared to men, women develop autoimmune diseases significantly more quickly. The condition is estimated to be one of the top ten causes of death among women under 65 and the second leading cause of chronic illness. Additionally, in the U.S., it is the leading cause of morbidity for women. There are currently over 80 clinically distinct types of autoimmune disorders. As a result, the autoimmune disease treatments market will expand throughout the forecast period.
Autoimmune Disease Therapeutics Market: Restraints
Lack of funding and high costs associated with treating the diseases may hamper the global market growth.
The key factors holding back the worldwide market for autoimmune disease therapies include insufficient funding in developing nations, the high cost of treating the condition, the lack of medication availability in developing countries, and the development of alternative technologies. The lack of understanding and awareness of autoimmune illnesses and their symptoms in poor & distant places would reduce their utilization in undeveloped and lower-income nations.
Autoimmune Disease Therapeutics Market: Opportunities
Improvements in healthcare infrastructure and technology bring up several growth opportunities.
Technology advancements such as the creation of novel biomarkers like Humira and Enbrel, compact diagnostic point-of-care devices, and growing preference for laboratory robotics are predicted to fuel growth throughout the forecast period. There is a surge in the sector due to constantly improving healthcare infrastructure and rising healthcare spending. Adopting sophisticated technology for improved treatment may pique more people's attention in applying the medicine. The market value for treatments for autoimmune diseases might rise with higher adoption rates. Increased government spending on better medical facilities has several potential benefits for market expansion. New competitors may have chances in the worldwide market for treating autoimmune diseases due to the increased accessibility of biosimilar medications and more economical treatments.
Autoimmune Disease Therapeutics Market: Challenges
Quality and safety of autoimmune illness control therapy continue to be a global challenge: The quality and safety of autoimmune disorder control therapy may pose a challenge to the growth of the global autoimmune disease treatment market. The high cost of treatment is a significant disadvantage for the autoimmune disease diagnosis and treatment market share, and inadequate infrastructure in low-income geographic areas will slow illness syndrome treatment market growth.
Lack of awareness and skilled professionals for therapeutic procedures: Lack of knowledge and skilled workers may challenge market expansion. Lack of knowledge among the populace in any area can disregard the disease's subsequent, potentially lethal treatments. Some regions have poor healthcare facilities.
Autoimmune Disease Therapeutics Market: Segmentation
The global autoimmune disease therapeutics market is segregated based on drug class, distribution channel, and region.
By drug class, the market is divided into immunosuppressants, anti-inflammatory drugs, corticosteroids, nonsteroidal anti-inflammatory drugs, and biologics. Among these, the anti-inflammatory drugs segment dominates the market, accounting for more than 30% of global sales.
By distribution channel, the market is classified into hospitals, clinics, drug stores, and independent pharmacies. Over the forecast period, the hospital segment is expected to develop faster.
Recent Developments
January 2021 - Exagen Inc., an organization, committed to revolutionizing the care continuum for patients with autoimmune illnesses, stated that all AVISE test options (SLE Prognostic, Lupus, CTD, SLE Monitor, APS, MTX, Vasculitis AAV, and HCQ) were signed in-network service with Tufts Health Center, an esteemed academic medical center on a global scale.
August 2019 - The U.S. FDA authorized PerkinElmer, Inc.'s EUROIMMUN Anti-Tissue Transglutaminase ELISA to help doctors determine whether to confirm or rule out a diagnosis of celiac disease.
Global Autoimmune Disease Therapeutics Market: Report Scope:
Report Attributes
Report Details
Report Name
Autoimmune Disease Therapeutics Market Research Report
Market Size in 2021
USD 54.8 billion
Market Forecast in 2028
USD 113.48 billion
Compound Annual Growth Rate
CAGR of 12.9%
Number of Pages
266
Forecast Units
Value (USD Billion), and Volume (Units)
Key Companies Covered
Magic Leap, Immersion, Apple, Daqri LLC, Sony, Blippar, Microsoft, Wikitude, Google, PTC, CyberGlove Systems Inc., Infinity Augmented Reality, Eon Reality, Inc., ODG, and Samsung Electronics among others.
Segments Covered
By Product Type, By Application, And By Region
Regions Covered
North America, Europe, Asia Pacific (APAC), Latin America, Middle East and Africa (MEA)
Countries Covered
North America: U.S and Canada
Europe: Germany, Italy, Russia, U.K, Spain, France, Rest of Europe
APAC: China, Australia, Japan, India, South Korea, South East Asia, Rest of Asia Pacific
Latin America: Brazil, Argentina, Chile
The Middle East And Africa: South Africa, GCC, Rest of MEA
Base Year
2021
Historical Year
2018 to 2021
Forecast Year
2022 - 2028
Customization Scope
Avail customized purchase options to meet your exact research needs. Request For Customization
Autoimmune Disease Therapeutics Market: Regional Landscape
Increasing government initiatives will help North America dominate the global market.
North America dominates the global autoimmune disease therapeutics market and accounted for more than 42.4% of the worldwide revenue in 2021. This is due to the rising prevalence of autoimmune diseases and the increased presence of government programs such as the Patient Protection Act and the Affordable Care Act. The market in this region is expanding due to rising healthcare spending, improved healthcare infrastructure, increased use of new technology, and the presence of significant vital players. The cost of treating autoimmune diseases is estimated to reach USD 100 billion annually in the United States, according to National Institute of Health estimates.
Over the forecast period, Europe is expected to be the fastest-growing regional market. The rising incidence of autoimmune diseases, expanding government efforts to upgrade the healthcare system, and increased adoption of cutting-edge technologies like portable diagnostic tools and novel biomarkers will all contribute to the expansion of the European market. High R&D activities, combined with the country's growing economic burden of autoimmune disorders, would impact regional development. Increased demand for more reliable diagnoses of systemic and localized diseases will also benefit the market.
Competitive Landscape
Some of the main competitors dominating the global autoimmune disease therapeutics market include - Chugai Pharmaceutical Co. Ltd, Amgen Inc, Eli Lilly and Company, Genentech Inc, Elan Corporation Plc, F. Hoffmann-La Roche AG, Squibb Company, Merck & Co. Inc, GlaxoSmithKline Plc, Bayer Schering Pharma AG, Biogen Idec Inc, Johnson & Johnson Inc, and Abbott Laboratories.
The global autoimmune disease therapeutics market is divided into the following segments:
By Drug Class
Immunosuppressants
Anti-Inflammatory Drugs
Corticosteroids
Nonsteroidal Anti-Inflammatory Drugs
Biologics
By Distribution Channel
Hospitals
Clinics
Drug Stores
Independent Pharmacies
By Region
North America
Europe

France
The UK
Spain
Germany
Italy
Rest of Europe

Asia Pacific

China
Japan
India
South Korea
Southeast Asia
Rest of Asia Pacific

Latin America

Brazil
Mexico
Rest of Latin America

Middle East & Africa

GCC
South Africa
Rest of Middle East & Africa