Analysis
A portable spirometer is a respiratory device that measures the volume of air inhaled and exhaled through the lungs. The device is used for testing one's pulmonary function. Various lung-related diseases are eradicated through portable spirometry devices. Portable spirometers evaluate the outcome of disease treatment and whether they need adjustments or not. It is the most appropriate tool for testing the lung function before undergoing any type of surgery. A spirometer is also used to check if the chemicals used during work are impacting the lung functioning. Spirometry devices are used to diagnose COPD, asthma, silicosis, tuberculosis, cystic fibrosis, black lung, etc.
Growing prevalence of COPD is attributed to the environmental changes and rising levels of air pollution. COPD accounts for the most common lung disorders in the world and is responsible for almost 4 million deaths globally. As per the United States Department of Health and Human Services, more than 850,000 people were detected with COPD in 2012. Earlier research studies showed that, in more than 40% cases, the disease remained undiagnosed. Additionally, the worsening air pollution levels and changes in the environmental conditions have raised asthma cases. Urbanization and rapid industrial development, changes in lifestyle, growing population, and rising healthcare expenses are likely to boost the portable spirometry devices market globally.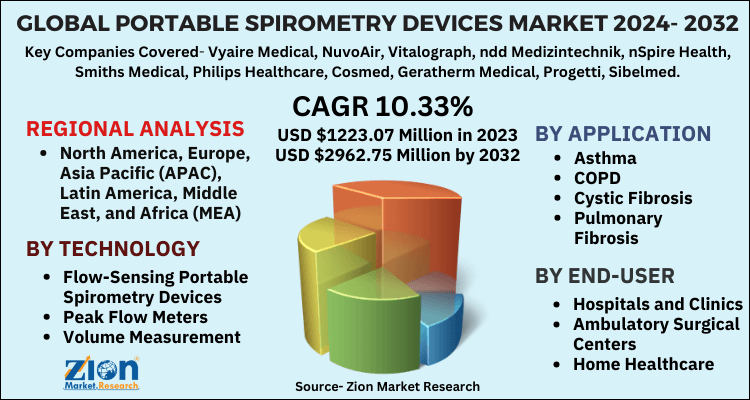 The global portable spirometry devices market is categorized on the basis of technology, application, and end-user. By technology, the market includes flow-sensing spirometry devices, peak flow meters, and volume measurement. By application, the market is divided into asthma, COPD, cystic fibrosis, pulmonary fibrosis, and others. By end-user, the market is fragmented into home healthcare, ambulatory surgical centers, hospitals and clinics, and others.
North America held a major share of the global portable spirometry devices market in 2018. Growing awareness about preventive care and increasing prevalence of respiratory disorders are boosting the region's portable spirometry devices market. The market in the U.S. is likely to expand owing to the presence of a large patient population and the early adoption of cutting-edge technology. The Asia Pacific portable spirometry devices market is likely to show the highest CAGR in the years ahead, owing to the rising healthcare expenditure and growing awareness of people about the availability of respiratory care monitoring and therapeutic devices in the region.
Some leading players in the global portable spirometry devices market include Vyaire Medical, NuvoAir, Vitalograph, ndd Medizintechnik, nSpire Health, Smiths Medical, Philips Healthcare, Cosmed, Geratherm Medical, Progetti, Sibelmed, and Ganshorn Medizin Electronic.