Description
The respiratory devices market is set for a rapid growth over the forecast period. In terms of revenue, the global respiratory devices market accounted for USD 15.32 Billion in 2019 and is expected to reach USD 28.89 Billion by 2026, growing at a CAGR of 9.49%.
Global Respiratory Devices Market: Overview
Respiratory devices are medical devices that help patients suffering from breathing trouble. Fibrosis, asthma, Chronic Obstructive Pulmonary Disease (COPD), and Acute Respiratory Distress Syndrome (ARDS) are all managed and treated with these devices. Moreover, the demand is expected to expand as the geriatric population continues to grow. According to the World Health Organisation (WHO), the global geriatric population will rise from 900 million in 2015 to 2 billion by 2050.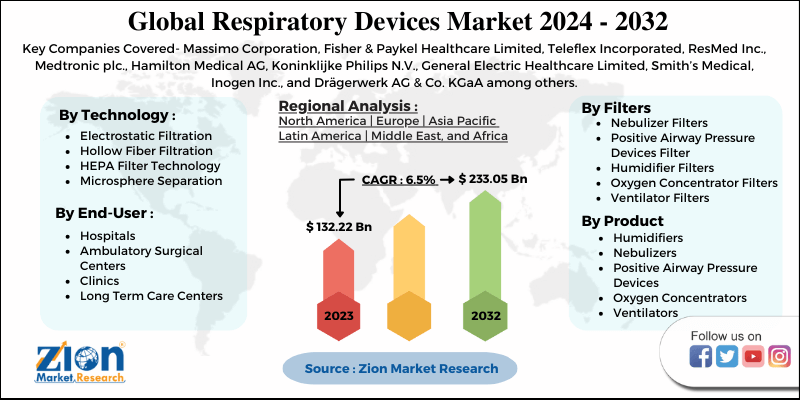 Global Respiratory Devices Market: Growth Factors
The increasing number of respiratory diseases has prompted manufacturers of respiratory devices to experiment with new designs. Asthma and COPD patients have been searching for more precise drug delivery, which has resulted in a rise in the adoption of respiratory devices. Governments with favourable reimbursement programmes promote the production and sales of respiratory devices.
According to the WHO, COPD is a chronic health problem and one of the leading causes of death worldwide. Technologically advanced medical devices and successful medications have become essential to manage COPD and other respiratory disorders. For example, in 2016, the United Nations introduced Sustainable Development Goals (SDGs) to enhance living standards across the globe. Similarly, the Forum of International Respiratory Societies (FIRS) was established to resolve the rising burden of respiratory diseases. These activities play an important role in growing the demand for respiratory devices.
Several new medicines have been approved for the treatment of COPD and other respiratory conditions, such as asthma, over the last decade. As the number of products in pipeline increases, the market will have more scope for expansion, particularly as the demand for respiratory devices has increased since the outbreak of COVID-19. The pandemic crisis has prompted pharmaceutical companies to move quickly to approve drugs and introduce new products. The COVID-19 has resulted in respiratory device manufacturing partnerships between healthcare and non-healthcare industries. To cater to the increasing demand, manufacturers are ramping up production of respiratory devices, contributing towards the growth of market.
Multifunctional polymer composites R&D is expected to provide lucrative growth opportunities for players in the global respiratory system market. For example, in February 2020, researchers from the National Research Institute in Poland, announced the production of a multifunctional polymer composite made of polyethylene terephthalate and polypropylene for filtering respiratory protective devices.
Global Respiratory Devices Market: Segmentation
The positive airway pressure (PAP) devices module held the largest share in 2O20 and is predicted to maintain its dominance in the near future. PAP devices have greater accuracy and ease of use, which are the primary reasons for the segment's supremacy. By maintaining airway passages clear, PAP devices minimise daytime sleepiness. It can also help with other sleep apnea-related health issues including hypertension, heart disease, diabetes, and stroke.
On the basis of end-users, hospitals have retained their market leadership among end users, owing to their greater patient footprint. Hospitals are predicted to have a strong demand for respiratory devices in the forecast period. The outbreak of COVID-19 and other pandemics has been instrumental in driving the segment's development. Several COVID-19 patients, for example, have mild to severe respiratory disease, necessitating the use of respiratory devices to administer medical treatment, thereby strengthening the segment's growth in the upcoming years.
Global Respiratory Devices Market: Regional Analysis
By Geography, the respiratory devices market is segmented into North America, Europe, Latin America, Asia Pacific, and Middle East and Africa.
In 2020, North America dominated the respiratory care devices market, followed by Europe and Asia Pacific. The United States continues to be one of the world's largest markets for medical devices, making it a lucrative market for manufacturers of respiratory devices. The medical devices market in the United States is predicted to account for 40% of the global market in 2017, according to SelectUSA. It's expected to reach USD 203 billion by 2023. Retail spending for durable medical supplies in the United States reached USD 54.4 billion in 2017, according to the Centers for Medicare & Medicaid Services (CMS). It is expected to increase in the coming years, which is reflective of the extraordinary potential for expansion that it will bring to companies in the field of respiratory devices.
Favorable health policies, combined with high per capita health spending, have created a favourable climate for the adoption of respiratory devices in the United States The involvement of leading players such as Medtronic plc. and ResMed Inc. is also promoting development in the country. The strategies pursued by these businesses include product releases and expansion plans, which will help to support the overall expansion in the country.
Respiratory devices are expected to become more widely used in hospitals and healthcare facilities across the United Kingdom. The demand for respiratory devices is expected to rise due to various initiatives taken by government organisations, such as the European Academy of Allergy and Clinical Immunology, to raise awareness about COPD and other respiratory diseases like asthma. These factors are likely to boost market demand in the country.
The Asia-Pacific market is projected to expand at a fastest rate during the forecast period due to the existence of a large pool of respiratory patients, an increase in healthcare expenditure, and rapid development of healthcare infrastructure. Growing middle-class population, rising per capita income, and an increase in the prevalence of tobacco smoking are also certain factors driving market growth in the region. Asia Pacific is now becoming a medical tourism centre and is considered to be one of the fastest-growing markets for medical devices and procedures. Low infrastructure and treatment expenses and the emergence of highly educated doctors have driven medical tourists to Asia Pacific, especially in India and China.
Global Respiratory Devices Market: Competitive Players
The major players in the global respiratory devices market include Massimo Corporation, Fisher & Paykel Healthcare Limited, Teleflex Incorporated, ResMed Inc., Medtronic plc., Hamilton Medical AG, Koninklijke Philips N.V., General Electric Healthcare Limited, Smith's Medical, Inogen Inc., and Drägerwerk AG & Co. KGaA among others.
The report segment of global respiratory devices market are as follows:
Global Respiratory Devices Market: Product Segment Analysis
Humidifiers

Heated Humidifiers
Integrated Humidifiers
Passover Humidifiers
Built-In Humidifiers
Stand-Alone Humidifiers

Nebulizers

Compressor-Based Nebulizers
Piston Based Handheld Nebulizer
Ultrasonic Nebulizer

Positive Airway Pressure Devices

Continuous Positive Airway Pressure Devices
Auto-Titrating Positive Airway Pressure Devices
Bi-Level Positive Airway Pressure Devices

Oxygen Concentrators

Fixed Oxygen Concentrators
Portable Oxygen Concentrators

Ventilators

Adult Ventilators
Neonatal Ventilators

Gas Analyzers
Capnographs
Global Respiratory Devices Market: Technology Segment Analysis
Electrostatic Filtration
Hollow Fiber Filtration
HEPA Filter Technology
Microsphere Separation
Global Respiratory Devices Market: Filters Segment Analysis
Nebulizer Filters

Inlet Filter
Cabinet Filter
Replacement Filter

Positive Airway Pressure Devices Filter

Ultra Fine Foam Inlet Filters
Acrylic & Polypropylene Fiber Filters
Polyester Non-Woven Fiber Filters

Humidifier Filters

Wick Filters
Mineral Absorption Pads
Permanent Cleanable Filters
Demineralization Cartridges

Oxygen Concentrator Filters

HEPA Filter
Bacterial Filter
Cabinet Filter
Inlet Filter
Pre-Inlet Filter
Micro Disk Filter
Hollow-Membrane Filter
Felt Intake Filter

Ventilator Filters

Mechanical Filters
Electrostatic Filters
Global Respiratory Devices Market: End-User Segment Analysis
Hospitals
Ambulatory Surgical Centers
Clinics
Long Term Care Centers
Global Respiratory Devices Market: Regional Segment Analysis
North America
Europe

France
The UK
Spain
Germany
Italy
Rest of Europe

Asia Pacific

China
Japan
India
South Korea
Southeast Asia
Rest of Asia Pacific

Latin America

Brazil
Mexico
Rest of Latin America

Middle East & Africa

GCC
South Africa
Rest of Middle East & Africa