The global Cystic Fibrosis Therapeutics market was estimated at 5,017.39 (USD Million) in 2019 and set to record a CAGR of nearly 9.1% over 2020-2026. The report offers valuation and analysis of Cystic Fibrosis Therapeutics market on a global as well as regional level. The study offers a comprehensive assessment of the industry competition, limitations, sales estimates, avenues, current & emerging trends, and industry-validated market data. The report offers historical data from 2016 to 2018 along with a forecast from 2019 to 2026 based on value (USD Million).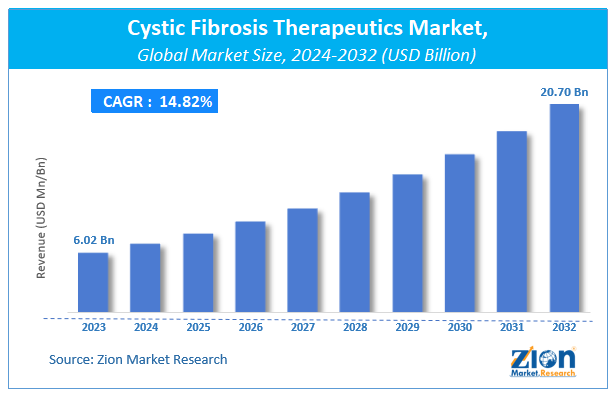 Request Free Sample
Introduction
Cystic fibrosis is a progressive genetic disorder & chronic condition that is caused due to mutations occurring in cystic fibrosis transmembrane conductance regulator gene and obstructs the normal epithelia functioning in which it is present. Additionally, varied mutations in the gene have different impact on cystic fibrosis transmembrane conductance (CFTR) regulator resulting in various phenotypes of the disorder. Moreover, the most common gene mutation is phenylalanine occurring in codon 508 and it is found in nearly 70% of the persons suffering from cystic fibrosis. The disorder is mainly found in respiratory & gastrointestinal tracts. According to NCBI, cystic fibrosis affects nearly 75,000 persons globally and is considered to be lethal with large number of mutations in gene limiting lung functions. The detection of cystic fibrosis gene in 1989 and new understanding pertaining to cystic fibrosis transmembrane conductance regulator protein has resulted in creation of novel cystic fibrosis therapies aimed at influencing the protein function. The new kind of medical treatments termed as cystic fibrosis transmembrane conductance regulator (CFTR) modulators are effectively targeting myriad kinds of mutations occurring in cystic fibrosis transmembrane conductance regulator gene that is responsible for causing cystic fibrosis. These new therapies have demonstrated positive effect on the patients suffering from cystic fibrosis and have encouraged the development of new therapies that can cure the disease. Moreover, introduction of new treatments focusing on effectively managing chronic lung infection & airway clearance has shown positive results in the patients.
Market Growth Dynamics
The breakthroughs in the stem cell research and gene therapy has paved a way for the growth of cystic fibrosis therapeutics market in the recent years. Furthermore, use of gene editing treatment will also contribute notably towards the global cystic fibrosis therapeutics market size. Prominently, the new drug class referred as CFTR (cystic fibrosis transmembrane conductance regulator) modulators has the ability to modify the defect in the CFTR protein and this will boost the market trends. For the record, CFTR modulators including Ivacaftor, Lumacaftor, and Orkambi are used for correcting defect in CTFR gene for preventing cystic fibrosis.
Moreover, introduction of anti-inflammatory therapy and mucus-alteration & airway surface liquid modulation therapy are anticipated to propel the market growth over 2020-2026. In addition to this, pulmozyme treatment aids breathing in the patients through clearance of pulmonary obstructions caused due to cystic fibrosis. Another treatment for cystic fibrosis referred as PERT that makes use of porcine-derived pancrelipase enzymes are used along with liprotamaase for treating cystic fibrosis and have exhibited favorable outcomes during clinical trials. Antimicrobial drugs are also being used for treating the disease and this will culminate in the surge in the market proceeds over the forthcoming years.
North American Market To Retain Dominant Position Over 2020-2026
The growth of the market in the sub-continent over the forecast timespan is attributed to large-scale funding of research activities carried out by reputed pharma firms in the region for launching new drugs to cure the autosomal recessive disorder. Furthermore, breakthroughs witnessed in the biotechnology domain will further contribute towards the regional market growth over the ensuing years.
Key players influencing the market growth include Novartis AG, Mylan N.V., Genentech, Inc., AbbVie Inc., Vertex Pharmaceuticals Incorporated, Johnson & Johnson, Gilead Sciences, Inc., GlaxoSmithKline Plc., Allergan plc, and Pharmaxis Ltd.
The global cystic fibrosis therapeutics market is segmented as follows:
By Drug Class
Pancreatic Enzyme Supplements
Mucolytic
Bronchodilators
CFTR modulators
By Route of Administration
By Region
North America
Europe

France
The UK
Spain
Germany
Italy
Rest of Europe

Asia Pacific

China
Japan
India
South Korea
Southeast Asia
Rest of Asia Pacific

Latin America

Brazil
Mexico
Rest of Latin America

Middle East & Africa

GCC
South Africa
Rest of Middle East & Africa