Analysis
Plasma processing is a process to obtain pure components that can be further used for injection and transfusion. The Cohn process (also called cold ethanol fractionation) was developed by Edwin J. Cohn during World War II, which was a major breakthrough in the field of blood plasma fractionation. The preparation of plasma-derived products is an important and rising phenomenon in the human plasma biotechnological industry. Some important proteins extensively used in medical treatments are factor VIII, albumin, and Factor IX. Different methods used to extract plasma are based on cold ethanol fractionation of the human plasma, which breaks it down into its components, gel filtration, and chromatographic methods that offer higher purity and fractionation by polyethylene glycol or by salt.
The increased penetration of the global plasma fractionation market is largely due to the increased use of immunoglobulins and alpha-1-antitrypsin in areas of medicine and the consistent investments in medicine and R&D, which has resulted in cost-effective procedures. The global population has a significant proportion of aged people, who suffer from rare diseases that often require high plasma proteins. There are multiple centers to collect plasma that facilitates smooth treatment and also the subsequent development of the plasma fractionation market globally. Additionally, the increasing patient life span due to better healthcare services, increasing health awareness, rising disposable income and reimbursement policies are also contributing to this market. However, the affordability of plasma products may be a major concern for the patients worldwide.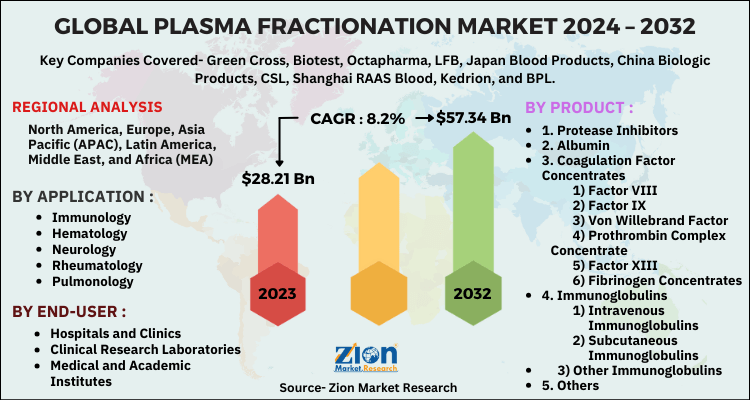 The plasma fractionation market is fragmented on the basis of product, application, and end-user. Based on product, the market is segmented into protease inhibitors, albumin, coagulation factor concentrates (factor IX, prothrombin complex concentrate, factor VIII, Von Willebrand factor, factor XIII, and fibrinogen concentrates), and immunoglobulins (subcutaneous immunoglobulin, intravenous immunoglobulin (IVIG), and other immunoglobulins), and others. The application segment is divided into immunology, hematology, neurology, rheumatology, pulmonology, and others. The end-user segment comprises clinical research laboratories, hospitals and clinics, medical and academic institutes, and others.
North America leads the extraction of plasma proteins and treatment of genetic and blood-related disorders, which makes it the global leader of the plasma fractionation market. The Asia Pacific region exhibits the highest potential to grow notably in the global plasma fractionation market in the years ahead. Increased disposable income, rising lifestyle-related disorders, growing healthcare expenditure, and escalating awareness about health disorders are driving the region's plasma fractionation market. Additionally, the increasing aging population and cancer prevalence are further driving the plasma fractionation market in the Asia Pacific region.
Some key players operating in the global plasma fractionation market are Green Cross, Biotest, Octapharma, LFB, Japan Blood Products, China Biologic Products, CSL, Shanghai RAAS Blood, Kedrion, and BPL.