Description
The global Blood Plasma market, which was estimated at about 28.01 (USD Million) in 2018 and is predicted to accrue earnings worth 49.96 (USD Million) by 2025, is set to record a CAGR of nearly about 9.9% over 2019-2025. The report offers valuation and analysis of Blood Plasma market on a global as well as regional level. The study offers a comprehensive assessment of the industry competition, limitations, sales estimates, avenues, current & emerging trends, and industry-validated market data. The report offers historical data from 2016 to 2018 along with a forecast from 2019 to 2025 based on value (USD Million).
Introduction
Blood plasma is light-yellowish in color or is straw colored and it acts as liquid base for the blood. Apparently, platelets, red blood corpuscles, and leukocytes make up blood plasma. For the record, blood plasma comprise of nearly 91% to 92% of water and about 9% to 8% of solids. Apparently, coagulants present in blood plasma help in clotting of blood. Electrolytes such as sodium, chloride, calcium, and potassium in blood plasma assist in maintaining the blood pH proportion.
Furthermore, plasma proteins of blood plasma assist in retaining the colloidal osmotic pressure at nearly 25 mmHg. In addition to this, immunoglobulin present in blood plasma helps in combating various kinds of infections. Precisely, blood plasma is a composite of over seven-hundred proteins and enables proficient body functioning.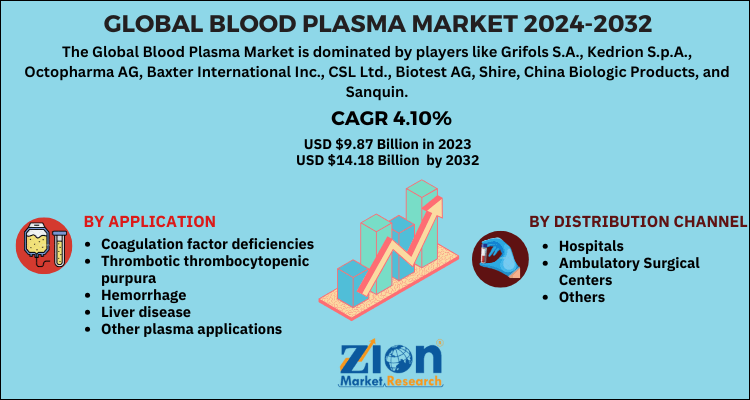 Market Growth Drivers
Surge in the occurrence of life-threatening disorders like hemophilia is anticipated to create lucrative growth avenues for the market over the projected timespan. Additionally, rise in the acceptance of blood plasma derived products along with a prominent surge in the aging populace prone to liver disorders will culminate in huge demand for blood plasma in the medical industry over the forecast timespan. Apart from this, a large number of benefits offered by blood plasma like coagulation of blood, defense, nutrition, maintaining of osmotic pressure, respiration, excretion, regulating of acid-base balance, and controlling body temperature has transformed into huge market demand in the current years.
Furthermore, blood plasma helps in controlling blood pressure in the human being. Rise in the health problems as a result of altering lifestyles, increase in the fund allocation to healthcare sector, and growing penetration of plasma-derived items in the healthcare industry will create lucrative growth avenues for the industry over the estimated timeline. Nonetheless, high plasma derivative treatment costs as well as post-operative risks related to plasma replacement treatment will put brakes on the industry growth over the forecast timespan.
North American Market To Witness Mammoth Growth By 2026
The expansion of the industry in the sub-continent over the projected timeline is due to massive patient population base in the countries like the U.S. that is affected due to blood coagulation, hemostasis, and hemorrhage. Additionally, new initiatives introduced by the government for creating awareness about the significance of blood donation will proliferate the regional market expansion in the years ahead. In addition to this, occurrence of chronic disorders like heart ailments and cancer will promote the expansion of blood plasma industry in North America over the assessment timeline.
Key participants profiled in the study include Grifols S.A., Kedrion S.p.A., Octopharma AG, Baxter International Inc., CSL Ltd., Biotest AG, Shire, China Biologic Products, and Sanquin.
The global blood plasma market is segmented as follows:
By Application
Coagulation factor deficiencies
Thrombotic thrombocytopenic purpura
Hemorrhage
Liver disease
Other plasma applications
By Distribution Channel
Hospitals
Ambulatory Surgical Centers
Others
By Region
North America
Europe

France
The UK
Spain
Germany
Italy
Rest of Europe

Asia Pacific

China
Japan
India
South Korea
Southeast Asia
Rest of Asia Pacific

Latin America

Brazil
Mexico
Rest of Latin America

Middle East & Africa

GCC
South Africa
Rest of Middle East & Africa