Free Analysis
Pharmaceutical continuous manufacturing is contrasted with batch production/manufacturing. Instead of manufacturing the products in batches; the continuous manufacturing's directly allows the raw material in the system and obtain the final product from the outlet. In the pharmaceutical continuous manufacturing, high level of automation and controlled units are used hence, the manual interventions are considerably reduced. Thus, it gives better quality and volume of products. The continuous manufacturing process operates 24x7 hours every day with rare or minimum breaks/shutdowns. This increases the efficiency, production capacity, profitability, and minimizes the maintenance. Moreover, the FDA initiatives to promote continuous manufacturing process in order to overcome the pharmaceutical industry challenges such as shortage of vital drugs will encourage the market players to go for a continuous manufacturing process. Thus, all the aforementioned parameters are expected to propel the pharmaceutical continuous manufacturing market growth globally during the forecast period.
The global pharmaceutical continuous manufacturing market is segmented on the basis of application, which is further divided into an active pharmaceutical ingredient, biologics, and dry powders. The biologics segment is expected to dominate the market by application, owing to the high demand for biologics in pharmaceutical manufacturing. The distribution channel segment is classified into hospital pharmacy, retail pharmacy, and online pharmacy. Among which, the retail pharmacy segment dominated the market, owing to the high number of retail outlets and ease of accessibility for it. Based on the end-user, the market is bifurcated into pharmaceutical companies and contract manufacturing organization.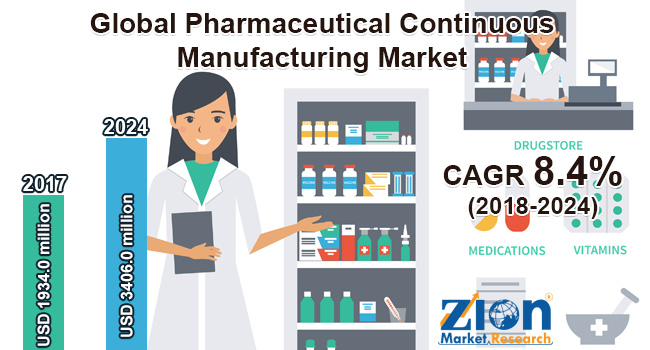 Europe held a dominant share of the pharmaceutical continuous manufacturing market in 2017 and the region is projected to continue with its regional supremacy over the forthcoming years as well. The growth of this regional market is attributed with the favorable government policies, expanding pharmaceutical industries, and increasing continuous manufacturing processes in the region. Asia Pacific is projected to grow at a significant CAGR during the forecast period, due to the rising healthcare infrastructure. Moreover, the emerging industrial base in the pharmaceutical sector, along with the increasing number of contract research organizations will propel the growth of the pharmaceutical continuous manufacturing market in the Asia Pacific. Furthermore, the urge to gain the maximum output and expanding production capacities will significantly boost the market for pharmaceutical continuous manufacturing during the forecast period.
Some of the key players in the pharmaceutical continuous manufacturing market are Siemens AG, Corning Life Sciences, S K Biotek Ltd., Scott Equipment Company, GEA Group, Korsch AG, Chemtrix, and Continuus Pharmaceuticals, among others. Currently, the market's growth rate is increasing, which has encouraged the players to switch for continuous manufacturing process over the batch manufacturing.