Free Analysis
Personalized medicine is tailored medical treatment for individual patients or intended patient groups with a similar biomarker. These medicines are manufactured to fulfill the requirements of individual patients according to their condition and patient response suffering from a particular disease. In personalized medicines, detailed information about patient genotype, gene expression level, and clinical data of patients are used to select proper medication, preventive measures, and therapy for individuals. These medicines have various benefits compared to conventional treatment methods, such as safety, high effectiveness, accuracy, and faster recovery. Personalized medicines are adopted by doctors on large-scale due to their effective treatment of various diseases, such as cancer, rare genetic disorders, etc.
With the emergence of advanced technology in the healthcare industry, there is an increase in the incidences of diseases, such as cancer, genetic disorders, etc.. Fast results, customized effects, and low probability of adverse reaction of these drugs are expected to contribute toward the increase in the revenue. Favorable government policies with respect to personalized medicine are expected to create opportunities for the personalized medicine market. Recent developments related to pharmacogenomics are expected to create a favorable environment for the under-development drugs that are specific to a patient or patient group. Increase in the genetic database and upcoming therapeutic application in different fields, such as neurology, pulmonary psychiatry are expected to drive the global personalized medicine market over the forecast time period. However, the complex nature of drugs and high development costs might hinder the expansion of personalized medicines in the future.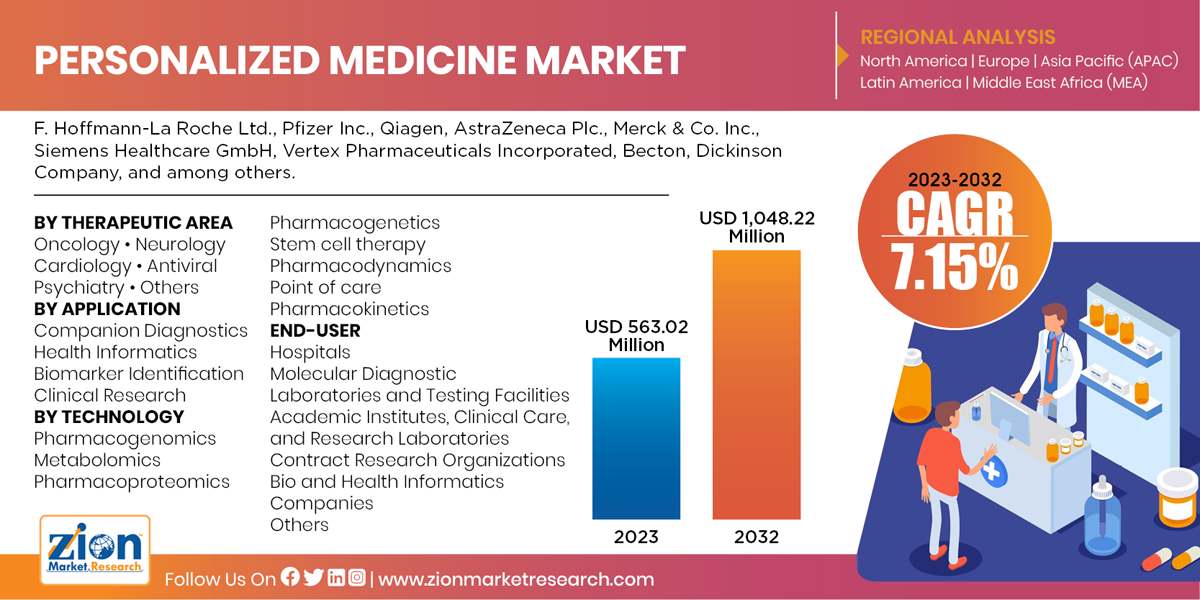 By therapeutic area, the personalized medicine market is segmented into oncology, neurology, cardiology, antiviral, psychiatry, and others. By application, this market is segmented into biomarker identification, clinical research, companion diagnostics, and health informatics. By end-user, this market is segmented into contract research organizations, hospitals, bio and health informatics companies, molecular diagnostic laboratories and testing facilities, academic institutes, clinical care, and research laboratories, and others. By technology, the personalized medicine market includes pharmacogenomics, metabolomics, pharmacoproteomics, pharmacogenetics, stem cell therapy, pharmacodynamics, pharmacokinetics, and point of care.
North America is likely to dominate the global personalized medicine market during the forecast period, which would be closely followed by Europe. Increase in the healthcare expenditure and increased awareness are expected to drive these regional markets. The Asia Pacific is projected to be the third fastest growing region in the global personalized medicine market, due to the increase in the disease, rise in awareness, and increased healthcare expenditure over the forecast time period. The Middle East and Africa are anticipated to show moderate growth over the forecast time period.
Some key players of the global personalized medicine market include F. Hoffmann-La Roche Ltd., Pfizer Inc., Qiagen, AstraZeneca Plc., Merck & Co., Inc., Siemens Healthcare GmbH, Vertex Pharmaceuticals Incorporated, and Becton, Dickinson, and Company, among others.