Analysis
Ophthalmology deals with the diagnosis, treatment, and prevention of diseases which are associated with the visual system. Most of the eye-related disorders occur over a long period of time and at initial phase are usually asymptomatic or cause a slight decrease in the vision. However, over time this becomes quite distinct. Ophthalmologic disorders cannot be cured completely; however, the treatment aims at managing the disease indication to reduce the severity or slow its progression. Ophthalmologists provide around 85% of their procedure-based services to the seniors. Cataract surgery is the most frequent surgical procedure which is performed in many countries.
Factors driving the ophthalmic drugs market are the increasing focus of the market players in the emerging economies to tap the unmet medical needs, increasing number of co-development agreements among leading players to make novel biological drugs which have less treatment duration, high proportion of visually challenged population, and generic manufacturers trying to strengthen their distribution networks for cost-effective drugs in developing regions. Moreover, rising prevalence of intraocular eye disorders, age-related macular degeneration, glaucoma, diabetic retinopathy, etc., in the elderly population is also boosting the global ophthalmic drugs market growth. Several organizations globally are increasing allocations on investments in research and development to come up with more effective novel biological agents. However, some of the factors like longer approval timelines required for ophthalmic drugs and loss of patent protection for drugs can hinder the market growth for ophthalmic drugs.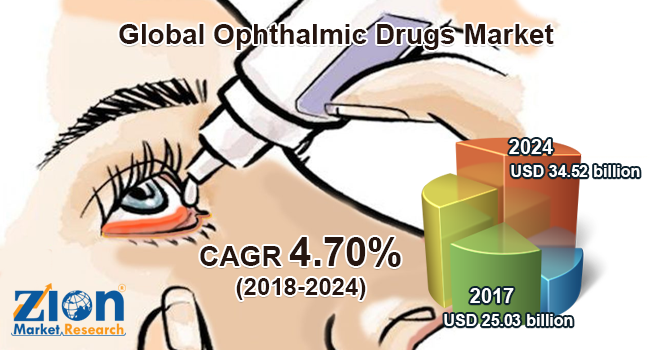 The ophthalmic drugs market is segmented based on drug type, disease indication, type, and distribution channel. Based on drug class, the market is segmented into anti-inflammatory drugs, antiglaucoma drugs, anti-allergic drugs, anti-infective drugs, and others. The anti-inflammatory drugs are further segmented into nonsteroidal anti-inflammatory drugs and steroids. The anti-infective drugs are further divided into anti-fungal drugs, anti-viral drugs, antibacterial drugs, and others. The anti-glaucoma drugs are segmented into combined medication, alpha agonist, prostaglandin analogs, beta blockers, and others. Based on type, the market is segmented into hospital prescription drugs and over-the-counter drugs. The ophthalmic drugs market is divided on the basis of disease indication into dry eye, allergies, glaucoma, retinal disorders, inflammation/infection, uveitis, and others. Based on the distribution channel, the market is segmented into online sales, retail pharmacies, hospital pharmacies, and others.
North America holds the largest share in the ophthalmic drugs market. This growth is mainly attributed to the huge number of R&D activities in the field of drug discovery. The region also has a large presence of a number of multinational biotech and pharma companies which carry out a large number of clinical trials and also have well developed and advanced healthcare infrastructure. Due to the high healthcare investment and rising government funding, Europe also holds a maximum share of the market followed by North America. Numerous market players are actively involved in the expansion of existing ophthalmic drugs to meet the rising demands for treatment of eye diseases. Besides, approval of new drugs for treating eye disorders by the European Union is also propelling the market for ophthalmic drugs in Europe. Asia Pacific region is also witnessing significant growth rate owing to the unmet health care needs and government funding towards research activities. Numerous ophthalmology companies are investing in the relatively untapped markets in the region to grow their revenue. India, China, and Malaysia are the most attractive markets in Asia Pacific owing to its rising healthcare spendings, substantial consumer base, and patient inclination to avail improved healthcare facilities.
Some of the leading players in ophthalmic drugs market include Allergan Plc, Regeneron Pharmaceuticals, Inc., Pfizer, Inc., Novartis AG, Bayer AG, F.Hoffmann-La Roche Ltd., Santen Pharmaceutical Co. Ltd., Kyowa Hakka Kirin Co. Ltd., Valent Pharmaceuticals International, Inc., Johnson and Johnson Vision Care, Inc., and Shire Plc. In March 2017, Allergan selected Aptar Pharma's ophthalmic squeeze dispenser system for its new dry eye product, Restasis Multidose to treat the patients with the chronic dry eye.