Free Analysis
Small fragments of nucleic acids that are synthesized via enzyme chemistry and genetic engineering are known as oligonucleotides. These are mainly used in laboratories for diagnostics, therapeutics, and in academic and industrial research. Oligonucleotides are also used for initial screening of target validation and drug production. The process of oligonucleotides synthesis occurs either individually via DNA synthesizers or commercially to provide services for various end-users or self-consumption. The improvement in oligonucleotide synthesis, automation, and amplification has completely revolutionized the biological research domain. Nowadays, it is possible to get customizations and specific sequences online easily and at any required time. Companies are focusing on improving their services via technology improvisations with cost control to get more traction.
Major oligonucleotides manufacturers are expanding their businesses through collaboration with pharmaceutical manufacturers. Subsequent numbers of oligos are in a later phase of clinical trials that are targeted at various conditions, such as cardiovascular diseases, muscle dystrophies, ocular disorders, and majorly cancer. This, in turn, has further anticipated the regulatory approvals for multiple oligonucleotide-based therapies. The oligonucleotides synthesis market is likely to benefit from the constant growth of gene editing and genomics markets, as there are a large number of advancements related to genetic tools for simplifying the synthesis of oligonucleotide process. Furthermore, the improvements in patient response systems are also generating a multitude of data, thereby, furthering the oligonucleotide synthesis market in the future.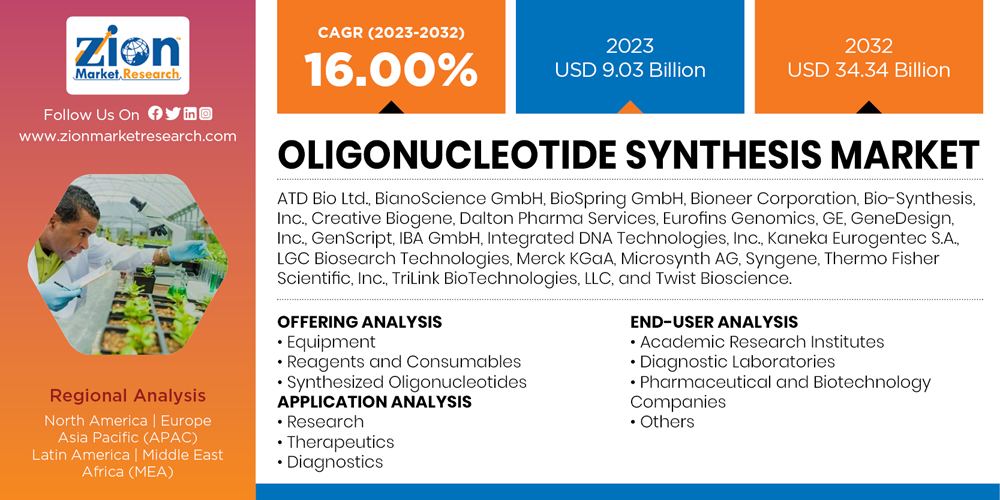 The global market for oligonucleotide synthesis is segmented on the basis of the offering, application, and end-user. By offering, the oligonucleotide synthesis market is segmented into equipment, reagents and consumables, and synthesized oligonucleotides. The synthesized oligonucleotides market is further divided into product and services. The products segment includes large-scale synthesis oligonucleotides, probes, primers, linkers and adaptors, intermediate-scale synthesis oligonucleotides, and others. The services segment includes custom/specialty oligonucleotides (modified and non-modified oligonucleotides) and pre-designed oligonucleotides. By application, this global market includes research, therapeutics, and diagnostics. The research segment includes polymerase chain reaction, qPCR, next-generation sequencing, and others. The therapeutics segment includes antisense oligonucleotides, RNAi, nucleic acid aptamers, and immunotherapy applications. By end-user, the market includes pharmaceutical and biotechnology companies, diagnostic laboratories, academic research institutes, and others.
By region, the global oligonucleotide synthesis market includes North America, Latin America, Asia Pacific, Europe, and the Middle East and Africa. North America is anticipated to dominate the market for oligonucleotide synthesis and hold a major share of the oligonucleotide synthesis market over the forecast timeline. This regional dominance can be attributed to the growing prevalence of genetic diseases and the subsequent demand for new and advanced drugs. The Asia Pacific and European regions are likely to register a rise in their market valuation over the estimated timeframe. The Asia Pacific oligonucleotide synthesis market is projected to be driven by the strong presence of innumerable companies offering consumables and reagents for oligonucleotide synthesis and the increased need for better health outcomes, the rising prevalence of infectious and chronic diseases, and the availability of improved healthcare infrastructure in the region.
Some leading players of the global oligonucleotide synthesis market include ATD Bio Ltd., BianoScience GmbH, BioSpring GmbH, Bioneer Corporation, Bio-Synthesis, Inc., Creative Biogene, Dalton Pharma Services, Eurofins Genomics, GE, GeneDesign, Inc., GenScript, IBA GmbH, Integrated DNA Technologies, Inc., Kaneka Eurogentec S.A., LGC Biosearch Technologies, Merck KGaA, Microsynth AG, Syngene, Thermo Fisher Scientific, Inc., TriLink BioTechnologies, LLC, and Twist Bioscience.