Free Analysis
Modified soya flour is used as a binder in several food items. This flour is characterized by its solubility and absorption properties. The popularity of the modified soya flour market globally can be attributed to soya flour's beneficial characteristics and various health benefits.
There is an increase in the demand for binders used in the production of various food products and industrial ingredients, which is likely to primarily support the global modified soya flour market in the years ahead. There is a new trend being witnessed in the milling industry is the development of a flour type that can be fortified with additives, micronutrients and a variety of other ingredients. The key players of the modified soya flour market are making various breakthroughs in the manufacturing technique to reap revenues from growing the demand for modified flours. Due to technological advancements, changes in the flours have become well-organized and more economical. Innovative technologies are enabling high-quality texturizing of flours. These developments are helping firms cater to the customer demands by modifying flours to meet water absorption and solubility requirements of the product. However, intense competition among the key participants may hamper the global modified soya flour market in the future. On the other hand, several health benefits of modified soya flour, such as lowered blood cholesterol, reduced menopausal symptoms, etc. are expected to provide growth opportunities for the modified soya flour market over the estimated timeframe.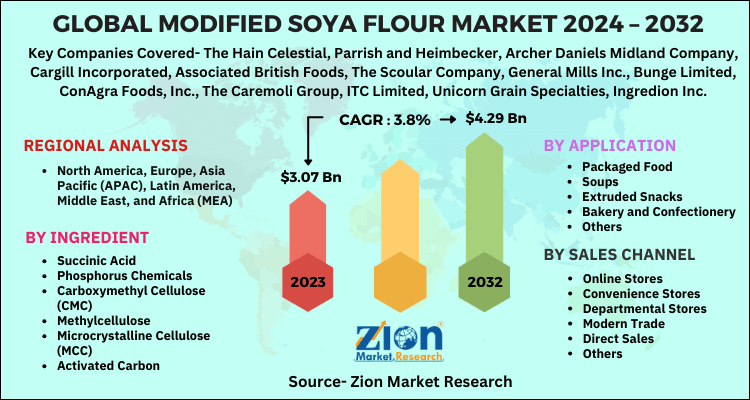 By ingredient, the global modified soya flour market is segmented into succinic acid, phosphorus chemicals, carboxymethyl cellulose (CMC), methylcellulose, microcrystalline cellulose (MCC), and activated carbon. By application, the modified soya flour market is segmented into packaged food, soups, extruded snacks, bakery and confectionery, and others. By the sales channel, the market includes online stores, convenience stores, departmental stores, modern trade, direct sales, and others.
By region, Asia Pacific was the largest market for modified soya flour in 2018 and held the highest market share in terms of both revenue and volume. This regional growth can be attributed to the rapid urbanization and growing population across the region.
Some key players operating in the global modified soya flour market include The Hain Celestial, Parrish and Heimbecker, Archer Daniels Midland Company, Cargill Incorporated, Associated British Foods, The Scoular Company, General Mills Inc., Bunge Limited, ConAgra Foods, Inc., The Caremoli Group, ITC Limited, Unicorn Grain Specialties, Ingredion Inc., SunOpta, and Buhler, among others.