Free Analysis
A mattress is a rectangular or square shaped large pad that supports reclining body and is designed to be used on a bed frame or as a bed. Mattresses consist of a quilted or fastened case of heavy cloth that contains foam rubber, cotton, straw, hair, metal springs, etc. Mattresses are also filled with water or air. There are many types of mattresses available in the market; most producers manufacture more than one type. Multiple varieties are produced through different manufacturing processes with varied cost.
Escalating number of home ownership and rising home refurbishment pursuits are propelling mattresses sales. A revival of the economy in North American and European countries post economic slump of 2008 has registered an upward trend of new houses sales. In spite of the increased number of houses built in 2014, a number of new homes constructed in the UK were less than half required to fulfill the demand. As per "Department for Communities and Local Government" UK, 118,760 houses were completed in 2014, registering an increase of 8% as compared to previous year. This figure was quite below the mark of 250,000 houses that were required to tackle the housing crises in the country.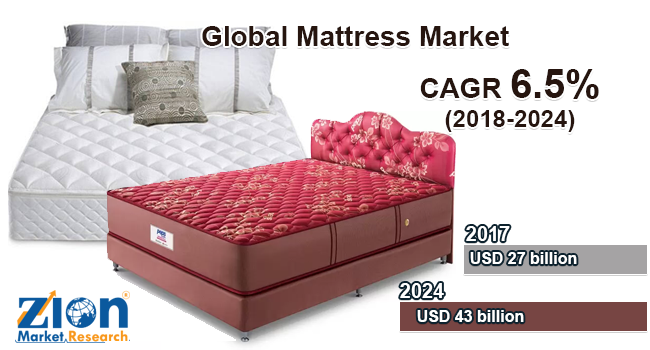 Luxurious mattresses are majorly deployed in hotels for the customer's comfort and pleasing appearance. The global hotel industry has generated revenue of nearly USD 550 billion in 2016 and was USD 457 billion in 2011. This indicates an increase of USD 100 billion in 5 years of time span, justifying the potential of the hospitality industry. Globally hospitality, tourism, and travel sectors are crucial for job creation and economic development. In the current era, where transport is becoming more affordable along with blurring country's borders, tourism and travel will remain a significant sector in the near future. The Asia Pacific and Europe are the key regions with the highest hotel occupancy rates of nearly 68%. The Middle East and Africa is the most expensive region, the hotel room rates with an average price of USD 165.97.
Global mattress market is classified according to its products as memory foam, gel, innerspring, water bed, air bed, latex mattress, and adjustable bases. Based on the size, global mattress market is bifurcated as king size, double size, queen, twin XL, and twin. Various end-use industries deploying mattress are hospitals, household, hotel, and others.
Global mattress market is divided into prominent regions such as Europe, Asia Pacific, North America, Latin America, and the Middle East & Africa. The Asia Pacific is leading in terms of revenue generation in the industry owing to its strengthening economies that have grown in the construction industry. Further, the rising number of households spending heavily on premium home furnishing will give a positive outlook to the regional market during the forecast timeframe.
Key players in global mattress market are Paramount Bed Holdings Co. Ltd., KING KOIL Inc., Sealy Corporation, Southerland Bedding Co., Kingsdown Inc., Select Comfort, Spring Air Company, Simmons Bedding Company LLC, Serta Inc., and Tempur-Pedic International Inc.