Luxury Hotels Market Size
The luxury hotels market size was estimated at USD 11.24 billion in 2020 and is expected to reach more than USD 14.40 billion by 2028, growing at a CAGR of 3.5% from 2021 to 2028.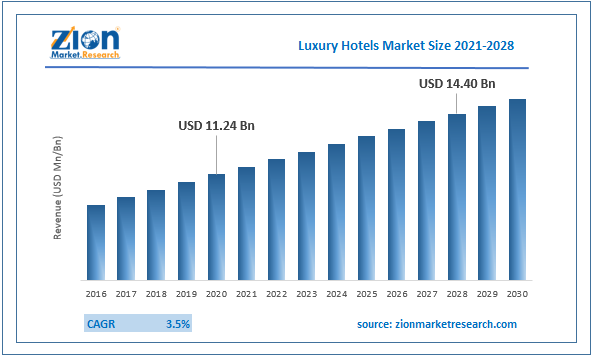 Request Free Sample
Luxury hotels are those who different features and advanced facilities to their end-user customers. These hotels are for providing high quality personalized and professional services by becoming a primary source of income produced by hospitality industry worldwide. Hospitality is a very dynamic industry that focuses on different innovations in marketing activities to adhere to a new client base. Also, hotels are now coming up with several membership cards, schemes, and offers to keep their old customers and attract the new customer segment.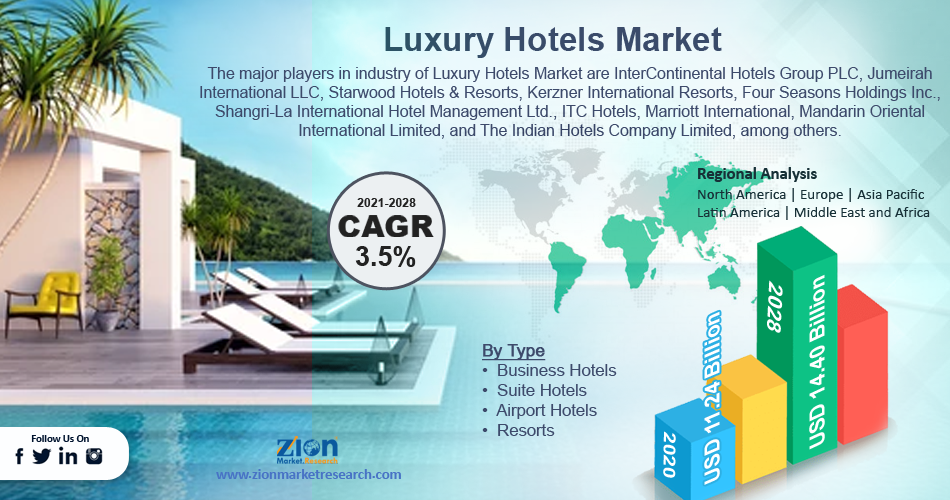 Request Free Sample
COVID-19 Impact Analysis
The luxury hotel market has faced huge losses, due to a very sudden fall in tourism. Tourism sector has negative impact of the pandemic on its working much earlier. The travel measures started as early as January 2020 worldwide. International as well as domestic tourists limited their travel because of fear of contracting COVID-19. One of the most important factors for the downturn in the hospitality industry is the drop in tourist activities all over the world.
Luxury Hotels Market: Growth Factors
In the current scenario, factors such as a shift of consumer preference towards luxurious experience and comfort and a rise in income with improving standards of living are driving the luxury hotel industry demand all over the globe. Considering a rise in the number of national and international events conducted is also triggering the demand for such hotels. Among all types of guests, the category of politicians, business tycoons, celebrities, and professionals is the most prominent visitor.
The increasing income of the population in developing countries such as China, India, Brazil, Thailand, and South Africa is about to accelerate the global tourism industry and have a favorable impact on the overall market. Countries facing economic crises, political issues and regulations are anticipated to have declining or very slow market growth.
Report Scope :
Type Segment Analysis Preview
The type segment held a share of over XX% in 2020. The business hotels segment is going to have its dominance in the market throughout the forecast period, having a vast consumer base, that includes business, tour groups, travelers, and conference groups. Suite type of hotels is one of the main segments of the luxury hotels. The rooms in suite hotels have bedrooms with separate lounge.
Business travelers or professionals who travel outside for work including business people and managers generally have a tendency to incline towards such types of hotels and rooms. Currently, the airport hotels segment is becoming an indispensible part of the luxury hotel industry all over the world. The main clients of air hotels can be airline tourists, mainly those people whose flights are cancelled or delayed. Airplane domain staff is also targeted customers among others.
Regional Analysis Preview
North America accounted for a share of around 35% in 2020 The North American region is having their dominance and the trend is expected to be continued over the forecast period. The U.S. can be said as a global financial hub and one of the most popular tourist place for people across the world.
The European market is also growing because of government initiatives taken for the of tourist and tourism promotion in their country with this the increasing awareness of local regions and about its historical or architectural importance. For example, the royal history of Europe region such as Spain, Italy, the U.K., and France, is the main factor driving the Europe market.
Key Market Players & Competitive Landscape
With the living standard transformation in the emerging markets of Asia and Africa, such luxury hotel brands are focusing on amplifying their operations and presence in these countries. Various hotel chains are coming up with new facilities and creating unique identical economy segments and services to attract travelers.
The major players in industry of Luxury Hotels Market are InterContinental Hotels Group PLC, Jumeirah International LLC, Starwood Hotels & Resorts, Kerzner International Resorts, Four Seasons Holdings Inc., Shangri-La International Hotel Management Ltd., ITC Hotels, Marriott International, Mandarin Oriental International Limited, and The Indian Hotels Company Limited, among others.
The luxury hotels market is segmented as follows:
By Type
Business Hotels
Suite Hotels
Airport Hotels
Resorts
By Region
North America
Europe

France
The UK
Spain
Germany
Italy
Rest of Europe

Asia Pacific

China
Japan
India
South Korea
Southeast Asia
Rest of Asia Pacific

Latin America

Brazil
Mexico
Rest of Latin America

Middle East & Africa

GCC
South Africa
Rest of Middle East & Africa