Analysis
The new signal of defense expansion is an emerging trend that is driving several nations to focus on maritime protection and sea-based defense. A Marine engine is a technology which provides power to several kinds of vessels, generator, propulsion system, marine vehicles and auxiliary equipment. These marine engines consist of a different mechanism including pistons, head, crankshaft, liner, and bedplate. Marine engines are designs with oxidization inhibiting resources and their bearing and seals are particularly arranged for sea working environment. In marine engine market appearance of new technologies has addressed the system with reference to emissions of harmful gases.
The marine engines are segmented on the basis of fuels and applications. On the basis of fuel, the global marine engine market is segmented into intermediate fuel, marine diesel, heavy fuel, and marine gas oil. Heavy fuel market segment held the largest market share of the marine engine due to huge demand across the globe. On the basis of application, marine engine market is segmented into commercial vessels, offshore support vessels, and inland waterways vessels. Commercial vessels segment is estimated to account for the largest share among all the applications. Commercial vessels further get bifurcated into LNG carriers, cargo vessels, pure car carriers, chemical carriers, bulkers and container ships. Work with greener fuels such as LNG and solar & wind power and the stringent rigid norms about emission is expected to observe development for the global marine engine market. Four stroke engines are registering fast growth in the market, due to reliability, less pollution emission, smoothness, and quiet operation.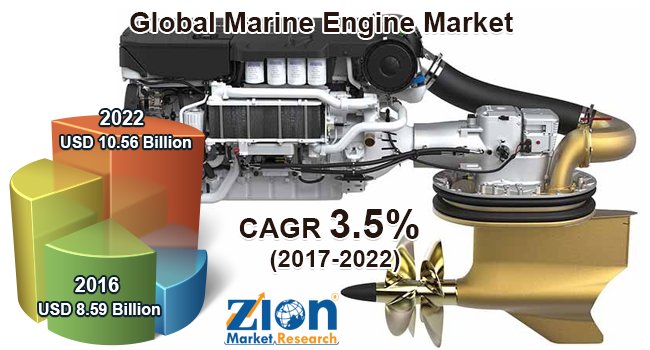 Beginning of new technologies, the improved construction of inland waterways vessels and high demand for commercial vessels are expected to remain major driving factors for the growth in marine engine market. Vast R&D requirements and huge capital constraints could be restraining factors for the marine engine market. The global marine engine market offers new growth opportunities, due to increasing demand for hybrid fuel engines. The technology of marine engine has been advanced to a position where it can have a major effect on modern life. Increase in the demand for the low-cost engine will also increase the usage of marine engine market.
Based on regional segmentation, Asia Pacific was the most attractive and largest market for marine engines in 2016. Due to the high ship building activity in Asia Pacific region, countries such as China, Japan, and South Korea are hot spots for marine engine market. Increasing investments in the marine engine market due to the existence of some of the world largest manufacturing of marine engine in North America and Europe region have propelled the market. An additional factor attributing to the growth will be a rise in maritime trade in South East Asia set up by China and other emerging economies in the region such as Indonesia.
Some of the major players involved in the global marine engine market include Mercury Marine, Sumitomo Heavy Industries, Cummins Inc, Roll Royce limited, Hyundai Heavy Industries, GM Power Train, Caterpillar Corporate, Mitsubishi Heavy Industries, MAN Diesel & Turbo SE, and Wartsila Corporation.