According to the report published by Zion Market Research, global demand for the Logistics market was valued at approximately USD 5 Billion in 2019 and is expected to generate revenue of around USD 7 Billion by end of 2026, growing at a CAGR of around 4% between 2020 and 2026.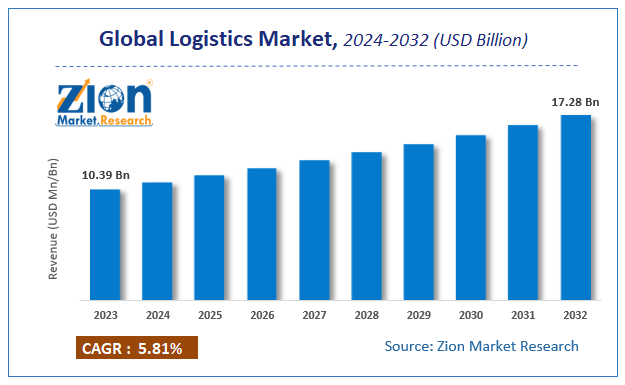 Request Free Sample
Global Logistics Market: Overview
Logistics can be defined as the collaboration of different segments such as supply, material management, and distribution. As per the council of logistics management logistics can be stated as the process of planning, implementing, and controlling the efficient, effective flow and storage of goods, services, and related information from point of origin to point of consumption to conform to customer requirements. Logistics is the management of things from the origin to the end consumer and involves activities such as material handling, packaging, transportation, inventory, security, and warehousing.
Global Logistics Market: Growth Factors
Rising globalization and the reduction of trade barriers are supporting the growth of the logistics market. Additionally, the growing trend towards online shopping along with technological advancement in the transaction, communication, and new product development fuel the growth of this market. Adoption of an advanced tracking system for delivery such as GPS, bar code system, RFID by the logistics providers for tracking application stimulates the market growth. However, stringent regulations led by the government in particular regions to defend the domestic industries and local shopkeepers may inhibit the growth of the logistics market.
Global Logistics Market: Segmentation
The logistics market can be segmented based on transport in waterways transport, road transport, air transport, and rail transport. Road and rail transport infrastructure is the most significant segment of the logistics market. Logistics has numerous applications in retail, media, and entertainment, telecommunication, banking, and financial services, information technology, and manufacturing sectors among others.
Region-wise, the global market is segregated into North America, Europe, Asia Pacific, Latin America, and Middle East & Africa.
Report Scope:
Global Logistics Market: Regional Analysis
North America and Europe are the leading markets for the logistics industry owing to the developed logistics sector and the presence of major key players. Asia Pacific is expected to exhibit the fastest growth for the logistics market. This mainly contributed to the growing outsourcing trend of MNCs particularly in India and escalating demand for online shopping. Latin America, Middle East, and Africa are likely to experience decent growth in the forecast period.
Global Logistics Market: Competitive Players
The logistics market is competitive due to the presence of large players in the market space. Some of the major participants in the logistics market include United Parcel Service, Inc., FedEx Corporation, DHL Express, Changan Minsheng APLL Logistics Co. Ltd, Orient Overseas Ltd, China Ocean Shipping Company, TNT Express N.V., Jiangsu Aucksun Co. Ltd., Shenzhen Feima International Supply Chain Co. Ltd., Kuehne-Nagel, Inc and Sinotrans Limited among others.
Logistics Market: Regional Segment Analysis
North America
Europe

France
The UK
Spain
Germany
Italy
Rest of Europe

Asia Pacific

China
Japan
India
South Korea
Southeast Asia
Rest of Asia Pacific

Latin America

Brazil
Mexico
Rest of Latin America

Middle East & Africa

GCC
South Africa
Rest of Middle East & Africa