Market Overview
The global Food And Beverage Disinfection market size accounted for USD 11,310 Million in 2020 and is expected to reach USD 27,200 Million by 2028, growing at a CAGR of 11.6% from 2021 to 2028.
Disinfection is the method of demolishing bacteria, cysts, and other microorganisms that are dangerous or objectionable. Chemicals, fire, ultraviolet light, ultrasonic waves, and radiation are all used to disinfect surfaces. Food and beverage disinfectants are used to remove germs and associated contaminants from food products, thus assisting in the prevention of foodborne illnesses. Food processing is completely safe when using consumable disinfectants that do not harm the human body. Food and beverage disinfection is an essential aspect of any food safety scheme, whether it is for caterers, retail establishments, or manufacturing facilities. Food and beverage disinfection helps to avoid food poisoning, insect infestations, pathogen cross-contamination, allergen contamination, and more.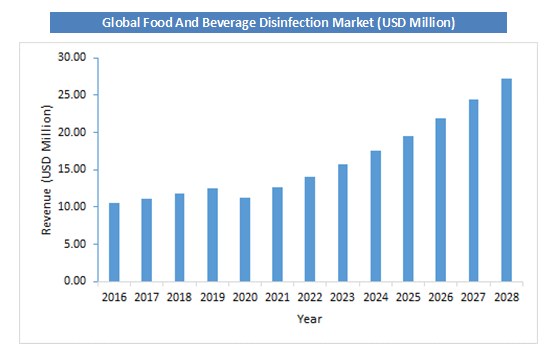 Request Free Sample
COVID-19 Impact Analysis
Food and beverage manufacturers have become worried about the need to avoid viral infections among consumers because of the pandemic. Viral infections have a negative impact on an individual's development, gut health, and efficiency. Food and beverage disinfection nutrition help in eliminating viral infections and strengthening an individual's overall health and immune response in the event of a viral infection. Food and beverage disinfection chemicals such as hydrogen peroxide, chlorine compounds, quaternary ammonium compounds, carboxylic acid, alcohols, and other chemicals play an important role in promoting and sanitizing the application areas in the food and beverage manufacturing and packaging industries.
Growth Factors
The two growth factors of the Food and Beverage Disinfection Market are: Increase in instances of foodborne diseases and outbreaks, Foodborne diseases are a big concern all over the world. The number of people consuming food cooked in public places has risen because of rapid urbanization and changing lifestyles. Foodborne illnesses may manifest themselves in a variety of ways. For example, pathogenic microbes are often found in food ingredients such as herbs and spices, which can lead to food spoilage and foodborne illnesses. In addition, eating infected or poorly sterilized food exposes people to dangerous microbes including bacteria, parasites, and viruses, which can cause serious illness.
High penetration of packaged food products in the food industry: The global food and beverage disinfection market is also growing due to the high penetration of packaged food items in the food industry. People's increasing support for using disinfectants to sterilize food items is also propelling market growth in several developing countries.
Food And Beverage Disinfection Market Report Scope:
Report Attributes
Report Details
Report Name
Food And Beverage Disinfection Market Research Report
Market Size in 2020
USD 11,310 Million
Market Forecast in 2028
USD 27,200 Million
Compound Annual Growth Rate
CAGR of 11.6%
Number of Pages
140
Forecast Units
Value (USD Billion), and Volume (Units)
Key Companies Covered
Entaco N.V., Evoqua Water Technologies, Xylem Inc., Suez, Trojan Technologies, Halma PLC, Fink Tec GmbH, Stepan Company, Solvay SA, Evonik Industries AG, CCL Pentasol, and Advanced UV Inc. and others.
Segments Covered
By Product, By Methods, By Application, By End-Users And By Region
Regions Covered
North America, Europe, Asia Pacific (APAC), Latin America, Middle East and Africa (MEA)
Countries Covered
North America: U.S and Canada
Europe: Germany, Italy, Russia, U.K, Spain, France, Rest of Europe
APAC: China, Australia, Japan, India, South Korea, South East Asia, Rest of Asia Pacific
Latin America: Brazil, Argentina, Chile
The Middle East And Africa: South Africa, GCC, Rest of MEA
Base Year
2021
Historical Year
2016 to 2020
Forecast Year
2022 - 2030
Customization Scope
Avail customized purchase options to meet your exact research needs. Request For Customization
Segmentation
Method Segment Analysis
Coagulation, steam sterilization, pasteurization, carbonation, chlorination, UV technology, ozonation, and other methods are used to segment the Food and Beverage Disinfection Market. In 2019, the chlorination process is expected to have the largest revenue share in the food and beverage disinfection industry. This is due to a decrease in the number of bacteria and viruses in the water, as well as a decrease in the incidence of diarrheal disease. Furthermore, market growth is expected to be supported by the ease of use and protection against recontamination.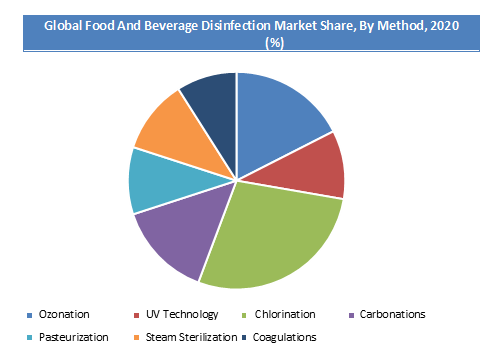 Request Free Sample
Application Segment Analysis
The Food and Beverage Disinfection Market is divided into packaging, manufacturing, surfaces, and others, depending on the application. During the forecast period, the food and beverage disinfection market is expected to expand at the fastest pace. This is primarily due to the increased nutritive value of food and increased food protection by reducing the number of harmful bacteria in it. Furthermore, researchers are investigating the impact of nutrient digestibility on food processing to produce foods with higher nutrient value. This is also expected to aid the growth of the food and beverage disinfection industry.
Regional Segment Analysis
The North American region is projected to grow at a CAGR of 6.5% over the forecast period. In 2019, North America holds a large share of the global demand for food and beverage disinfection. The growth of the food and beverage disinfection market in North America is being driven by increasing consumption of processed foods and increased awareness of food hygiene. Many uses for ozone in food treatment include microbial properties, according to the US Food and Drug Administration (FDA), and it is commonly used in food processing and packaging. The argument in the Generally Recognized As Safe (GRAS)approval for ozone in bottled water disinfection, on the other hand, states that all food additive applications of ozone must be approved before it can be used in food.
During the forecast period, the Asia-Pacific Food and Beverage Disinfection Market is expected to expand at the fastest pace. This is due to factors such as increasing health concerns, population, and packaged food demand. Furthermore, an increase in tourism in the Asian region has significantly increased the consumption of prepackaged food products in the region, leading to market growth.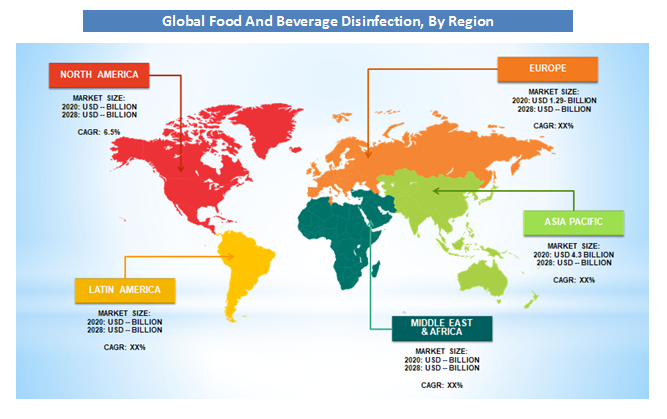 Request Free Sample
Key Market Players & Competitive Landscape
Some of the major players in the global food and beverage disinfection market are
Evoqua Water Technologies
Entaco N.V.
Xylem Inc.
Suez
Trojan Technologies
Halma PLC
Fink Tec GmbH
Stepan Company
Solvay SA
Evonik Industries AG
CCL Pentasol
and Advanced UV Inc
The Global Food And Beverage Disinfection Market is segmented as follows:
By Product
Oxidizing Disinfectants
Non-oxidizing Disinfectants
By Methods
Ozonation
UV Technology
Chlorination
Carbonations
Pasteurization
Steam Sterilization
Coagulations
By Application
Surfaces
Processing
Packaging
Manufacturing
Others
By End-Users
Retail Distributors
Catering Kitchens
Beverages Processing Companies
Food Processing Companies
Others
By Region
North America
Europe

France
The UK
Spain
Germany
Italy
Rest of Europe

Asia Pacific

China
Japan
India
South Korea
Southeast Asia
Rest of Asia Pacific

Latin America

Brazil
Mexico
Rest of Latin America

Middle East & Africa

GCC
South Africa
Rest of Middle East & Africa