Free Analysis
Cognitive radios are the adaptive intelligent radios that automatically alter their frequency and power modulation-based on location. This radios programmed and configured dynamically to connect with the best wireless channels in their vicinity. They automatically detect the available channels in a wireless spectrum and change their transmission or reception parameters accordingly. They allow concurrent transmission of multiple additional wireless communications in a given band of the spectrum at one location. The quality of the cognitive radio network is improved by using dynamic spectrum management. Cognitive radios use different types of technologies, such as adaptive radio and software defined radio.
The high installation cost and lower operating costs due to the efficiency of intelligent and cognitive radio systems are predicted to drive this market in the future. These radios make full use of the available bandwidth and enhance the interoperability of radio communications significantly, which is another major growth driver of the intelligent and cognitive radio market. However, these radios have high manufacturing costs and reliability issues that might limit this market. The growing number of wireless communication networks and the increase in the number of smartphones and other connected devices are expected to spur the intelligent and cognitive radio market over the forecast time period.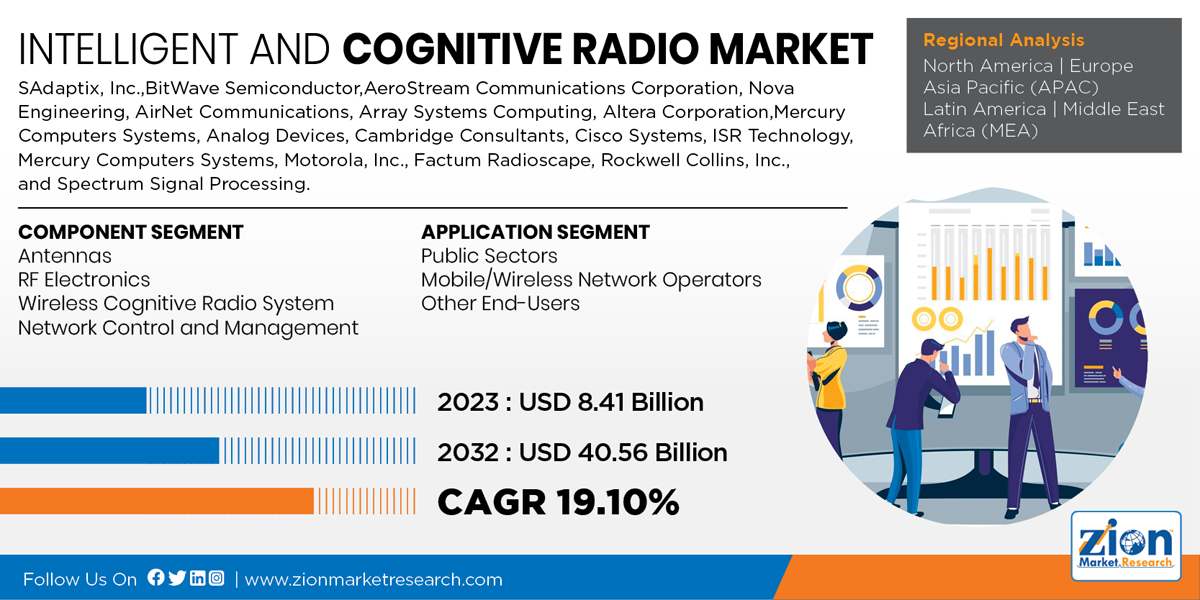 The intelligent and cognitive radio market is segmented based on component and application. The component type segment of intelligent and cognitive radio market includes antennas, RF electronics, wireless cognitive radio system, and network control and management. By application, the intelligent and cognitive radio market is segmented into the public sector, mobile/wireless network operators, and military sector.
By geography, North America was the largest intelligent and cognitive radio marketing 2017, followed by Europe.TheU.S. has one of the world's largest and most advanced military. It is a major market for intelligent and cognitive radios. The high demand for these radios in military communication sector and public safety broadcast shaping the intelligent and cognitive market in this region. Asia Pacific is expected to grow at the highest CAGR during the analysis period, owing to the increasing demand due to advanced features, functionality, and greater precision of intelligent and cognitive radios. Latin America is also estimated to show noticeable growth in the intelligent and cognitive radio market in the future.
Major players contributing in the market are Adaptix, Inc., BitWave Semiconductor,AeroStream Communications Corporation, Nova Engineering, AirNet Communications, Array Systems Computing, Altera Corporation,Mercury Computers Systems,Analog Devices, Cambridge Consultants, Cisco Systems, ISR Technology, Mercury Computers Systems, Motorola, Inc., Factum Radioscape, Rockwell Collins, Inc., and Spectrum Signal Processing.