The Global Litigation Funding Investment Market Size is set for rapid growth over the forecast period. In terms of revenue, the global Litigation Funding Investment market accounted for USD 11412.6 Million in 2019 and is expected to reach USD 20548.5 Million by 2026, growing at a CAGR of 6.7%.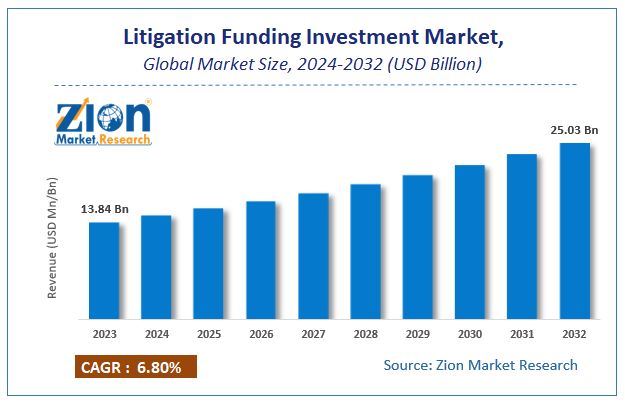 Request Free Sample
Global Litigation Funding Investment Market: Overview
Litigation funding investment is also known as legal financing and third-party litigation funding (TPLF). Litigation funding broadly refers to a financing arrangement whereby the legal costs and expenses of a party are funded by a third party that is not a party to the dispute. This is normally done in exchange for a financial reward of an agreed share of any favorable award or settlement.
The funded cases are usually those being adjudicated at a well-established and reliable forum with a realistic claim value and good prospects of success. In recent years, litigation funding investment has emerged as a lucrative, fast-growing, and attractive asset class. In the global market, the U.S., the UK, and Australia are some of the leading countries showing tremendous potential and growth during the forecast period in this market.
To know more about this report, request a sample copy.
Global Litigation Funding Investment Market: Growth Factors
An increase in the investments of petty legal suits is driving the growth of the litigation funding investment market. In the case of class action lawsuits, consumer disputes, labor lawsuits, international arbitration, intellectual property disputes, and commercial lawsuit, this litigation funding is being utilized. Additionally, as stated by ICC, the top countries with parties represented 210 cases in the United States, 139 cases in France, 117 in Brazil, 110 in Spain, and 95 in Germany.
Moreover, as per the survey, between 1998 and 2017, consumer products had the highest share of patent litigation cases with 14 percent for practicing entities and 2 percent for non-practicing entities. Thereby, certain incidents are gradually influencing the demand for litigation funding investment market.
Notwithstanding decreasing risk, utilizing outsider subsidizing instead of self-financing lawful debates conveys prompt bookkeeping advantages to organizations and law offices. Advances add to working costs and consequently, lessen benefits. Interestingly, debate subsidizing eliminates that cost, and in certain conditions, even be treated as income, promptly boosting the monetary picture for an organization or law office.
Global Litigation Funding Investment Market Report Scope:
Report Attributes
Report Details
Report Name
Litigation Funding Investment Market Research Report
Market Size in 2019
USD 11412.6 Million
Market Forecast in 2026
USD 20548.5 Million
Compound Annual Growth Rate
CAGR of 6.7%
Number of Pages
110
Forecast Units
Value (USD Billion), and Volume (Units)
Key Companies Covered
Apex Litigation Finance, Augusta Ventures Limited, Balance Legal Capital LLP, Burford Capital LLC, Deminor, FORIS AG, Harbour Litigation Funding Limited, IMF Bentham, Legalist Inc, Longford Capital Management LP, Nivalion, Omni Bridgeway, Pravati Capital, Therium Group Holdings Limited, Validity Finance LLC, and Woodsford Litigation Funding Ltd among others.
Segments Covered
By Application, By End-User, And By Region
Regions Covered
North America, Europe, Asia Pacific (APAC), Latin America, Middle East, and Africa (MEA)
Countries Covered
North America: U.S and Canada
Europe: Germany, Italy, Russia, U.K, Spain, France, Rest of Europe
APAC: China, Australia, Japan, India, South Korea, South East Asia, Rest of Asia Pacific
Latin America: Brazil, Argentina, Chile
The Middle East And Africa: South Africa, GCC, Rest of MEA
Base Year
2021
Historical Year
2016 to 2020
Forecast Year
2022 - 2030
Customization Scope
Avail customized purchase options to meet your exact research needs. Request For Customization
Global Litigation Funding Investment Market: Segmentation
The global Litigation Funding Investment market can be segmented into application, end-user, and region. The application segment is bifurcated into Class Action Lawsuit Funding, Commercial Litigation Funding, Insolvency Litigation Funding, Patent Litigation Funding, Labor Lawsuit Funding, Consumer Disputes, Intellectual Property Litigation Funding, International Arbitration, and Others.
The end-user segment is bifurcated into individuals, Businesses, Law Firms, and Attorneys. Individual litigation funding is a new domain that is likely to pick up in the forecast period. The individual noncommercial dispute is difficult to objectify however, new technology artificial intelligence, and data analysis have made it possible to weigh individual cases on merits. Startups related to individual litigation funding are appearing on the horizon and in the future, the segment is likely to produce lucrative growth as efficiency in justice delivery mechanism will improve and awareness about it will be spread.
Global Litigation Funding Investment Market: Regional Analysis
Based on regions, the global Litigation Funding Investment market can be divided into five main regions: North America, Europe, Asia Pacific, Latin America, and the Middle East and Africa. The North American region is on the top of growth in terms of revenue for the litigation funding investment market. The development of case law in favor of commercial dispute funding in the United States helped warm its embrace by claimants as an alternative fee solution that served to dissolve financial barriers to the courts. These developments are likely to provide a fillip to the growth of litigation funding investments.
Within the Asia-Pacific region, Australia has a mature third-party funding market, while for the rest of the region, the market is still relatively new and growing. Nevertheless, the past few years have seen significant developments and the landscape is changing.
Global Litigation Funding Investment Market: Competitive Players
Some of the key players in the Litigation Funding Investment market are
Apex Litigation Finance
Augusta Ventures Limited
Balance Legal Capital LLP
Burford Capital LLC
Deminor
FORIS AG
Harbour Litigation Funding Limited
IMF Bentham
Legalist Inc
Longford Capital Management LP
Nivalion
Omni Bridgeway
Pravati Capital
Therium Group Holdings Limited
Validity Finance LLC
Woodsford Litigation Funding Ltd among others.
This Report Segments the Global Litigation Funding Investment Market into:
By Application
Class Action Lawsuit Funding
Commercial Litigation Funding
Insolvency Litigation Funding
Patent Litigation Funding
Labor Lawsuit Funding
Consumer Disputes
Intellectual Property Litigation Funding
International Arbitration
By End User
Individuals
Businesses
Law Firms And Attorneys
Global Litigation Funding Investment Market: Regional Segment Analysis
North America
Europe

France
The UK
Spain
Germany
Italy
Rest of Europe

Asia Pacific

China
Japan
India
South Korea
Southeast Asia
Rest of Asia Pacific

Latin America

Brazil
Mexico
Rest of Latin America

Middle East & Africa

GCC
South Africa
Rest of Middle East & Africa