Free Analysis
Injecting of medicines or drugs directly into patients' blood via a delivery device is called injectable drug delivery. Some pharmaceutical agents, predominant peptides, proteins, etc. can be administered via injectable routes. The parenteral administration route is one of the most common and efficient drug delivery types. Injectable drug delivery ensures a quick passage of a drug into the body by avoiding first pass metabolism. This drug delivery system also helps in administering drugs in comatose patients. For various medical conditions, such as cystic fibrosis, hormonal imbalance, autoimmune diseases, Wilson's disease, hepatitis C, ribose-5-phosphate isomerase, and hemophilia, the injectable drug delivery system is preferred mostly.
The global injectable drug delivery market is anticipated to grow at a considerable rate over the forecast time period, owing to the growing prevalence of various chronic diseases, such as cancer, heart diseases, diabetes etc., and technological innovations related to advanced device development in injectable drug delivery systems.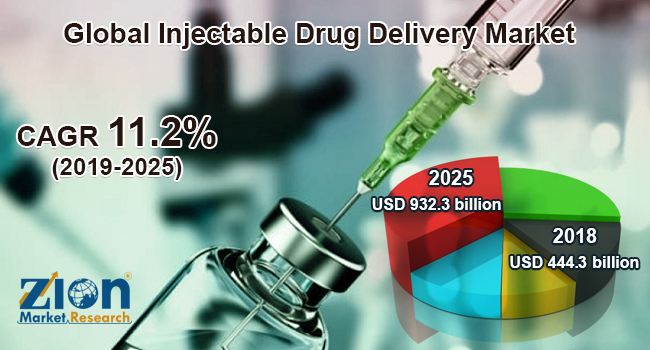 The global injectable drug delivery market is fragmented into type, application, and end-user. By type, the global injectable drugs market includes formulation and devices. The formulation segment is sub-segmented into conventional drug delivery (suspensions, solutions, lyophilized formulations, and emulsions), novel drug delivery (long-acting injection formulation, colloidal dispersions, and microparticles), and others. The devices segment includes conventional injection devices and self-injection devices. The self-injection devices segment is further classified into needle-free injectors (NFI), pen injectors, wearable injectors, auto-injectors, and others. The conventional injection devices are segmented into prefilled syringes, fillable syringes, and others. By application, the global injectable drug delivery market is segmented into autoimmune diseases, oncology disorders, hormonal disorders, orphan diseases, and others. By end-user, this global market includes home care, hospital, ambulatory care, physician offices or clinics, and others.
By geography, the global injectable drug delivery market includes Latin America, North America, Asia Pacific, Europe, and the Middle East and Africa. North America held the largest share of the global market in 2017 and is anticipated to remain dominant over the forecast time period as well. In terms of growth rate, the Asia Pacific region is expected to register the highest CAGR over the estimated time period. India and China held the largest shares of the Asia Pacific injectable drug delivery market in 2018.
Some key players of the global injectable drug delivery market are Baxter International, Nova Nordisk A/S, Becton Dickinson, Sanofi, Pfizer, InjexPharma GmbH, Terumo Corporation, Unilife Corporation, Gerresheimer AG, Vetter Pharma-Fertigung GmbH & Co. KG., Schott AG, and Eli Lily & Company.